The Reading pilot hailed a hero after safely evacuating passengers and crew from a burning British Airways plane on a Las Vegas runway has said he has "finished flying" - ending a 42-year-career in the air.
Chris Henkey was praised for his "by the book" response to the emergency that unfolded at the McCarran International Airport as his 777 was due to depart for London Gatwick on Tuesday. He is said to have slammed on the brakes and steered the plane to safety after the left engine caught fire during takeoff, an action that saw him later being cheered by his passengers in the airport terminal.
All 159 passengers and 13 crew escaped on emergency slides after the 63-year-old calmly alerted airport officials to the fire. Twenty-seven passengers suffered minor injuries, most while fleeing the aircraft, officials said.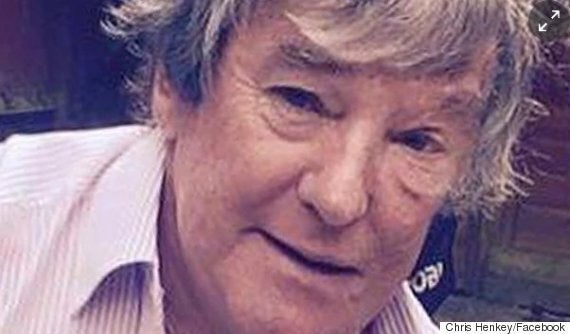 Chris Henkey has said the flight to London that was grounded due to a fire is likely to be his last
Henkey, a former publican who once ran the Hatch Gate Inn in Burghfield, told NBC: "It's safe to say I'm finished flying".
Flight 2276 was to be Henkey's second to last flight before he retired. His last was to take him to Barbados, one of his favourite places in the world, where he planned to join his daughter Charley, 26, on vacation.
But he told NBC: "It's looking unlikely for the moment."
Henkey was reluctant to accept praise for his actions, saying: "It's not just me. It's the whole crew, really."
The blaze, which is being investigated by the US National Transportation Safety Board, was quickly contained by around 50 firefighters.
Henkey's ex-wife, Marnie, who is a former cabin crew member, said Tuesday that she was greatly relieved her former partner and the rest of the crew were safe.
She told the Guardian: "He is safe and happy. I've had some messages from him. He did a bloody good job."
Told that Henkey was being described as a hero, she said: "He will always be that in my eyes."
On a community Facebook group, the Mirror reports that Henkey's daughter wrote: "Hi all yes was Papa Bear, last time I spoke to him he'd been to hospital for smoke inhalation and spoken to press but he is safe and wanting to come home!
"Thanks everyone for such amazing words of support."
Henkey's daughter Charley told the Reading Chronicle the flight was "supposed to be one of his last".
She said: "I just hope he gets to fly again before he retires so that he ends on a high."
The 26-year-old told the newspaper how "the most emotional part is that I am just so proud of him".
Henkey had texted her, she said, saying there had been a "massive explosion" on his plane, but that he was alright.
Jim McAuslan, general secretary of the British Airline Pilots' Association, told the newspaper that pilots can go their entire career without a single incident, "but if it happens all the training and time in the simulator pays off".
He said: "While we await a meticulous investigation to help us understand this fire and prevent it happening again, all pilots will want to recognise the professional way the pilots and crew dealt with this emergency situation."
In an initial statement British Airways said: "Safety is always our priority. ​We are looking after customers after a technical issue with the aircraft."
The airline later said it was organising alternative flights for affected passengers and providing them with accommodation and "anything further they require".
Guardian sports reporter Jacob Steinberg, who was on board, said: "You could smell the smoke from the outside, you could see it. I heard later that a couple of windows had melted.
"A couple of minutes later the stewards told us to evacuate – that sparked a lot of panic."
Speaking to AP, Reggie Bügmüncher from Philadelphia, said she saw "bursts of flames coming out of the middle of the plane" while waiting at a gate for her flight.
"Everyone ran to the windows and people were standing on their chairs, looking out, holding their breath with their hands over their mouths," she said.
One runway was shut down due to the incident while three remained in use.
Fires aboard planes on the ground have proven fatal before, such as the 1985 Manchester Airport disaster, when a Corfu-bound British Airtours Boeing 737 caught fire as it was speeding down the runway, killing 55 people.
The tragedy led to many safety improvements, including making it easier for passengers to evacuate the plane.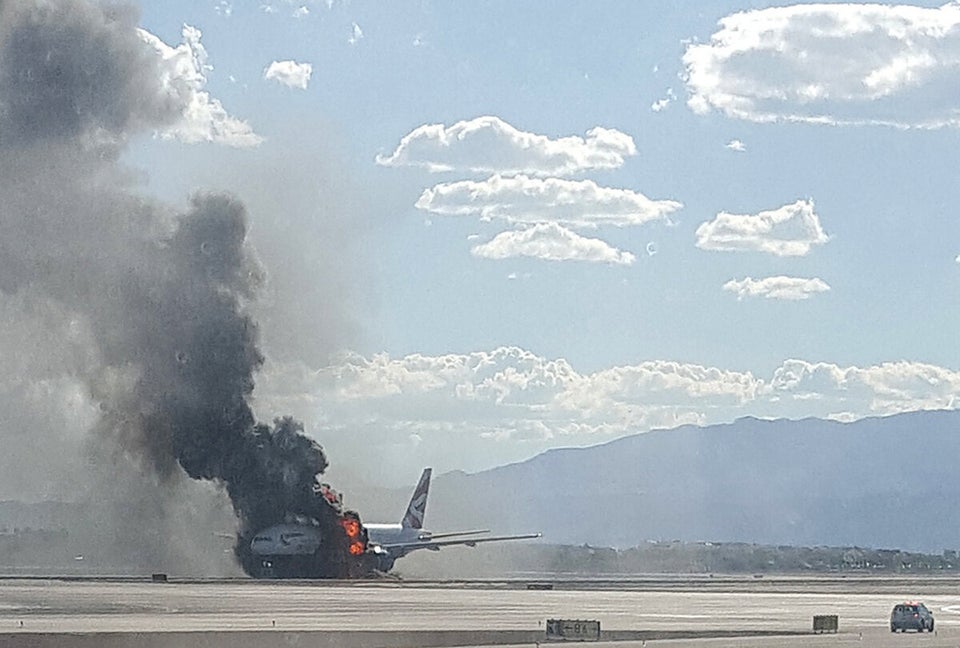 Las Vegas BA Fire