Warning: Video contains graphic footage
An animal rights group have released a disturbing video of a grizzly bear being shot to death by hunters, in an attempt to push the government to rethink its hunting laws in British Columbia.
The Vancouver based Wildlife Defence League shared the graphic footage which follows the plight of a lonesome bear as it's targeted on a hillside by shooters.
Wounded, it can be seen struggling to escape before slipping onto snow where the dying animal's blood stains the surface.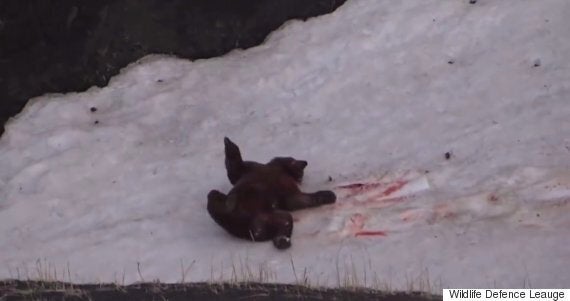 The graphic footage highlights the brutality of hunting bears
As it rolls helplessly down the slope in a trail of its own blood, unidentified hunters can be heard making what sound like triumphant cheers.
One of the hunters quips: "Well it's less [distance] we have to carry him'" before laughing.
The Huffington Post British Columbia contacted the animal rights group, who stated: "We want people to see that this is how grizzly hunting exists across the board, whether it's in British Columbia or not.
"Trophy hunting of predators is unsustainable and unethical and we're hoping this footage puts forces the government to take note and move towards banning the hunt."
The group claim that they took the footage from one of the hunters Facebook pages, who has remained unnamed.
On average about 300 of the bears are killed annually during the province's spring hunt, which runs from 1 April to 31 May, and the autumn season, which starts 1 October and continues until mid-November.
Biologists estimate there are about 15,000 grizzly bears in the province, which is home to about a quarter of the remaining North American population.
Vivienne Westwood drives tank to David Cameron's house in anti-fracking protest – video
Related