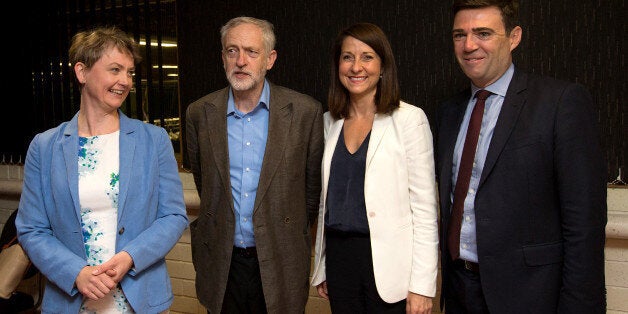 When the new leader of the Labour Party is finally unveiled to a packed QEII conference centre at noon on Saturday, the assembled throng of media and MPs and activists will hang on every word.
But a select handful of people will already know the result.
As the media waits breathlessly for NEC chairman and Unite union official (and UCATT member) Jim Kennedy to read out each of the sections in the election, each team will have been given a crucial few minutes' head start.
The leadership contenders have devised secret signals to alert their campaigns to the final result, even as Mr Kennedy reveals the exhaustive list of first and second preferences and transfers in three rounds of voting overseen by the independent Electoral Reform Services group.
Several campaign sources have told Huff Post UK that they have a highly confidential system in place to tip off their team, to give them time to react to the historic verdict of 550,000 party members.
In line with usual practice, ahead of the announcement that will determine the future of Labour for years to come, each of the candidates will be taken into a private room and given advance notice of the final result.
To prevent any leaks, mobile phones will be confiscated from the candidates before they get the results.
Jeremy Corbyn, Yvette Cooper, Andy Burnham and Liz Kendall will be told their ranking, before then being escorted onto the stage to wait for the detailed figures to flash up on a screen as Mr Kennedy speaks.
But each leadership contender is also allowed to take in one aide to hear the news and it is understood that they each have an informal system to alert their colleagues.
The secret signals give valuable time to prepare as the party then takes several minutes unveiling the numbers of votes for full party members, affiliates and £3 'registered supporters'.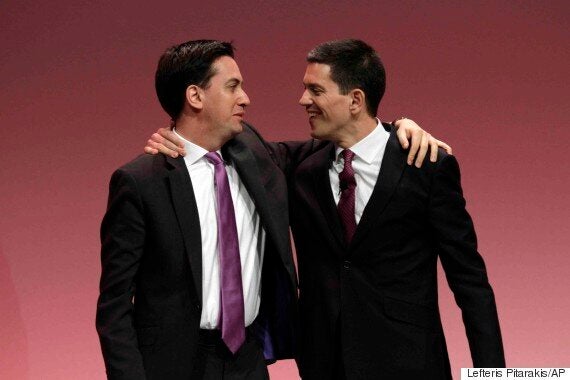 Ed and David Miliband on stage seconds after the 2010 result
In 2010, Ed Miliband's campaign manager Sadiq Khan was chosen as his 'one other person' allowed to hear the result.
His team had agreed that if Khan emerged wearing a lanyard and security pass around his neck, Ed had won. But if his lanyard hung out of his pocket, Ed had lost.
But the plan nearly came a cropper. He realised at the last minute that he may not be allowed onto the stage without a pass - and that colleagues would think he had been forced to don his ID tag by security staff.
Khan's short height also meant that in the melee, when the audience stood up to greet the candidates, he wasn't seen by some of his campaign team. In the end, he had to wave his lanyard to make clear the secret signal but colleagues were still nervous until the final column of results was read out.
David Miliband's team had their own signal in place too. His designated aide Madeleine Sadler had agreed that if she wore her hair up, she was 'up' and David had won. If she had her hair down, David had lost.
Each of the campaigns in 2015 has discussed drafting top secret signals to give them those crucial minutes to prepare a response, though not all have agreed them.
Jeremy Corbyn will have John McDonnell with him 'in the room', while Yvette Cooper will have Vernon Coaker, Andy Burnham will have Michael Dugher and Liz Kendall will have Toby Perkins alongside them.
However, while secret signals have a long history in the party, they don't always work out as planned, as the announcement of the Deputy Leadership race proved in 2007.
Gerry Sutcliffe, Alan Johnson's campaign manager, had agreed that he would arrive on stage wearing his glasses if Johnson had won.
But amid the shock of his boss's narrow defeat to Harriet Harman, he forgot the system and emerged wearing his specs. As a result, SkyNews called it for Johnson, only to have to retract when the results were revealed.
In that same contest, Caroline Flint was Hazel Blears' 'plus one' backstage. Her signal for Harman winning was to put her hand on her heart when she emerged. And that's exactly what she did.
In the 2012 Labour Mayoral selection, Ken Livingstone's team had their own secret signal to indicate whether he had won one or both sections of the electoral college in operation at the time.
If Ken had won both members and union affiliates, his aide Simon Fletcher (now a key member of the Jeremy Corbyn campaign) would use his tie to wipe both lenses of his glasses.
If Livingstone had won only the unions section and lost the membership section to Oona King, Fletcher would wipe just one lens. In the end, both sections were won handsomely by Ken.
In the 2015 leadership election, the campaigns will also reflect the detail of whether candidates have won in all three parts of the new electorate - full members, union affiliates and 'registered supporters'.
Perhaps mindful of the recent problems, one leadership campaign is veering towards not having any signal at all and simply waiting for the inevitable. 'They always go wrong," a source told HuffPost UK.