Jeremy Corbyn's election as Labour Party leader on Saturday was met with overblown optimism and shrill pessimism from across the UK as supporters and detractors offered competing analyses of one of the more bizarre moments of modern political history.
Yet the victory for the socialist MP, who celebrated with a pint and a chorus of The Red Flag, was noted beyond the shores of Blighty with Argentina's president congratulating the 66-year-old on his "triumph."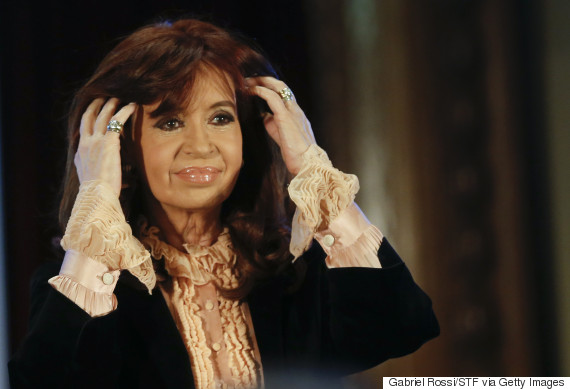 Cristina Fernandez de Kirchner President of Argentina during a ceremony commemorating the 161st anniversary of the Buenos Aires Stock Exchange on August 26, 2015 in Buenos Aires
Calling Corbyn a "great friend" to her country, Argentina's President Cristina Kirchner was the first international figure to congratulate the 66-year-old on his "triumph," even suggesting that his ascent could help Argentina claim the British-ruled Falkland Islands.
Corbyn, who in the past has called for a joint administration to govern the disputed territory, opposed the 1982 war in which British forces expelled soldiers of the military junta, dispatched by Buenos Aires to whip up nationalist sentiment at home and detract from failing domestic policies.
In a statement, Kirchner said Corbyn's win was "also a triumph for those of us who represent the will to put politics at the service of the people, and the economy at the service of the welfare of all citizens," adding: "It is also a triumph for those who advocate for peace and the peaceful resolution of conflicts."
Jeremy Corbyn is a great friend of Latin America and shares, in solidarity, our demands for equality and political sovereignty.

— Cristina Kirchner (@CFKArgentina) September 12, 2015
The statement continued: "Jeremy Corbyn is a great friend of Latin America and shares, in solidarity, our demands for equality and political sovereignty. He has clearly spoken in favour of Argentina in the British Parliament regarding our struggle for human rights against the usurious interests of vulture funds."
"In addition, he actively supports the call of the international community for dialogue between the United Kingdom and Argentina in the Malvinas question," she said.
Plaudits also came from Northern Ireland, with both Gerry Adams and Martin McGuinness tweeting congratulations to their "friend."
Well done Jeremy Corbyn.

— Gerry Adams (@GerryAdamsSF) September 12, 2015
In a statement, Adams said: "I have known Jeremy for many years. He is a good friend of Ireland and of the Irish peace process. I wish him well in his new and challenging role as leader of the British Labour Party and look forward to working with him in the time ahead to ensure that the gains of the peace process are built upon."
Heartiest congratulations to our friend @jeremycorbyn on his stunning election as the new Leader of the Labour Party. pic.twitter.com/rbmFqXhgZt

— Martin McGuinness (@M_McGuinness_SF) September 12, 2015
Back in Britain (for now), Scotland's First Minister Nicola Sturgeon, who gave Corbyn her tacit endorsement earlier this year, warned that the Labour Party must quickly provide a "credible" threat to the Tories ahead of the next election or independence would be the only alternative for many people in Scotland.
If Lab can't quickly show that they have credible chance of winning UK election, many will conclude that Indy only alternative to Tory gov

— Nicola Sturgeon (@NicolaSturgeon) September 12, 2015
There has been no official response from Washington on Corbyn's win, though Republican presidential frontrunner Donald Trump was duped into retweeting a picture of the Labour leader having been told that it was a poster's "dad" who was thinking of voting for him.
"@HamishP95: @realDonaldTrump My Dad is thinking of voting for the first time ever for you. pic.twitter.com/1u9qi8qUPc" Great.

— Donald J. Trump (@realDonaldTrump) September 12, 2015
In August, presidential candidate Bernie Sanders, to whom Corbyn has oft-been compared, said he was "aware of" Corbyn's candidacy, but "not familiar" with the Labour leadership race. However, the 74-year-old, who is challenging Hillary Clinton for the Democratic Party nomination, said the same exasperation with establishment politics prevalent in the US was resonating in the UK.
"I think whether it is the UK or here in the United States, here's the answer: People are sick and tired of establishment politics," he said on the campaign trial. "They are sick and tired of a politics in which people continue, candidates continue to represent the rich and the powerful -- go out beggin' money from the wealthy. They are sick and tired of an economics in which almost all of the new income and wealth is going to the top 1 percent."
SEE ALSO: