Jeremy Corbyn has declared that his 'enormous mandate' means he will fight the next general election no matter what setbacks he faces in the next five years.
In an exclusive interview with The Huffington Post UK, the newly elected Labour leader vowed to remain in post to 2020 and signalled that Labour MPs had to accept the will of more than quarter of a million party members.
Despite a planned walk-out by shadow ministers who felt his views were too left-wing to serve under him, Mr Corbyn played down any disunity by stressing he had plenty of colleagues asking to join his team.
And in a big signal that he intends to unify his party, HuffPost UK can reveal that the new leader has reappointed Shadow Chief Whip Rosie Winterton to her post.
Mr Corbyn also unveiled a radical shake-up to Prime Minister's Question time, asking party members to submit questions and vowing to share out questions with fellow Labour MPs as part of a more collegiate style of leadership.
"It won't be me, everywhere, all the time," he said.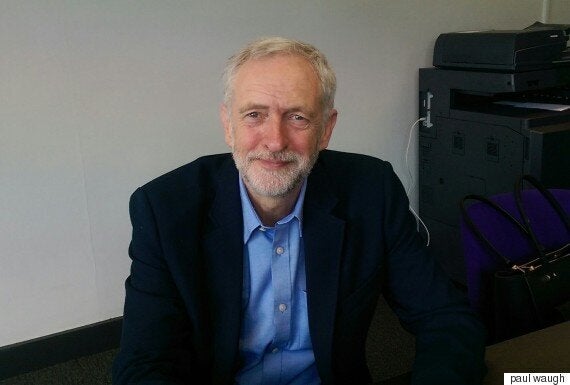 Mr Corbyn minutes after his victory
Speaking to HuffPost UK at the QEII conference centre immediately after his stunning victory – winning 60% of first preferences of the party members – the Islington North MP said that he was here to stay at the top of the party.
Asked if he would remain in post until the next general election, even if there were setbacks in local elections, by-elections or polls, he replied:
"We've got an incredible mandate, a mandate from an enormous electorate, from 500,000 eligible to vote, our total vote was 60% of those that voted."
Pressed if that meant he was determined to stay on to the next election, he replied: "Yes, 2020, Yes. I'm very fit and healthy don't worry about that."
His remarks are the strongest signal yet that Mr Corbyn is determined to dig in and resist any attempts to unseat him by disgruntled MPs who believe he will lead the party to defeat.
Although Andy Burnham has offered to serve in the Shadow Cabinet, and is tipped to get Shadow Home Secretary to target UKIP voters, fellow leadership contenders Yvette Cooper and Liz Kendall both decided to step down because of Mr Corbyn's views on Nato, Trident, the economy and the EU.
Rachel Reeves also stepped down from her Shadow Work and Pensions Post today, and potential future Labour leader Dan Jarvis last night announced he would not serve under Mr Corbyn.
But Mr Corbyn played down speculation that he would find it difficult to fill his shadow ministerial posts or to manage fellow Labour MPs.
"That's a petty big mandate. And I hope the party as a whole will respond to that. The Parliamentary Labour Party, well…it's going to be interesting."
"But I've already had enormous indications of interest, of support and cooperation and so I wouldn't get too carried away with one or two people that are less enthusiastic than others."
After Tom Watson's victory, both the party's most senior two posts are filled by men. Angela Eagle is being tipped for the Shadow Chancellor post, but Mr Corbyn refused to speculate.
Asked if he now had to ensure the Shadow Chancellor – who will go up against George Osborne in deputy PMQs – was a woman, he replied: "I'm not giving any indications of any sort of any shadow cabinet positions."
But he added that he would have a 50-50 men:women split in his Shadow Cabinet. "Half the appointments will be women," he said.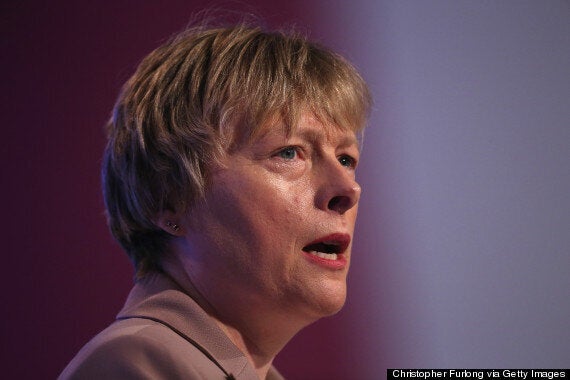 Angela Eagle, set for big post in Corbyn Shadow Cabinet
Ms Eagle today told HuffPost UK: "I would be ready to serve. I think it is important the party pulls together. That is an overwhelming election result and we have to respect it."
Asked if it was time for a female Shadow Chancellor: "I always think pioneering women are a good thing…But I'm not going to speculate."
In an email to all 550,000 party members (seen by HuffPostUK), he also tried to crowdsource questions for next week's Prime Minister's Question time.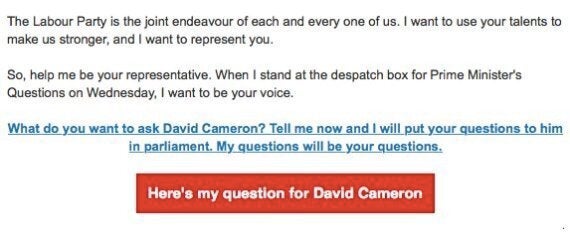 The crowdsource email sent out as Corbyn's first contact with members
Mr Corbyn said that he was not going to change his political style, and wanted to move debate away from personalities to policies – and revealed he would change the way PMQs worked every week.
"I don't do personal, I don't give it, I don't take it. I'm just not interested," he said.
"I want Prime Minister's Question Time to be less theatre, more fact, less theatrical, more understandable. I think it's very exciting for political obsessives, it's utterly boring for most of the population, who think it's an utter irrelevance," he said.
"I will be trying to conduct my part in Prime Minister's Question Time on the basis of the questions and also share out a lot more stuff in within the Parliamentary Labour Party.
"I'll obviously be there and do all the things that I'm asked to do. But we've got a lot of very talented people within the Parliamentary Labour Party. They can call ask questions, they can all do things, let's share it all out a bit. It won't all be me everywhere all the time.
"It's a whole party, and a whole movement. We are about bringing people on, not stopping people."
Ken Livingstone today attributed Mr Corbyn's success to the fact that he was a 'nice guy' and pointed out that in 1992 the public voted for John Major on that basis.
Asked if his own unassuming personality and 'Mr Nice guy' image had helped him to victory as much as his ideas, Mr Corbyn replied: "I was asked to put forward some ideas in this campaign and I see myself as above all a democrat. And that's the most important thing: to listen to people.
"And actually to try to see the best in people, because usually there's some good in everybody somewhere.
"Sometimes it's quite hard to find, but you know …" he said, laughing. "So I enjoy that, but I also enjoy listening to and talking to people, their ordinary life experiences, how that relates to politics and how that relates to what we do."
However, he said that much of the media and even MPs in his own party were out of touch with most voters' daily lives – and predicted that social media would play a key role in the 2020 election.
"I think the role of electronic and social media is absolutely massive. The way of doing politics is seen as very out of date," he said.
"MPs are a bit cut off. But if I may say so, some of the editorial rooms in some of our broadsheet newspapers are even more cut off. They simply do not understand what's going on out there. They just don't get it.
"The majority of people don't buy a newspaper, they read bits on line and self-inform online and so we have to reach out in a different way.
"And our campaign has been very much social media orientated. My personal Twitter account now has 104,000 followers, our Facebook is 124,000 likes.
"So those kind of numbers are enormous and of course the re-tweeting and re-sending makes it massive."
Mr Corbyn praised The HuffPost UK, many of whose readers have joined his campaign, for its coverage of the leadership contest.
"I'd like to thank The Huffington Post for the responsible way in which you've reported this campaign."
Related