Two Britons who died in a train crash in north India have been named.
Loraine Toner and Joan Nickolas, both 60, have been identified as the two women who were killed in the accident by the Indian press.
The train was travelling from Kalka to the Indian Himalayan town of Shimla when nine carriages came off the track at around 1pm local time on Saturday. Thirty six Passengers and one tour manager were onboard the four-carriage tourist service chartered by Great Rail Journeys.
Chief executive officer Peter Liney said a number of victims were taken to a local hospital, where three people are still being treated for non life-threatening injuries. The remaining passengers, he said, were at a hotel in Chandigarh awaiting the arrival of Great Rail Journeys' emergency response team, which includes an expert counsellor.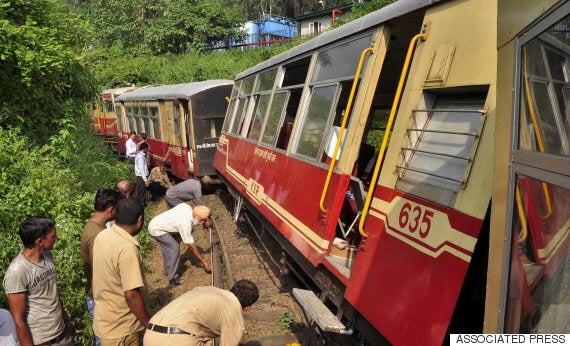 Britons Loraine Toner and Joan Nickolas were killed when train carriages derailed in north India
The team will "offer any support and help necessary to those passengers who are there", he said.
Liney expressed "very sincere thanks for the enormous support" provided by the Foreign and Commonwealth Office and the Indian Consular offices in the UK in fast-tracking emergency visa applications.
He said the families of the deceased had been informed and the company was working with the foreign office to assist their relatives in travelling to India "as soon as possible".
Representatives from the York-based travel company are at the scene and senior staff are expected to arrive at 3pm UK time Sunday, along with qualified counsellors.
Responding to the deaths, Minister for Asia Hugo Swire said: "I am deeply saddened that two British nationals have been killed and many others injured in a train accident in northern India. My thoughts are with their family and friends at this difficult time."
The cause of the derailment is not yet known.
The tour, India's Golden Triangle, left for India on September 10 and was due to finish on September 22.
A Foreign Office spokesman said the families of the deceased have been informed but it was unable to confirm the identities of the passengers.
Related