Jeremy Corbyn's creation of a Shadow Minister for Mental Health has been hailed as an important step towards recognising the scale of the issue.
Luciana Berger is the inaugural holder of the post, which reports to Shadow Health Secretary in the front bench team Corbyn has assembled.
Andy Bell, from the Centre for Mental Health, called the appointment "an important step towards recognition of the importance of mental health to all of us and the need for concerted action to address it".
He told HuffPost UK: "Mental ill health affects every family and accounts for a quarter of all ill health. Mental ill health affects all aspects of our lives and it requires a cross-government response, not just from the NHS but schools, employment services and local councils."
Deborah Coles, who chairs the charity Inquest that probes deaths in state custody, including those of people with mental health issues, called it a "critical post".
The position has no equivalent in the Conservative front bench.
In a statement announcing his shadow cabinet, Mr Corbyn said: "I am delighted that we have established a Shadow Cabinet position for mental health which is a matter I have long been interested in."
Geoff Heyes, policy and campaigns manager at mental health charity Mind, said he and his colleagues were pleased to see Labour "showing such clear commitment" to the issue.
"We don't yet know what responsibilities the post will include, or whether the role will be solely about mental health, but we are very much encouraged to hear 'mental health' explicitly referenced while the shadow cabinet is being assembled," he said.
"For decades mental health service provision has lagged far behind the standards of care we take for granted when it comes to our physical health. We have seen in recent years a commitment from all political parties to addressing this huge imbalance but there is still a very long way to go."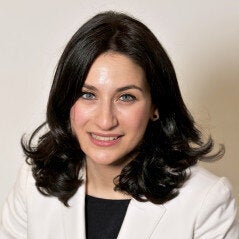 Luciana Berger is the new shadow minister for mental health
Both Mr Bell and Mr Heyes pointed out that one in four Britons suffer from a mental health issue each year.
Mr Heyes added: "Parties are also starting to understand that mental health is about much more than NHS service provision. It affects and is affected by all areas of our lives. We expect the new shadow minister to make sure that mental health is on everyone's agenda, recognising the impact that all areas of public policy can have on everyone's wellbeing."
Ms Berger, who backed Andy Burnham for the Labour leadership, was previously Shadow Public Health Minister, which included mental health in its remit.
Speaking In March, she condemned the cuts to the number of specialist mental health nurses being trained.
She said: "The loss of thousands of nurses and hundreds of doctors has impacted on some of the NHS's most vulnerable patients in the hospital and in the community, leading to an increase in people experiencing crisis, as well as unnecessary hospital admissions and delayed discharges."
Related