Germany's decision to reinstitute border checks, restricting the flow of refugees its citizens have been warmly welcoming, has prompted a debate over whether a symbol of the success of European integration can survive.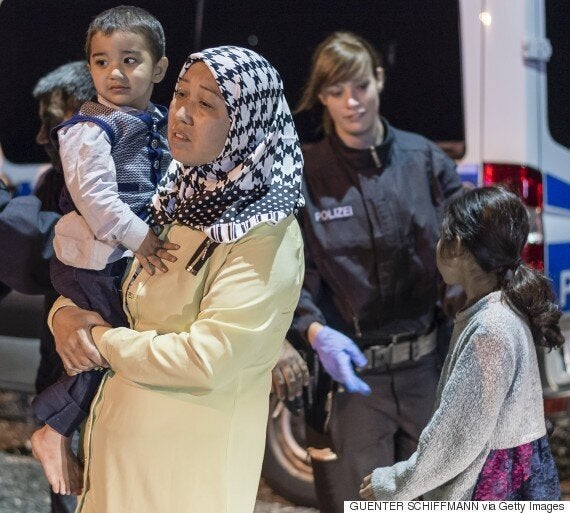 Refugees from Afghanistan controlled by the police at the German-Austrian border on Monday
Ukip leader Nigel Farage said Germany's decision would mean an end to the Schengen Agreement, in which EU countries waive the border checks for those entering from another country that is also signed up to the agreement.
Agreed 30 years ago and effective for 20 years, the agreement allows unchecked travel between the vast majority of EU countries. The UK and Ireland are not part of it while non-EU states such as Switzerland and Norway are.
The agreement's demise would be welcomed by Eurosceptics who wish to see a looser union within Europe. Ukip's sole MP Douglas Carswell wrote that Schengen was impractical with amid a migration crisis that has seen hundreds of thousands arrive from the Middle East and Africa, writing in The Telegraph: "Like monetary union, Schengen was a late 20th-century solution to a 21st-century problem."
Since 2013, members states have reintroduced border controls six times. In June, France imposed controls on its border with Italy as refugees tried to move north.
But commentators said it was significant that Germany had reintroduced border checks.
"As the EU's biggest country straddling the union's geographical centre, Germany is the lynchpin of the Schengen system. It borders nine countries. Without Germany's participation, Schengen faces collapse," Ian Traynor, The Guardian's Europe editor, wrote.
Germany has been by far the most welcoming towards refugees of any EU state. Announcing the reimposition of border controls, Interior Minister Thomas de Maiziere said its 'Wilkommenskultur' stance on the issue must not be abused by countries unwilling to take their share of refugees.
"The question of what these limits are - how many lucky migrants will get in and how many unlucky ones will be kept out - this question will now be fiercely debated. It is one of the most painful and ethically complicated questions by far.
Slovakia announced it was also imposing border controls but did so without the required notification, the European Commission said.
Quartz journalist Annalisa Merelli wrote that one country clamping down on its borders can increase the strain on other countries and cause panic of exactly the sort that encourages further clamp downs.
"Thus reforming Schengen increases the risk that the treaty as a whole will unravel," she wrote, adding that the timing was "particularly troubling when the EU was facing such difficulty and Greece had recently been at the brink of leaving altogether.
Today, Europe's interior ministers will meet to discuss the situation.
European Commission president Jean-Claude Juncker said: "The objectives of our efforts must be to help ensure that we can go back to the normal Schengen system of open borders between Schengen member states as soon as feasible."
Juncker, who has previously advocated a fair distribution of refugees among EU states, said last week that the Schengen agreement would help ensure "stronger joint efforts to secure our external borders".
He said: "Fortunately, we have given up border controls between the Member States of the Schengen area, to guarantee free movement of people, a unique symbol of European integration. But the other side of the coin to free movement is that we must work together more closely to manage our external borders. This is what our citizens expect."
Popular in the Community