Mo, who was involved in a car crash aged six which left him without a penis, first appeared on the ITV daytime show two years ago to tell his story as he embarked on a journey to rebuild his genitals.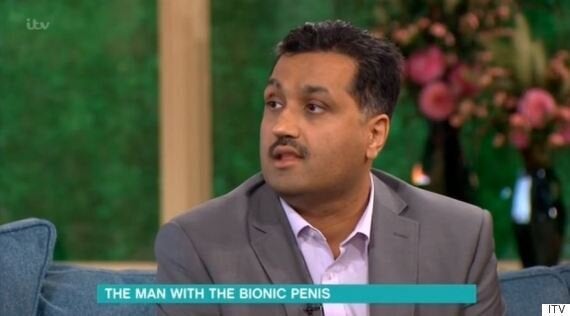 Mo Abad was left with no penis after a car crash, aged six
Over 100 operations later, Mo returned to speak about how his new 'bionic' penis has changed his life.
The eight-inch appendage was constructed from skin taken from Mo's forearm, and contains a state-of-the-art device used to give him an erection.
The Titan Touch Penile Prosthesis - also used for patients suffering from erectile dysfunction - is made up of chambers that fill with water and give Mo an erection, when he presses a button installed in his scrotum.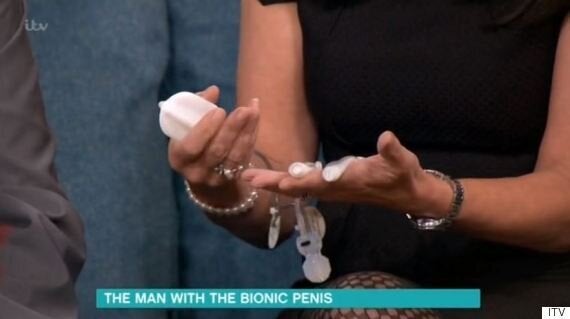 Mo has been fitted with the Titan Touch Penile Prosthesis
Speaking about his new penis, Mo said: "It's totally changed my life. Before, I was a nervous wreck. I didn't want to speak to anyone.
"Now because I've been through all of this, I feel comfortable to talk about it. I am so pleased with the ending."
Dr Dawn Harper and Phillip proceeded to demonstrate the device and encountered an awkward moment when it wouldn't deflate.
"It won't got down! Phil exclaimed, before Dawn showed him how to operate it correctly.
"Very sudden there, must be someone at the door," the host joked.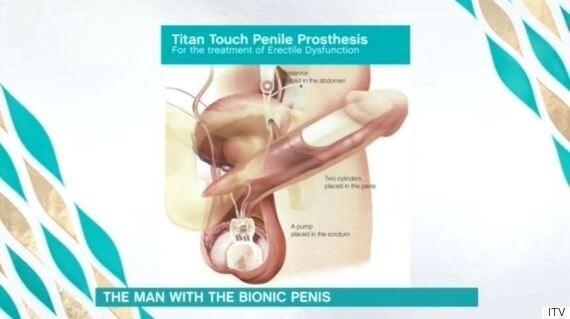 Mo presses a pump in his scrotum to fill the chambers in his penis with water
Despite now being able to use his penis, Mo admitted that it does not work in the same way another man's would, as he is unable to become naturally aroused.
"It doesn't feel like another man would feel. I don't sit there and get sensations, I physically have to do something," he explained.
He is also hopeful of now becoming a father, as he was left with one testicle after the accident, meaning he is still able to produce sperm.
He said of finding a partner: "I'm still a virgin, but I'm working on that."
'This Morning' airs weekdays at 10.30am on ITV.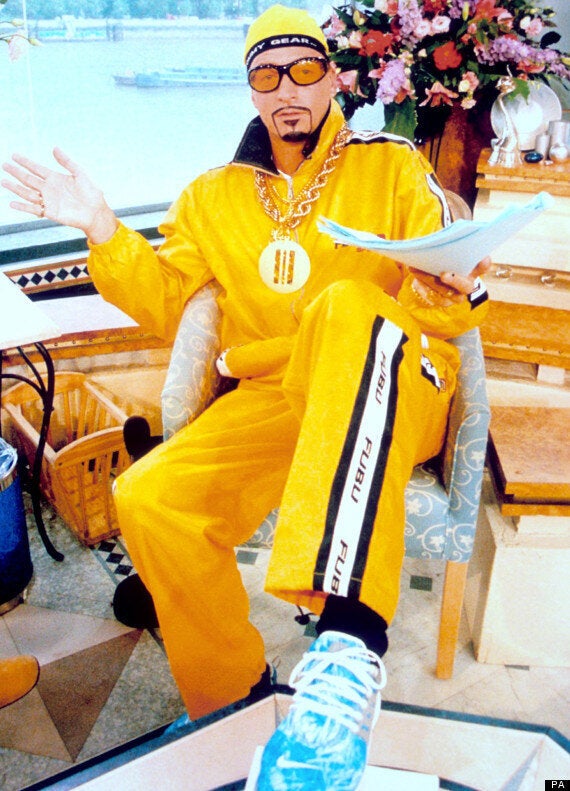 This Morning: Most Memorable Moments
Popular in the Community