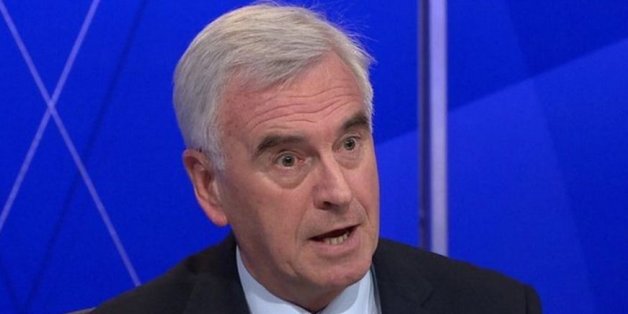 .
Shadow Chancellor John McDonnell has issued a double apology for praising the IRA and for joking about wanting to 'assassinate' Margaret Thatcher.
Appearing on BBC1's Question Time, Mr McDonnell said that his comments had obviously caused offence and he now apologised "from the bottom of my heart".
Jeremy Corbyn's right hand man came under fire from David Cameron this week when it emerged he had praised the IRA's 'bravery'.
He told a 2003 memorial event for hunger striker Bobby Sands that "bombs and bullets" and forced Britain to undertake the Northern Ireland peace process.
"It's about time we started honouring those people involved in the armed struggle," he said at the time.
Mr McDonnell also sparked anger over his comment from 2010 that if he could go back in time he would "assassinate Thatcher".
But on Question Time, he expressed his regret for the offence both remarks had caused.
Referring to his IRA remarks, he said he made the comments - which he made more than four years after the Good Friday Agreement - because it had looked like "we were going to lose the peace process".
"I urged them to put their weapons away. I should not have said the issue about the 'honouring'. I actually said there's no cause that justifies the loss of life in this way. What I tried to do was give both sides a way out."
"What I tried to do for both sides is to give them a way out with some form of dignity otherwise they wouldn't lay their arms down."
"And can I just say this, because this has been raised with me time and time again - I accept it was a mistake to use those words, but actually if it contributed towards saving one life, or preventing someone else being maimed it was worth doing, because we did hold on to the peace process.
"There was a real risk of the republican movement splitting and some of them continuing the armed process. If I gave offence, and I clearly have, from the bottom of my heart I apologise, I apologise."
Asked about his use of the word 'occupation' when referring to Northern Ireland, he replied: "Using words like the 'occupation', I had to use the language that Republicans understood so that we could secure the path to peace.
"There were risks, but it was worth taking because now people are not dying on the streets of Northern Ireland."
Challenged on the programme by a member of the audience over his 'assassinate' Thatcher comment, he said: "It was an appalling joke. It's ended my career in stand-up, let's put it that way, and I apologise for it as well."
After days of policy 'clarifications' by Mr Corbyn over the EU and benefit caps, the Shadow Chancellor insisted he was not advocating pulling out of Nato.
However, Twitter was divided over Mr McDonnell's apology.
#mcdonnell trying to justify disgraceful comments #bbcqt. Pathetic

— Andy Palmer (@AndyPalmer9) September 17, 2015
John McDonnell just said that his pledge to assassinate Thatcher has 'ended his career in standup.' He just doesn't get it, does he? #bbcqt

— Jack Cairns (@JackCairns_) September 17, 2015
John McDonnell has apologised for his IRA comments in 2003 on #bbcqt About time too, now lets move on

— Ian (@Mancman10) September 17, 2015
@paulwaugh Apologising for "offence" if caused, doesn't seem he apologised for having the views or am I misreading it?

— SeniorSceptic (@marwilk) September 17, 2015
Most extraordinary thing about the McDonnell apology is that it sounds like he's taking credit for the peace process. 'We did hold on' etc.

— - (@RedcliffeSq) September 17, 2015
Yer man McDonnell knocking it out the park. Just goes to show that people rarely delve past the hysteria of a headline.

— John McGinley (@jmcginley13) September 17, 2015
. @DVATW McDonnell is having to do an awful lot of rowing back now he's got his hands on power.

— Jane Dalton (@JournoJane) September 17, 2015
Mr McDonnell also hit out at those who attacked him for not singing the national anthem at this week's ceremony for Battle of Britain veterans.
"The national anthem isn't just for those who are monarchists, it's for everybody. I asked him do you normally sing it? He said 'yes I generally do', 'would you again?' 'Yes I will'. The media then just seized upon it and it was very much a personal attack."
Alex Salmond, the former SNP leader who was also on the programme, said: "I love John, but I find that explanation a wee bit difficult. I thought it was a silly thing for Jeremy Corbyn not to do".
Environment Secretary added: "I find the story [of Mr McDonnell's explanation] a bit hard to believe."