More than 100 "terrified" dogs and puppies trapped in filthy wire cages, waiting to be killed for human consumption, have been rescued from a farm in South Korea.
In the third dog meat farm closure of its kind by HSI, all 103 dogs are being flown to the United States where they will be adopted.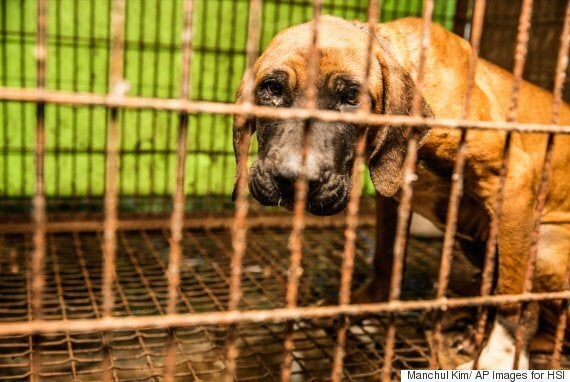 Dogs were found in filthy cages
Footage captured by the animal welfare group shows the terrible conditions the animals were forced to live in.
Breeds on the farm ranged from large mastiffs - most often considered as "meat dogs" in South Korea - to Jindo mixes, Spaniel mixes, and Chihuahuas.
One cage contained a mother and her young pup, who looked just a few days old.
Others housed groups of puppies, who cowered in the corner, visibly frightened at what was happening.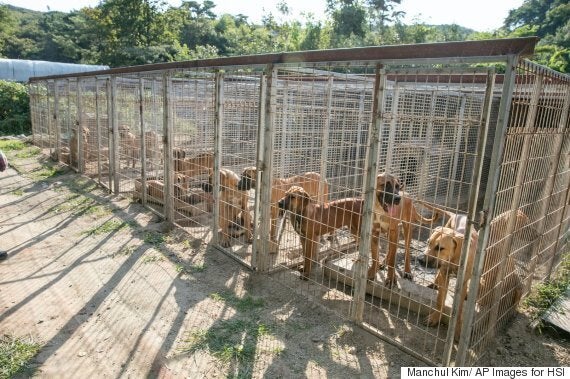 Rows of dogs waiting to be killed for their meat
Kelly O'Meara, HSI's director of companion animals, said: "The first time we saw the dogs, it was really shocking.
"They were clearly terrified but once they realized we weren't there to hurt them, their tails started wagging, eager for the slightest show of affection.
"They have so much love to give, it's appalling to think they were destined to be butchered for their meat. These dogs are going to make wonderful canine companions.
"Rescuing them and getting to know their personalities makes us even more determined to end the cruel dog meat trade."
Article continues below slideshow: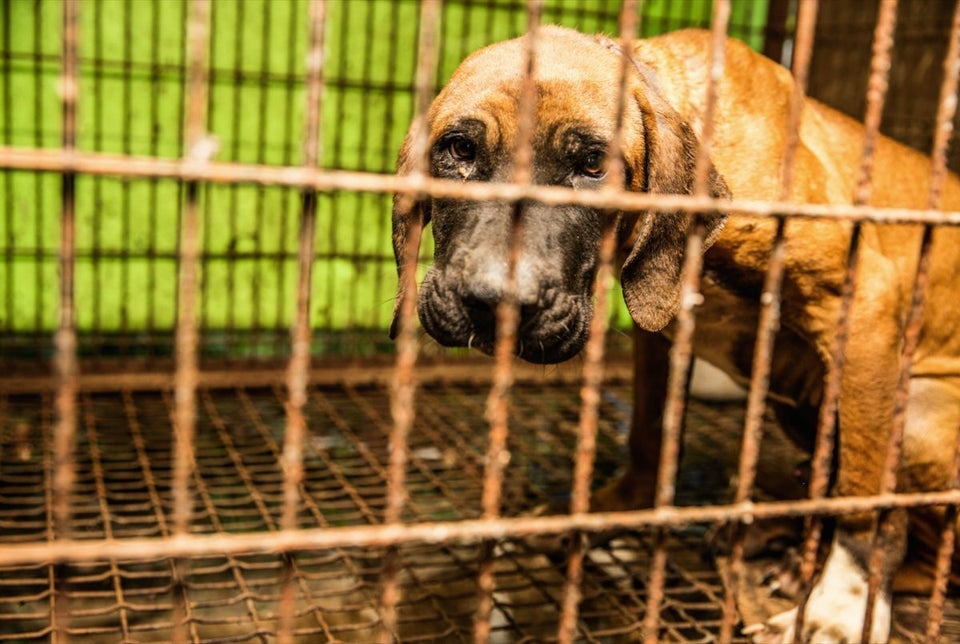 South Korean dog meat farm rescue
More than two million dogs are bred and killed each year for their meat in South Korea as part of Asia's dog meat trade.
In countries such as China, many of the dogs that end up on people's plates are stolen from the streets, but in South Korea they are exclusively bred on small scale factory farms.
This farm's owner, Mr Kim, is one of a number of farmers who are working with HSI to close down their dog farms and switch to humane livelihoods instead.
Mr Kim, who had bred dogs for meat for one year, said: "As a dog lover, I hope to see more dogs getting adopted to families. In the future, I hope other farmers will be given this opportunity where they can change to different businesses."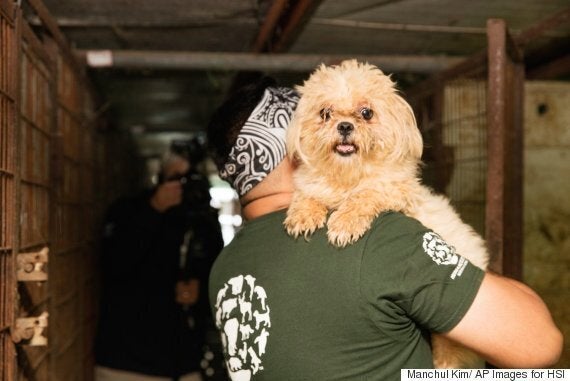 HSI's team rescuing dogs from the farm
HSI will be launching public awareness campaigns to encourage South Koreans to think differently about "meat dogs", who are no different to the pet dogs that a growing number of Koreans are welcoming into their homes as companions.
While dog adoption is not yet widely established in South Korea, HSI hopes to see that change in the future by building a community of citizens who adopt former farm dogs into their homes and help fellow South Koreans take them into their hearts.
Kitty Block, HSI's Vice President, said from Seoul: "HSI has now rescued and rehomed 186 dogs from South Korea's brutal dog meat trade, and every time we see these lucky guys happy in their new families, it's a painful reminder of those still languishing on these farms.
"These dogs will be amazing ambassadors for our efforts to end the cruelty of the dog meat trade, and we hope to open a dialogue with the South Korean government about doing just that.
"When the Winter Olympics comes to Seoul in 2018, the world will want to know that South Korea no longer tolerates dog meat cruelty."
Australian comedian and Korean TV star Sam Hammington, joined HSI's rescue team to rescue some of the dogs (see the video below).
He said: "I was shocked to see the conditions under which they were living, as well as the condition of the dogs themselves.
"A majority of them just wanted human attention, even just a loving pat on the head got them excited. That contact I would make a guess they have never experienced. After patting them, holding them and getting them out of the cages, I could see a difference in their behaviour.
"It was exciting for me to be able to make a difference for them and to send them off on a new and positive part of their life where they will get the love and attention that they not only desire but deserve."