For same-sex couples, the decision to start a family comes with a series of hurdles. It marks the beginning of difficult process of navigating fertility treatments and sperm donors, surrogates or adoption.
Eight years ago Sara and Nicole Foskett, a married couple from Watford decided the time was right for them. They'd been together for 14 years, they were both in good jobs, they had their own home. They ticked all the boxes.
So far, so heterosexual. Up until the point where Sara and Nicole had to find a sperm donor. A friend offered to be a no-strings-attached third party, and from then the eight-year process began.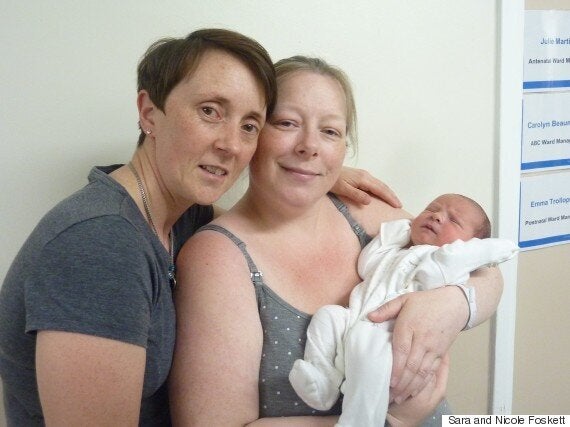 After trying to conceive at home for eight months, Nicole fell pregnant. She told HuffPost Parents: "We were ecstatic that finally it had worked and we would have that family we so badly wanted, but sadly after six and a half weeks, I started to spot.
"I went to the doctor who referred me to the hospital for a scan, which showed that I was miscarrying."
Devastated but undeterred, the couple decided to keep trying. But this time, the donor decided he no longer wanted to continue. They were back at square one.
It was then that they found out that Nicole's BMI was too high to have IVF on the NHS. According to guidelines, women need to have a BMI inside the range of 19-30 in order to be considered for funded treatment.
Another set back for the couple put the process on hold once again. They got married, and found another donor, but when nothing happened they had no choice but to turn to IVF.
"We has been trying on and off for about four years, and both of us were getting older, I was 35 and Sara was 37," Nicole said. "Time was running out and we just wanted out own little family."
And so the IVF journey began in October 2012.
"We did some research online and contacted a clinic in London, but sadly they never returned our call or online enquiry so we went onto the next clinic, which was Harley Street Fertility Clinic (HSFC).
"We booked a free initial consultation with a representative of HSFC who talked us through our options, once this was done we were given some time to discuss this between us and then we met Dr Venkat, who explained both procedures in great detail and she gave us the statistics, and this with my age and weight, IVF was the greater chance of success."
In December 2012, Sara and Nicole embarked on their first cycle, and after two unsuccessful embryo transfers, they tried again, and eventually found out they were pregnant in February 2013. Devastatingly, the pregnancy ended in an ectopic pregnancy at seven weeks.
Nicole had to have emergency surgery to remove the baby and the tube. "It was heartbreaking news, and very upsetting for both of us," she said.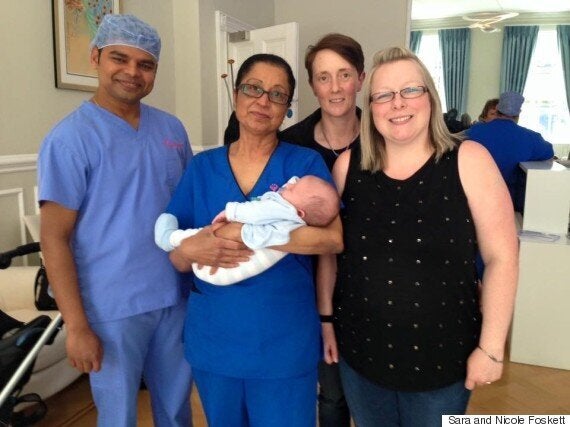 "We had no choice as my health was in question. Had we waited any longer, we could have had a different story as I had started to rupture and bleed internally. I was caught just in time.
"The doctors told us that we had to wait a minimum three months before trying again, as my body had to recover from the surgery. It was a laparoscopy procedure and all went well, but it was a very emotional time and Sara and I had lots to talk about. It affected both of us very hard."
The three months of recovery time passed, and Nicole felt she was in a 'better place'. "I'd lost weight, and was confident that this time it would work for us. We had 10 eggs, eight of them were fertilised, two of them were put back in, and three were sent to be frozen."
After an agonising 14-day wait, Sara and Nicole found out they were pregnant again. At the seven-week scan, they found out they were expecting twins.
The pregnancy wasn't without complications. At 15 weeks, Nicole had to have a cervical suture to prevent the twins from being born prematurely, but at 19 weeks, the Foskett's world fell apart.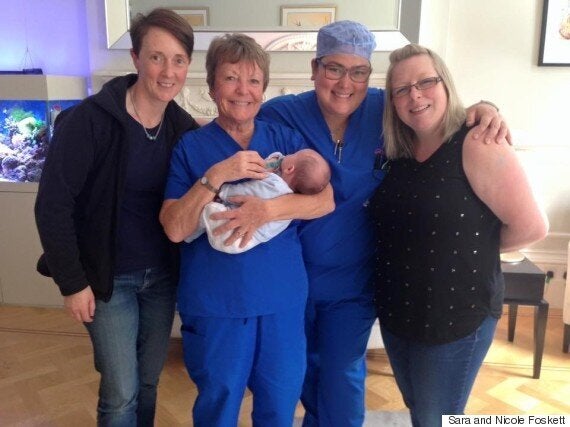 "After an internal check up, and a scan I was told that my waters had gone and that the twins were going to be delivered. I was numb, everything seemed to be in slow motion.
"We had to ring our parents to let them now the devastating news that our boys were going to be delivered shortly and that there was no chance to survive as they were too premature.
"Everything seemed so unreal, we couldn't believe that again everything was going wrong for us, we could not understand why but just new that what we were going to go through would change our lives.
"I was in labour for what seemed forever, but was actually 14 hours. On the 31st of January 2014 at 4.05am Drew Foskett was born weighing 250 grams, followed by Jamie Foskett at 4.16am also weighing 250 grams. Our two beautiful boys were born and sadly had no chance of survival as they were just not fully formed enough."
Talking about the time after the tragic loss of their twins, Nicole said: "We had some time with our boys and we got to take some hand and foot prints of them both, we were allowed to keep the blankets that they were wrapped in and their wrist bands.
"It was very surreal going into hospital being pregnant with twins and leaving the next day with two blankets, wrist bands and some photos. I was really struggling to cope with the situation.
"The miscarriage and ectopic were hard on us but easier to deal with, but seeing our two boys fully formed and being born so prematurely was something else. Our hearts were broken."
On 11 February 2014, the couple said their final goodbye to Jamie and Drew at their funeral.
"The next few months were hard on us both," said Nicole. "Our lives were shattered, but I had Sara. I'm not sure I could have gone through all of this without the love and support of my wife.
"We had good days and bad days, but strangely they seemed to fall on different days for both of us, so one was always able to care for the other."
Sara and Nicole were offered counselling through the NHS, and took them up on their offer. "We were both struggling to deal with everything that had happened to us," said Sara.
On the couple's second wedding anniversary in August 2014, the couple tried one last time for the baby they dreamed of having. One successful embryo transfer later, Nicole was pregnant again.
The couple's complicated history meant that Nicole had to have a cervical suture at 12 weeks. "The operation involves a spinal block, so your awake throughout, and I was lucky that Sara was allowed to come into theatre with me, as this was a very scary and emotional time for me.
"All the memories were flooding back, to get to the theatre I had to walk past the room I delivered the twins in, so by the time I got to theatre I was crying, but all the staff showed great empathy and gave support which is what I needed."
From then on, the pregnancy went well. With each scan that went by, the Foskett's came one step closer to meeting the baby they craved so desperately.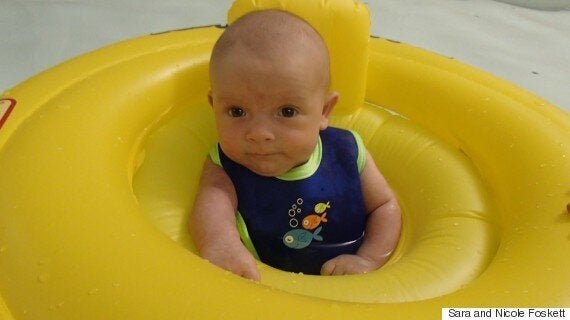 On 4 May, Nicole was admitted to hospital to be induced, but after a 12 hour labour, it was decided that she would have an emergency C-section.
"Within 30 minutes our beautiful baby boy Tyler Jake Foskett was born weighing 8lbs 6oz on the 9th of May 2015 at 00.20am. We were smitten with the handsome little thing that had finally come into our lives.
"We still can't believe he's here. We waited for our own little family for almost nine years, now we can't imagine life without him."
Their advice to other same-sex couples who are starting a family is to talk to each other. "It's a rollercoaster of emotions, and there are complications that can occur but try to listen to your body and get checked out if you're worried."
So after the highs and lows, the heartache and pain, would they do it again?
"As stressful and emotional as our experience was, we would so do it again. Every time we look at Tyler it makes it all worthwhile."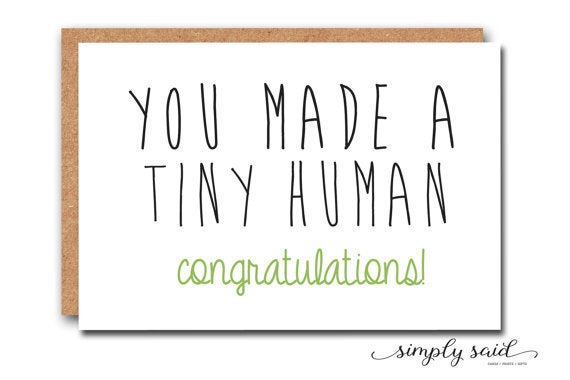 Honest Cards For New Parents