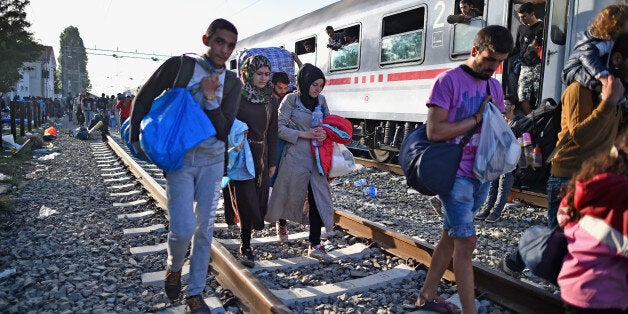 The UK received one in thirty of all the asylum claims made by new applicants in European Union countries between April and June, new figures show.
A total of 7,470 people making their first application and their dependants sought refuge in this country - an increase of 2% on the previous three months, according to statistics from the EU's data agency.
This was 3.5% of the total of 213, 200 registered across the bloc - the seventh highest proportion of all 28 member states.
Germany received by far the greatest share of first-time applications, with 80,935 - or more than one in three (38%) of the total lodged in the bloc over the three months. They were followed by Hungary with 32,675, or 15%, and Austria, with 17 395, or 8%.
Several EU countries have come under intense pressure in recent months after a huge influx of migrants and asylum seekers from Africa and the Middle East.
The latest data showed that the number of first-time asylum seekers applying for protection in the EU in the second quarter of this year jumped by 15% compared with the first three months of 2015 and 85% compared with the same period last year.
Eurostat, which published the figures, said the number of Syrians and Afghans lodging claims "rose considerably" to reach almost 44,000 and 27,000 respectively.
They were the two most common countries of origin for those making their first asylum application in the EU, while Eritreans made the highest number of applications to live in the UK.
Hungary recorded the highest rate of first-time applicants when compared with its population, with 3,317 per million inhabitants.
By this measure the UK ranked 17th in the EU, receiving 115 applicants for every million residents.
Britain is preparing to welcome the first group of Syrian refugees under the Government's expanded resettlement programme in the coming days.
David Cameron announced plans to take 20,000 people from camps in the region earlier this month.
It came after pressure to admit more people from the war-ravaged country following the publication of photographs of three-year-old Aylan Kurdi, who drowned with his mother and brother trying to cross from Turkey to Greece by boat.
Popular in the Community