Japan has beaten South Africa in the Rugby World Cup, in what is being called the biggest ever upset in the tournament and one of the biggest in sporting history.
Two time-champions South Africa lost 32-34 to outsiders Japan, who had failed to win any of their last 18 World Cup matches, after a try in the final minute of their game in Brighton.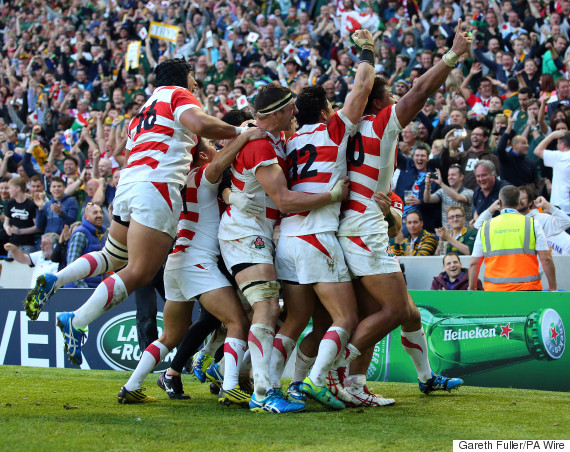 Japan celebrate scoring their winning try
"This is one of the greatest upsets in sporting history and our World Cup has got off to a flyer," said a spokesman for bookies William Hill.
Before the match, Japan were 1000/1 to win the World Cup and are now 300/1, he added.
South Africa has won the world cup twice since the last time Japan won a single World Cup game, 24 years ago.
People reacted with stunned shocked as the result, with ITV's Tom Bradby calling it "perhaps the most exciting rugby match I've ever seen".
Japan vs South Africa; perhaps the most exciting rugby match I've ever seen. Incredible. Amazing. Watch it even if you don't like the game..

— tom bradby (@tombradby) September 19, 2015
Japan beat the Boks ?! All I can say then is bloody well done Japan. Biggest win they've had. Boks will be very bruised by that

— Giles Dilnot (@reporterboy) September 19, 2015
Absolutely Stunned. We got beaten by a better team today - Well done Japan.

— Pierre Spies (@Pierrespies8) September 19, 2015
A visual representation of Japan's triumph over South Africa (for @MarkDavo) #RSAvJPN #RWC2015 pic.twitter.com/s0CzJdWIys

— General Boles (@GeneralBoles) September 19, 2015
"Forget World Cup history.....rugby history full stop. Amazing result" http://t.co/RvrVgfxXFk

— Martyn Williams (@martynewilliams) September 19, 2015
South Africa were regarded as favourites to win the tournament.
Speaking after the result, South Africa captain Jean de Villiers said: "There's a lot of disappointment. Big credit to Japan they put us under pressure at the end and we were not good enough...
"The character of this side will be tested. It is not doom and gloom but a massive dent to us."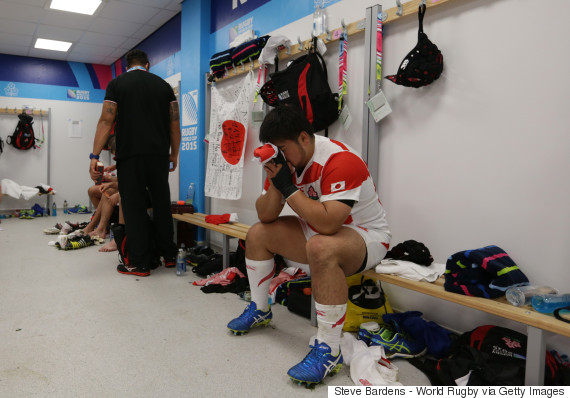 Japan player Kensuke Hatakeyama sits in shock after the surprise victory