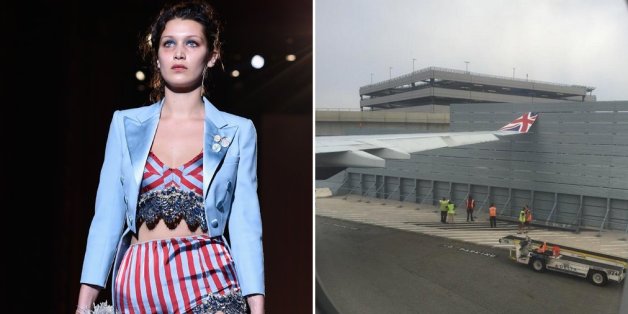 Getty/Twitter/Schlecker R
When Bella Hadid announced she was en route to London Fashion Week she didn't expect the journey would take her nearly 20 hours, after the plane she was on "hit a wall".
My plane just hit a wall

— Bella Hadid (@bellahadid) September 19, 2015
The London-bound Virgin Atlantic plane was grounded at JFK airport after its wing clipped a fence as it was preparing for take off on Saturday 19 September at 8.30am local time.
The Port Authority of New York and New Jersey said there were no injuries on Flight 26, which was being pushed back from the gate by a tug when the incident occurred.
Just two hours earlier Bella had shared a video on Instagram with the caption: "Bye nyfw...sup london towwwn! on my way to uuuu!"
Luckily the model had actress Bella Thorne and her boyfriend actor Gregg Sulkin to keep her company and they passed the time by making use of massage chairs in the airport.
Other passengers on board the flight tweeted their annoyance at the hold up.
@VirginAtlantic noooooo!! They crashed our plane into the blast fence!! I just want to go home!! pic.twitter.com/mPzD10BnM4

— Schlecker R (@hschleckr) September 19, 2015
And as the hours wore on Thorne also began to lose her patience tweeting at Virgin Atlantic to complain about the delay.
so virgin gets into an accident and leaves us stranded at the airport for 14 hours with no where to rest and no other options for flight.

— bella thorne (@bellathorne) September 19, 2015
@VirginAtlantic i understand accidents happen but what i don't understand is why you would not just transfer me on to another flight? why

— bella thorne (@bellathorne) September 19, 2015
@VirginAtlantic would you leave me stranded at the airport? why not refund my one so i could get on another flight?

— bella thorne (@bellathorne) September 19, 2015
Thorne went to say the airline apologised for the delay and booked her on a flight that departed JFK later in the evening on Saturday.
She tweeted to say the flight had landed in London at 8.40am on Sunday 20 September.
Thank you @Delta for a great flight 🇬🇧 hello London

— bella thorne (@bellathorne) September 20, 2015
SEE ALSO:

Julien Macdonald Catches The Bride As Model Falls At #LFW

Phew! Fashion Week Lingo Explained
A Virgin Atlantic spokesperson said the incident was a caused by "a miscalculation by the tug".
"The VS26 departing from JFK to London Heathrow returned to the gate after a miscalculation by the tug caused minor damage to one of its wing tips.
"Safety is our number one priority and we would like to apologise for the delay and any inconvenience caused."