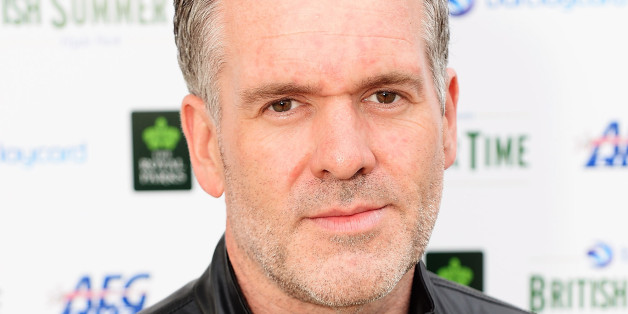 Dave J Hogan via Getty Images
Chris Moyles made his radio comeback on Monday morning, fronting the breakfast show on the newly-rebranded Radio X, formerly Xfm.
BLOG: Chris Moyles' 'Feminism' (And Other Reasons Why I Won't be Listening to Radio X)
Ahead of the station's relaunch, fans and critics questioned Radio X's new "male-focussed" approach. However, after setting the record straight during the first 30 minutes of his show, Chris soon got back into the swing of things, and pleasantly surprised the majority of listeners:
Old #XFM listeners will probably ditch the station.. However, #RadioX will create a new following with new listeners.. Great changes..

— Brenie B (@BrenieB) September 21, 2015
I've just laughed at something on breakfast radio for the first time in three years. #ChrisMoylesIsBack #RadioX

— Emma Jane Bradshaw (@emmajbradshaw) September 21, 2015
There is a certain level of comfort waking up to Chris Moyles. Old habits never die. #radiox

— Matthew McEvoy (@MDMc16) September 21, 2015
Loved listening to @ChrisMoyles this morning. It's been three years too long. #MoylesIsBack #RadioX

— Ben Johnson (@TheNorfolkBlue) September 21, 2015
40 mins into #RadioX and the only song played has been a short radio edit of Girls Aloud's Love Machine #playsomedecentmusic

— Nardia Millington (@Narrrdia) September 21, 2015
My mornings will be getting so much better with Radio X #chrismoyles #radiox

— Joanna Alsabiry (@JoannaAlsabiry) September 21, 2015
@vernonkay can I listen to #radiox I am female aged 64? Loving the music

— Jill Hill (@Jillill) September 21, 2015
I think the entire @RadioX team were on point today for the breakfast show. Top job. #RadioX #MoylesIsBack

— George Patchett (@GeorgePatchett) September 21, 2015
@RadioX #RadioX what a great start. I'm locked in. I think that's what the kids say.

— John Fry (@BigjohnFry) September 21, 2015
If you want to convince us that you like/welcome women to your station, then hire equal numbers of male and female presenters #radiox

— Fiona Sturges (@FionaSturges) September 21, 2015
Girls Aloud on the 'fresh rock, male only radio station' nice work 😂👏🏻 #RadioX

— Sam (@essjayarr) September 21, 2015
After almost 30 minutes of chatter, Chris officially opened his show with Girls Aloud's 'Love Machine', as a direct response to Radio X's critics.
Radio listening figures are issued quarterly, so fans will have to wait until January to hear how Chris fares against his commercial radio rivals, and the BBC's offerings.
The Radio X rebrand has seen a full shake-up of the station's offerings, and veteran presenters John Kennedy and Ian Camfield are being joined by Chris, Vernon Kay and Kaiser Chiefs'' Ricky Wilson.
Will you be tuning in during the coming months? Let us know in the poll below…
LIKE US ON FACEBOOK | FOLLOW US ON TWITTER