The claims are contained within a book written by billionaire Tory donor Lord Ashcroft, due to be published next month but serialised in advance by the Daily Mail.
But the Daily Record, and newly founded pro-independence paper The National, both offered rather more scathing treating of the allegations than their brethren south of the border.
On Tuesday, sub-editors mocked up their original splash, writing: "The sow (and a vow of silence)".
"David Cameron has taken a vow of silence over lurid allegations of student debauchery made by his former right-hand man and party financier," their front-page editorial mused.
"Downing Street yesterday refused to comment on claims in a controversial biography that Cameron 'placed a private part of his anatomy' into a dead pig's mouth in a ritual during his university days.
They added: "The Prime Minister's official spokeswoman said she "would not dignify claims" made in the book by Lord Ashcroft, the former Tory deputy chairman."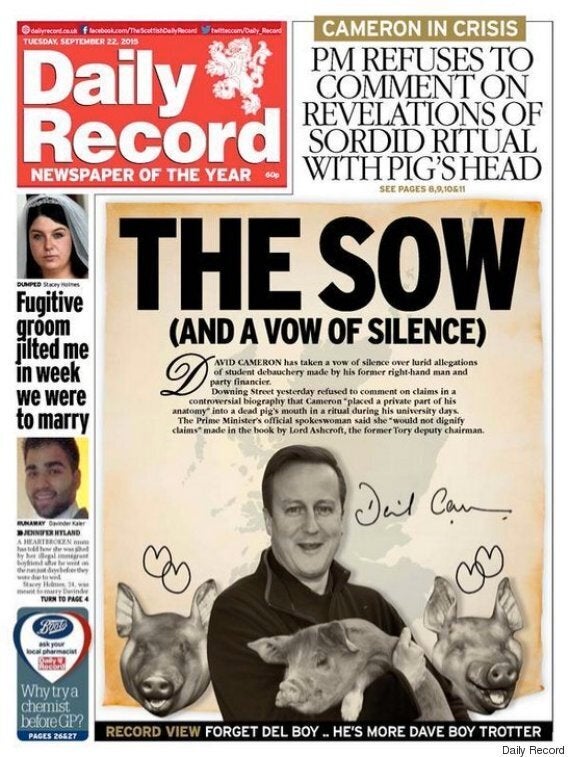 The Daily Record's Tuesday front page
The National, however, its font page amassing much support on social media, created an animated picture of its own splash, featuring a pig flying across the sky, captioned with "Cameron stays silent and prays it will all blow over".
Other newspapers chimed in too, the Daily Telegraph's 'Matt' comic dedicating his much fawned over cartoon space to the issue.
Tuesday's strip featured an elderly women attempting to purchase some meat from a butcher, being asked by the shopkeeper serving her "is it for Sunday lunch or for a debauched university ritual?"
Elsewhere, the Metro covered Tuesday's allegations, albeit with a rather more measured approach.
Editors opted for "A pig fuss over nothing", noticing the Prime Minister had remained "silent" over what it called "lurid claims".