The 2015 General Election saw 176 MPs elected to the Commons for the very first time. In a series of exclusive interviews, The Huffington Post UK is speaking to 15 MPs from the 2015 intake of the Conservatives, Labour and SNP. This week, it's music maestro turned mobile phone mogul David Warburton
Bouncer, pianist, teacher, business mogul and now a Tory MP, David Warburton has one of the most cluttered CVs of any of Parliament's new intake.
A heavy metal guitarist in his teens, David embraced classical music and composing in his early 20s, winning major awards and having his work played in Covent Garden and beyond.
But it is the story of how he landed a huge contract with MTV Europe to provide them with mobile content which marks him out as the Del Boy of Parliament.
The Somerton and Frome MP didn't let little things like not having any staff or even an office stop him from winning the contract. He just, sort of, pretended he did...
Here is David Warburton's 15 from '15:
1) Where were you born and raised?
I was born in Buckinghamshire but grew up in Reading. I didn't do very well at school and I got chucked out of grammar school and then I went to comprehensive. I wasn't technically 'chucked out', I was 'asked to leave' after my O Levels because I only got three and they said 'Oh well, you're not up to much'. I was always in trouble and I didn't work at all at school. I was getting caned and stuff all the time. For smoking, you name it. So I went to comprehensive school, which was great and then I started to pull myself together. Then I did loads of jobs after that. I was a bouncer, not a very good one, I was a carpet cleaner, I was a cleaner for a bar, I delivered sandwiches for a living for years, I worked in shops for five years. Tons of other jobs. I would show people to their seats at the Royal Albert Hall. Played the piano in hotels around London. You name it, I did it.
During all that I got into the Royal College of Music. There I studied composition and started writing music which nobody likes and everybody hates. I was sort of squeaky-gate kind of sounding modern classical music.
When I left college I tried to be a composer. I went to Kings as well and did a Masters and started a PHD, and I started to try and be a composer, but you can't make a living as a composer, particularly if you write music everyone hates,
It was art music, like Harrison Birtwistle or Peter Maxwell Davies, who became the Master of the Queen's Music. He taught me for a while. He was my idol.
I had work performed in Covent Garden and at lots of music festivals by ensembles. It didn't make a living, it just made a little bit of money now and again.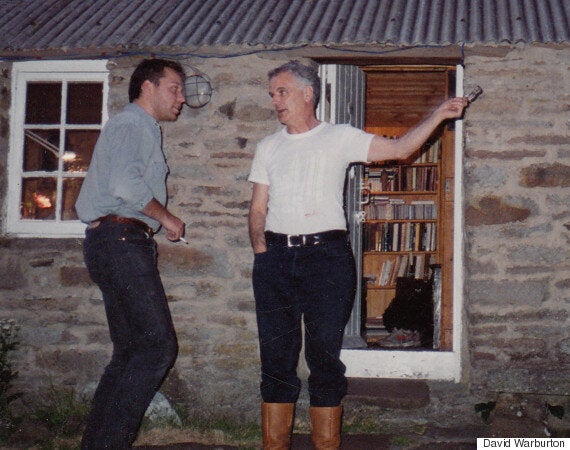 David Warburton with Sir Peter Maxwell Davies on the Orkney Island of Hoy
2) What did you want to be when you were a child?
I fulfilled an ambition the other night. When I was about 14 or 15 years old, I was quite sad but I used to really like listening to Today in Parliament at half past 11 on Radio 4. I don't know why but I really loved it. I was obsessed with politics when I was a teenager. It was the 80s and it was quite a political time and really divisive. It was Thatcher or miners and all that stuff. I was where I am now poltically, but most of my friends were left wing, as they are now. They are always making fun of me about that. I used to listen to Today on Parliament and think it would be incredible to be there. I never thought I would be there and a few weeks ago, I was on Today in Parliament. So I fulfilled an ambition.
3) When did you first become interested in politics?
About 13, 14, 15. I had a book called How Parliament Works when I was 13 and loved it. I like the argument and the debate, I like the place obviously, and who cannot be impressed by the place and the history. I love the whole thing. I never for a second thought I would be here until two years ago.
4) Do you have any political heroes?
I could say cheesey things like Churchill or Disraeli but I suppose it's more interesting to say do I have any political heroes now. No, I don't think so.
5) When did you first stand for election?
At the General Election just gone. I've never been on the localcouncil or anything else. I was the composers' representative on the Students Union at the Royal College. As far as I remember it entailed going to the bar, as did most of college.
6) What did you do for a living before becoming an MP?
In the nineties I was a teacher, which is what all musicians end up doing. I taught adult education and I taught kids - music, music history, keyboards, music technology, guitar.
I had a job teaching in a school in Fulham in a school that was described by the London Evening Standard as the worst school in London. It was a failing school at the time, but it's not now. The deputy head got beaten up once by the kids and we used to have knife checks in the morning for the kids. Lots of parents were banned from the school. The kids were fantastic and there were really bright kids and really able kids. A lot of them were completely trapped by their upbringing so it didn't matter how able they were or how much effort they put in they really had tight, small horizons, which is really gutting and difficult but also kind of fabulous when you meet some kid who is really great. I enjoyed that a lot, although it was terrifying teaching a massive group of year nine kids who were all bigger than me.
At that time, mobile phones came out where you could programme in ringtones and so the kids came to me to get their phones to play, well, mostly 'Blue is the Colour [Chelsea FC song]'. They would all be queuing up at lunch time for me to do this to their phones and I thought maybe there's a business in this. So I bought a computer from PC World and set up a website where I would sell mobile phone ringtones in a protected area. You would pay with a credit card and get into this protective area and download all these ringtones. It was making so much money that I gave up teaching, I took on investors and formed a company and started doing that. Eventually it grew into all sorts of mobile.
MTV Europe put out a request for proposals from companies to provide all their mobile content throughout Europe. It was for all their websites, and do all the licensing, the customer service, the billing, all in different languages for different sites and everything else and for music downloads, for video downloads, graphics all that stuff. So I wrote a proposal from my spare bedroom in South Norwood saying I could do this and it would be great and that I was this big company, when it was just me, obviously. Thirty-two or 33 companies went for it and in the end it came down to me and a company in Paris apparently.
They rang me up on the Tuesday and said 'We want to come and see you on the Friday'. I thought 'Yikes, what do I do?'. So I hired an office near Old Street roundabout and I got my friends to come along and bring their computers and stuff, and cups, bins. We made posters for the wall, I did a logo for that and made up documents.
I hired girls from Office Angels and they all pretended they had jobs. MTV turned up and it was terrifying, it was really scary. We had no electricity and none of the phones worked. All we had was lights above. So I had an elaborate story if they looked at any of the screens about 'Another power cut, oh God'. I got each of them to set their phones to a normal phone ringing sound and they had sheets with their mobile numbers so they would ring each other so they would continually be answering the phones so it sounded like there was stuff going on. Five people from MTV came and it was two and a half hour meeting, really detailed. After they left it was such a relief I took everyone down to the pub. MTV phoned up later that evening and said you've got the contract, which was brilliant. It meant that I could stay in that office, we could stay there for two more years and it also meant the business could go from being in the spare bedroom to a proper business.
I told MTV after about six months I had done this and they thought it was really funny and they didn't mind it all, they thought it was really great. In fact two of them that came to that meeting left MTV and came to work for me. The business grew and we moved to Covent Garden and opened 14 offices around the world. We had about 70 people in Covent Garden - quite a big outfit in the end. Then I sold it and went back to Somerset where I had lived in the early 90s and started another couple of businesses, property and an online business for high streets, getting high streets online and did lots of charity stuff. And then I got involved in politics.
7) What do you do to relax?
I like music, classical music. I listen to a lot of classical music when I'm driving, as well as rock music but I'm a bit sad and old. Playing the piano also works. If I really want to relax then a glass of whiskey, piano, and I'm a happy man. I could play for hours. I kind of make it up mostly and join things together but Bach is the greatest composer in the universe so I try and play Bach often. It doesn't get better than that.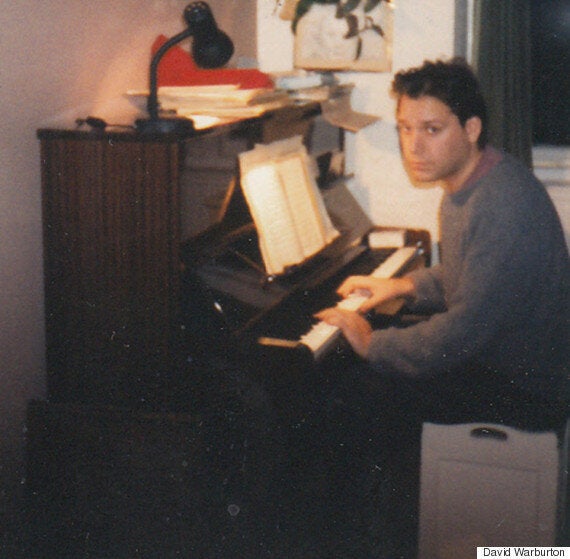 A young David Warburton at the piano. All the whiskey must have been drunk.
8) If you could run any Government department, which would it be?
Culture, Media and Sport. That's what I would really like to do, and business as well, but I think that DCMS has a great opportunity that hasn't really been looked at properly. The opportunity hasn't really been taken properly, ever, in terms of how politics looks at the arts. It's always looked at as an economic thing, or an economic benefit of how it can help people get jobs rather than just its intrinsic value in someone's brain. Just to have that framework to have to apply to other things.
9) What is your favourite film?
I've got two favourites. Lawrence of Arabia and Carry On Camping. I love Carry On movies, they are happy and optimistic and naïve and childish and stupid and I like that.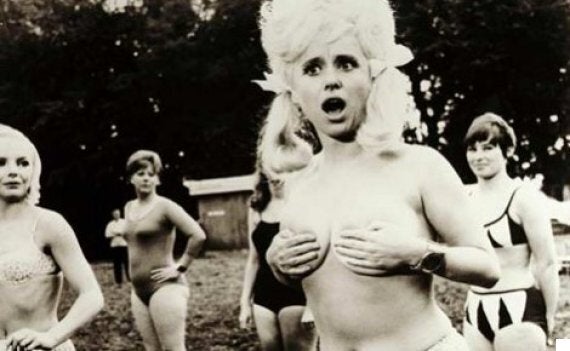 Barbara Windsor in Carry On Camping's most famous scene
10) Who is your favourite band/artist?
My favourite band would probably be Led Zeppelin. Jimmy Page was my hero a real amazing talent.
11) What is the best thing about the House of Commons?
The chamber. The atmosphere and the presence and the weight of history. It feels incredibly special and intimate. It's small and you can feel the stuff that's happened before and it feels like there's still stuff yet to happen. And I love the fact that it's too small for us all to fit. It means that when something is really important is happening or PMQs is on it's packed out. I love all the traditions and the craziness of it. I know it's stupid and it's mad and it's utterly irrelevant and pointless but it's great. I think it all adds to the occasion and therefore the seriousness of what's going on. If it wasn't like that it would be more like a normal business meeting and be bland and cold and empty and it wouldn't feel like we were actually up for doing something really important. It would be horrible if we were all sitting at pine desks with microphones and little screens with headphones on. It would be awful. I wouldn't want to be in it.
12) What is the worst thing about the House of Commons?
It's hard to do anything, it's hard to achieve anything because of the amount of stuff coming at you. There's hundreds of emails a day all seeking this, that and the other. There's constituents wanting help and lots of lobby groups wanting to meet you and as yet I haven't really worked out how to give everybody the proper attention. You kind of skate around, keeping people happy, and then forgetting somebody else. Everyone is only getting a little bit and don't feel I'm doing it all properly.
13) What is the one thing you would change about UK politics if you could?
I would change the obsessively adversarial nature of it, particularly locally. I don't like that. Also, people's preconceptions. People think 'He's a Tory so he wants to burn kittens or beat up an old lady'. I hate that, I hate that. It's massively unfair and massively untrue.
14) What one reason would you give someone to visit your constituency?
Probably everybody says it, but it is beautiful and stunning. People go there on holiday all the time because Somerset is gorgeous and the Somerset levels are fabulous. There's the Mendip Hills and the lovely market towns and villages. That's why I'm there. It's a choice, I could have gone anywhere.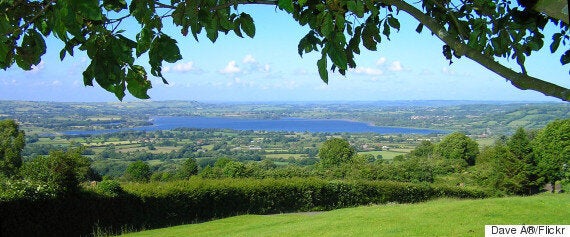 15) What are the best and worst aspects of your personality?
Best – I don't think I have any 'best'. Can I miss out 'best'? I do like doing new things and trying new things where people say 'you can't do them'. The worst aspect is exactly the same thing, because if somebody says 'you're not allowed to go there' or 'you shouldn't say that' then I really want to do it.