David Cameron faces political embarrassment today after allegations of drug use, debauchery and "bizarre rituals" during his time at university were published in a new book from former friend and ally, Lord Michael Ashcroft.
Billionaire peer, Lord Ashcroft, wrote the damning book after he failed to receive a position in Cameron's government in 2010. Lord Ashcroft said this led to him having personal "beef" with the Prime Minister after he was shunned.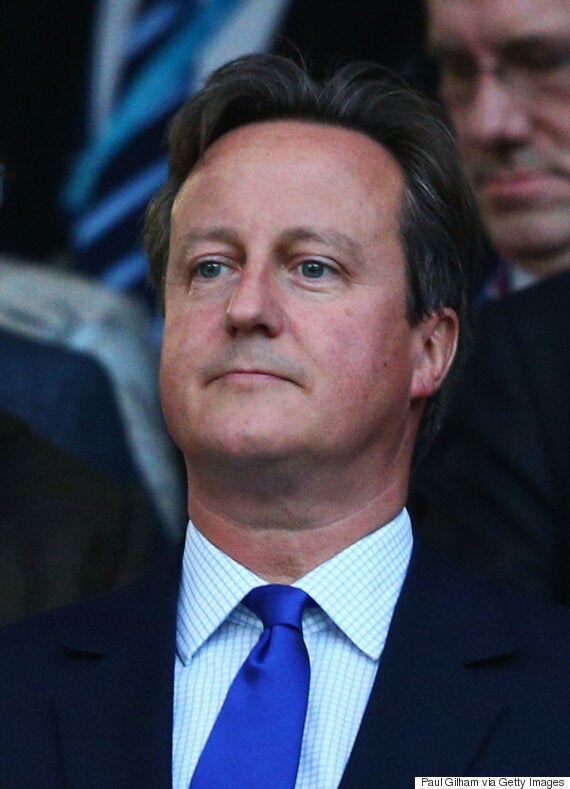 Call Me Dave, co-written by former Sunday Times political editor, Isabel Oakeshott, features hundreds of interviews with friends and enemies of the Prime Minister.
The book claims that Cameron was a member of a "dope smoking group", called the Flam Club at Oxford University.
It alleges that cocaine was circulated at Cameron's London home and that the Prime Minister was in a debauched Oxford society that specialised in "bizarre rituals and sexual excess".
The book reports a single, unsubstantiated source, who it says went on to become an MP, as saying that during Cameron's initiation ceremony at a Piers Gaveston event he "put a private part of his anatomy" into a dead pig's mouth.
The unnamed source alleges that there is photographic evidence of the reported incident.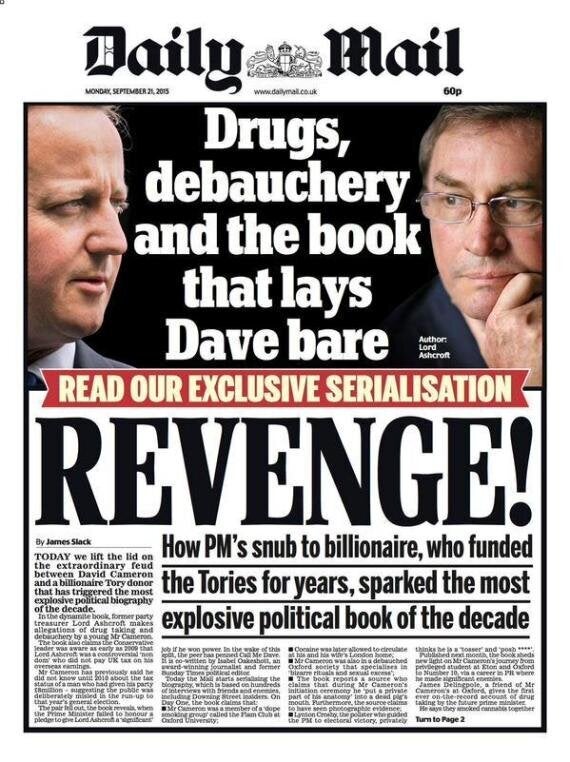 REVENGE! Front page of Monday's Daily Mail
An extract from Call Me Cameron, printed in the Mail, said: "The pig's head, he claimed, had been resting on the lap of a Piers Gaveston society member while Cameron performed the act.
"The MP also gave us the dimensions of the alleged photograph, and provided the name of the individual who he claims has it in his keeping.
"The owner, however, has failed to respond to our approaches. Perhaps it is a case of mistaken identity. Yet it is an elaborate story for an otherwise credible figure to invent."
The allegations, which are likely to cast a shadow over the Conservatives' upcoming annual conference in Manchester, drew a pointed response from the Prime Minister's official spokeswoman said: "I'm not intending to dignify the book with offering a comment. The author has set out his reasons for writing the book. The PM is focussed on running the country."
On specific allegations, she said: "It's a line in a book and I'm not going to comment."
George Osborne, who is currently in China discussing nuclear energy, hastily moved away from the allegations concerning the Prime Minister when a question was put to him by a journalist this morning.
As the Liberal Democrat party conference gets underway, the Conservative's former coalition partners were angered that the Tories were dominating the headlines - at their expense - yet again.
Nick Clegg's former adviser, Sean Kemp, said: "I'm used to Lib Dem conference being overshadowed by more interesting stories, but this is just taking the piss."
Former Lib Dem leader, Lord Paddy Ashdown tweeted that "hogging the headlines" was typical Cameron behaviour.
While Lib Dem leader, Tim Farron, said he has "never been so pleased to be a vegetarian".
Meanwhile, it was business as usual for Samantha Cameron, who attended the Roksanda show during London Fashion Week on Monday.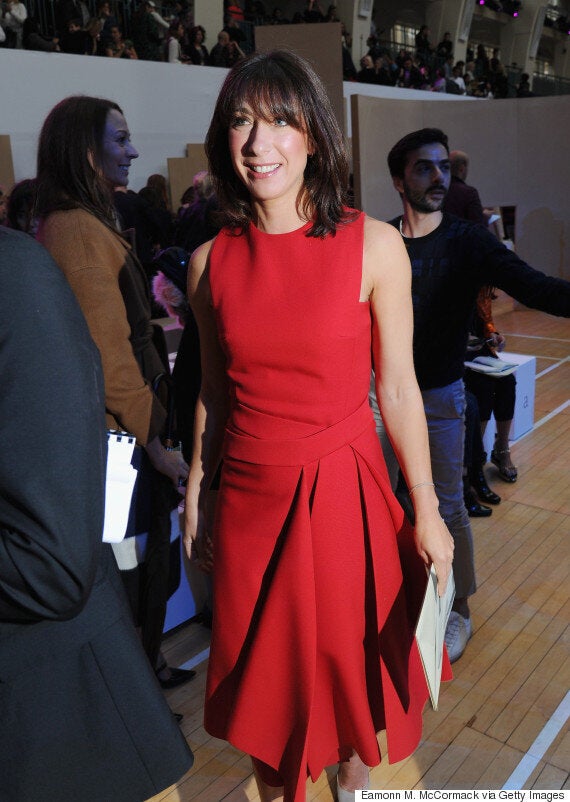 Samantha Cameron at London fashion week
Lord Ashcroft was ennobled by William Hague in 2000 after saving the party financially as treasurer following its disastrous 1997 election defeat.
He has given about £8 million to the Tories and was deputy chairman during Cameron's period as leader in opposition.
He wrote a highly-critical report on Cameron's handling of the 2010 election campaign and eventually retired his parliamentary seat ahead of this year's general election.
He has remained highly active in the political world as an opinion pollster and commentator.
The book, which is due to be published next month, tracks Cameron's journey as a student at Eton and Oxford to Downing Street. It also sheds light on his career in PR, where he reportedly made many enemies.
The Mail reports that Call Me Dave features an interview with James Delingpole, who says he was a a friend of Cameron's at Oxford, and recounts the Prime Minister taking drugs.
Mr Delingpole reportedly said that he and Cameron smoked cannabis together in his room at Christ Church College.
Mr Delingpole said: "My drug of choice was weed – and I smoked weed with Dave."
A Downing Street spokesman said: "We're not going to be commenting on any of it."
Also on the Huffington Post UK: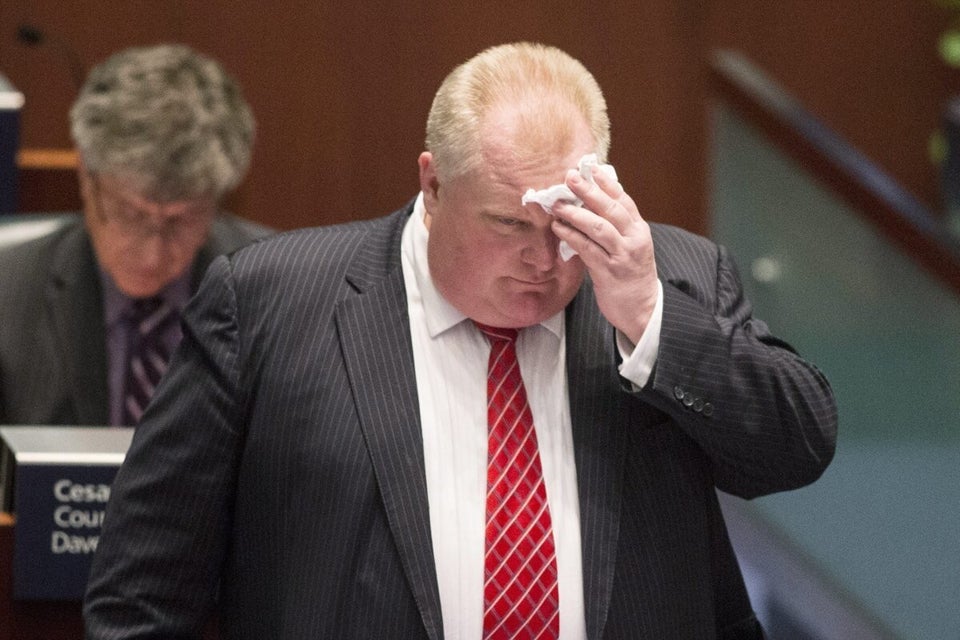 Political Scandals
Related