After working at a festival and witnessing more than 4,000 tents being collected for a landfill, Amanda Campbell realised she wanted to find a solution to help "save the planet".
The 23-year-old promptly launched her company Comp-A-Tent, designing what she claims is the first ever compostable tent, which she hopes will be used at music festivals - where one in five tents end up in landfills.
"It will save festival organisers in clear up costs, save the planet hundreds of tonnes of annual landfill waste and also cut carbon emissions as the tent is made from plant-based materials as opposed to non-renewable resources," Campbell explains. "The tent will decompose in 120 days but is as comfortable, strong, waterproof and lightweight as tents used currently at festivals. The material also has much wider applications."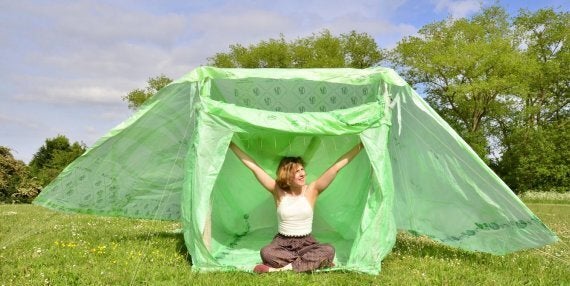 Amanda Campbell with her compostable tent
The UCL graduate, who gained a BSc in architectural studies, told The Huffington Post UK it was "great" being able to combine business with her passion.
"I've been described as an eco-warrior and I'm happiest when I'm dancing, probably barefoot, in a festival field, rain or shine," she says. "I usually work at festivals, such as sorting the waste after Glastonbury, to be able to afford to go to as many as I can."
Although Campbell admits she never set out to be an entrepreneur, she says she is "always coming with ideas and inventions".
"I suppose the catalyst for my business started in summer 2013 when I went on a programme called Balloon Kenya," she recalls. "I was partnered with several start-ups and worked with their businesses for 6 weeks in Kenya. I left Kenya very confident that I could run my own business and knew I should start by just testing out ideas. That summer I stayed behind working at a festival and witnessed 4,000 tents being collected for landfill.
"I was dedicated to finding the solution and when I did, I knew that I had to start a business to get it out into the market."
Campbell has had support from competitions such as UCL Advances Bright Ideas award, as well as recently being shortlisted for the Royal Academy of Engineering launchpad competition, which supports the most promising young technology entrepreneurs in the UK through world-class business mentoring.
Even though business may not have always been at the forefront of her mind, Campbell says her concern for the environment has only increased over the years.
"Since I was very young, I remember getting upset whenever I saw a plastic bag caught in a tree as I knew it would be a long time before it would disappear. I still get upset about this.
"We often forget that as businesses have become more innovative and pricing more competitive, we are throwing products away much earlier than they have been designed to last. Tents are the perfect example of this; a £30 tent isn't worth the customers' time cleaning, packing, carrying and storing for another year."
Campbell isn't pointing the finger, instead saying tent companies "don't intend" to be environmentally irresponsible.
"They are just meeting the customers' demands," she adds. "But businesses should be aware of how they influence the customers' behaviour and particularly look at the end of the life of their products."
She does, however, believe festival organisers should be working much harder to influence festival goers to be greener.
"Festivals do need to be more responsible for the waste they create, although it is down to the festival goers actions too.
"Sometimes it is out of the festival organisers' hands, for instance if the weather is bad, then more dropped items which are caked in mud are sent to landfill. Festival-goers are also less likely to take down their tent on the Monday morning if it is raining. Some tents get salvaged but on average, still over one in five goes to landfill. Because tents are made up of so many elements, they are not feasibly recycled.
"Notorious environmentally-conscious festivals such as Glastonbury are dedicated to mitigating as much environmental damage as possible. However, they have expressed that the biggest waste challenge they still face is tents that are left behind."
And it's not just festivals where the problem lies. The public needs to have a better attitude towards waste too.
"It is difficult though," Campbell concedes, "when it is cheaper to throw something away and replace it instead of fixing it - or just keeping it in storage. Also we are constantly encouraged to buy new things and consume more. Unfortunately for the environment, consumerism is good for the economy.
"It's a difficult problem," Campbell reasons, and believes this is where technology can step in. "If we are going to encourage consumerism, then technology needs to be developed to reduce the waste caused by this."