A teenager has silenced an anti-gay preacher in the "most Scottish way possible" by drowning him out with his bagpipes.
Daniel Boyle, 14, played Scotland the Brave to silence the man, whose anti-gay tirades were angering locals in Market Street, St Andrews, on Saturday, The Scotsman reported.
Video of the scene shows Boyle approaching the activist, who was shouting through a small amplifier, while playing the instrument. Crowds cheer him on as a man filming the scene, Lachie Blair, can be heard saying "here comes our hero, the bagpiper". A police vehicle then drives into view and the preacher stops.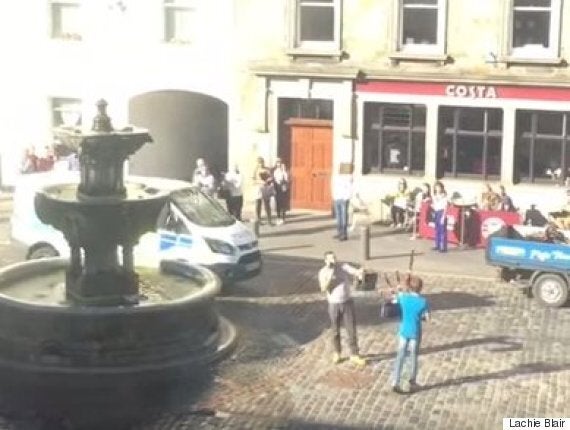 Bagpiper Daniel Boyle silenced an anti-gay preacher in St Andrews with his instrument
Boyle told the newspaper: "People were trying to get him to be quiet. I had my bagpipes in my dad's car and someone suggested drowning him out so I got them and started playing.
"There was a crowd of about 200 people and everyone started cheering. Everyone started cheering. It was great."
Boyle had been on his way home with his father Matthew when they heard customers at the keys Bar complaining about the activist.
The newspaper reported that locals had already called the police, complaining that the preacher was aggressive and ruining the atmosphere.
Boyle's father called his son "the patron of St Andrews".
Blair, whose video of the scene has gained almost a million hits on YouTube, told the newspaper that Boyle had won the battle "in the most Scottish way possible".
Police Scotland confirmed they attended the incident and said they resolved the matter without making an arrest.