Jeremy Corbyn has stamped his authority on the Labour Party by promising to scrap the "devastating" benefits cap if he is Prime Minister, and slapping down his top team in the process.
Labour under Ed Miliband and acting leader Harriet Harman had supported the coalition Government's policy of capping the amount of welfare a family can claim at £26,000, but opposing a reduction to £23,000 in London and £20,000 outside the capital.
The move contradicts suggestions made by his shadow work and pensions secretary Owen Smith and shadow equalities minister Kate Green, and signals he will not be as consensual on key issues as has said he would be.
The statement will delight both the left-wing supporters who have propelled the long-serving MP. But the Conservatives wasted no time in painting Labour as "the welfare party". Work and pensions secretary Iain Duncan Smith said Labour wanted to return to "unlimited welfare handouts".
He said: "It's what I've put forward as leader and I've made that very clear ... We will now oppose completely the Welfare Reform Bill.
"In my own constituency, the benefit cap has had the effect of social cleansing, of people receiving benefit but the benefit is capped, therefore, they can't meet the rent levels charged and are forced to move.
"It's devastating for children, devastating for the family and very bad for the community as a whole."
Responding, Mr Duncan Smith said: "After days of confusion and chaos, it's now clear the new Labour leader wants to scrap the benefit cap – going back to the old system of unlimited welfare handouts.
"Conservatives believe that nobody should be able to claim more in welfare than the average family earns by going out to work.
"By pledging to reverse this position, it's clear that today's Labour Party are simply not on the side of working people. They are still the same old welfare party – wanting to borrow more to spend more on benefits."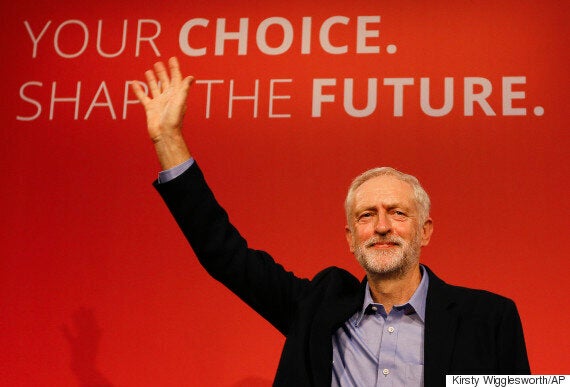 Jeremy Corbyn pictured upon his election as leader
The new Labour leader was speaking ahead of what is expected to be an explosive Labour Party conference, which begins on Saturday and is likely to expose major divisions in the party.
In Brighton this weekend, Labour is poised to debate scrapping the Trident nuclear deterrent for the first time in a decade. The party abandoned its pledge to abandon unilateral disarmament in the 1980s.
Delegates will get the chance to vote on a motion on abolishing the weapons system, a position supported by Mr Corbyn but not many of his front bench.
A successful motion is not automatically party policy but when asked by the New Statesman whether it would change as a result of the conference vote, Mr Corbyn replied: "Well, it would be, of course, because it would have been passed at conference."
And in a move that could upset some of his MPs, the newly-elected leader suggested he was open to returning to mandatory re-selection of Members if that's what delegates voted for.
But he has now told the magazine it would "absolutely" become "party rules" if activists voted in favour of the process.
The tumult he faces was underlined by Kim Howells, a Labour Foreign Office minister under Tony Blair,
And one-time Labour policy chief Jon Cruddas warned the party is in a "state of political decay" despite 60,000 members joining the party since Mr Corbyn's triumph.