The 2015 General Election saw 176 MPs elected to the Commons for the very first time. In a series of exclusive interviews, The Huffington Post UK is speaking to 15 MPs from the 2015 intake of the Conservatives, Labour and SNP. Today it's the SNP's Callum McCaig...

Save for the SNP's stunning wipe-out of Labour in the general election, notable was the number of twentysomething politicians that washed-up in Westminster after the tidal wave. Quite apart from the "baby of the House", 21-year-old Mhairi Black, the nationalists boast Stuart Donaldson (24), Angela Crawley (28) and Kirsty Blackman (29).
By contrast, 30-year-old Callum McCaig is a greybeard.
Elected as MP for Aberdeen South in May, McCaig's fast-track political career saw him leading Aberdeen City Council at the aged of just 26, and he resists jibes about having no "real-life experience" - the brickbat thrown at so-called "career politicians" - by pointing to having responsibility for a half-a-billion pound budget.
"Having to tell parents of kids with learning disabilities that we don't have enough money to provide them with dedicated support they require, that feels pretty real world to me," he said.
The party's Westminster spokesman on energy and climate change, McCaig spoke to HuffPost UK about the formation of the Scottish Parliament, Margaret Thatcher and dolphins.
Here is Callum McCaig's 15 from '15:
1) Where were you born and raised?
Born in Edinburgh but raised in Aberdeen.
2) What did you want to be when you were a child?
I would probably have quite liked to have been a surgeon, but that would have required working really hard at school and better co-ordination. That was a non-starter.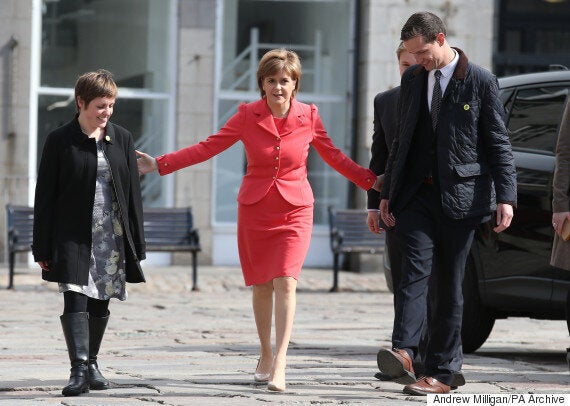 Scottish First Minister Nicola Sturgeon with SNP MPs Kirsty Blackman (left) Stuart Donaldson (hidden) and Callum McCaig
3) When did you first become interested in politics?
My first political memory is my family being delighted when Thatcher stood down. They cracked open the champagne. Well, it might not have been champagne. Some drink was taken in celebration.
I would have been 14 when the Scottish Parliament begins in 1999, so for my entire adult life and a bit before that there has been a Scottish Parliament and that sense you can do things in Scotland. That is a reasonable reason why there is a lot of support for independence among young folk. When a Parliament is there it is self-evident it is a Parliament.
I never though of coming to Westminster. The central focus of Scottish political life is Hollyrood. That's where the relevance is. That's what the news focuses on. The relevance of Westminster to everyone is greatly diminished by devolution.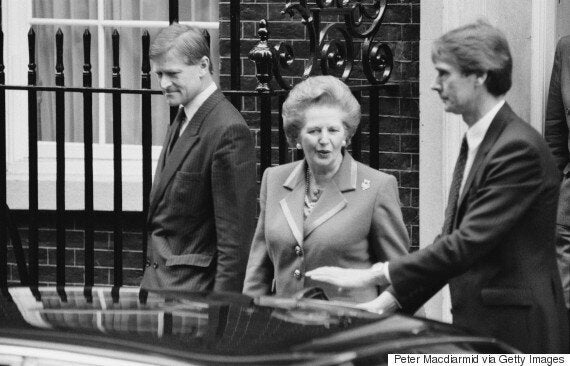 Margaret Thatcher leaves 10 Downing Street having officially resigned from office on 22nd November 1990
4) Do you have any political heroes?
Brian Adam, who sadly died a couple of years ago, was the Member in the Scottish Parliament for Aberdeen North for quiet a long time. Four of us were elected to Aberdeen City Council in our 20s and he played a big role in explaining what we needed to do and what we needed not to do. The key thing he said was you've got to be honest with folk, and always try to help them and get back to them, whether you've helped them or not.
Everyone who answers these questions does so with Ghandi and Mandela. You can't really criticise their roles - remarkable folk.
I admire John Swinney (Deputy First Minister of Scotland and the Cabinet Secretary for Finance) hugely. To have had the job of finance secretary at a pretty difficult time, and to have done a job where people like and respect him, is a remarkable thing to do. There will be a lot of folk down here who don't know who he is - that wouldn't be the same in Scotland.
5) When did you first stand for election?
In 2007 for the local council. I was 22. There was four of us. The local paper ran a 'here are the kids running your city' dismissive thing. The other parties were hugely dismissive at the start. I escaped a bit of that because I wasn't the youngest or the most high-profile.
Myself, Kirsty Blackman, Mark McDonald, who is now a Member of the Scottish Parliament, and Kirsty's brother (John West), who has taken the sensible option and left politics altogether and is studying to be a civil engineer. He got the greatest level of scrutiny, I suppose. He was not long turned 18. And he was the deputy provost - the Lord provost chairs the meetings, a mayoral figure. Because that was a big title that attracted all the attention. He got all the stick, which was quite nice because I could get on with learning what to do.
Both Labour and the Conservative groups now have young people in there too. It showed young people can get involved in politics. That will be the same with the likes of Mhairi Black. You don't need to be male, pale and stale to be involved in politics. There will always be the career politician barb thrown at folk. I'm not going to make any apology for having got involved in politics at the most interesting time in politics ever.
I think it's unfathomable almost any other party would have selected Mhairi Black as a candidate. Having her here, I hope, will make other people think: why can't I do that?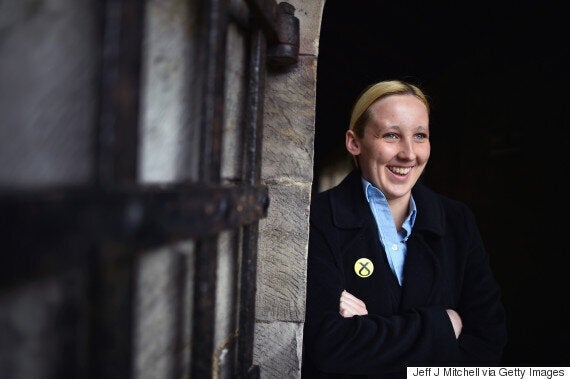 On Mhairi Black: "Having her here, I hope, will make other people think: why can't I do that?"
6) What did you do for a living before becoming an MP?
Councillor for eight years. While doing that, at various times working for a couple of local members of the Scottish Parliament in research roles. A mis-spent youth if ever there was one. You have a life outside politics, do things and have bills to pay. Local politics is not exactly the most lucrative of avenues to go down but there are an awful lot worse things you could be doing.
People have said 'you should get some real-life experience'. Yes, but at the same time I had ultimate responsibility for setting a half-a-billion pound budget. I've dealt with some incredibly influential people and had to tell them 'yes' and 'no'. I'm not sure I could have got better experience in my first years of work.
Has it been 'real-life experience'? Having to tell parents of kids with learning disabilities that we don't have enough money to provide them with dedicated support they require, that feels pretty real world to me. People at times who are distressed, that's not easy. That't not the cosseted life of the politician some might think. More so in this role, people come yo you with some harrowing cases. People having their benefits sanctioned.
7) What do you do to relax?
I enjoy playing five-a-side football badly. I occasionally go for a run. I have a bike, but it's broken. Normal things: watch telly and fart around a bit online.
8) If you could run any Government department, which would it be?
The Treasury. Well, I'd be up for doing it in Scotland. I have no ministerial ambitions in London, it has to be said. One of the first things I learned about politics is it's all about the money. You can have the best policies and best ideas but if the money isn't there you can't do anything. So if you're serious about addressing poverty it needs to be done through that kind of role.
(HP: Do you think there should be a second independence referendum?) I think we should only be looking to have another referendum if we can win it. I'm not convinced that's there now. I don't think there's been enough change - so the resolve of those who voted 'yes' is greater, but I'm not sure those who vote 'no' have changed. There is a process that needs to go through. While incredibly disappointing in terms of the level of devolution when you compare that to The Vow, there is a process following the referendum that needs to go through. The issue is not going to go away. What we should be doing more is talking about why independence is a good thing.
9) What is your favourite film?
Pulp Fiction's a good film. I like Star Wars.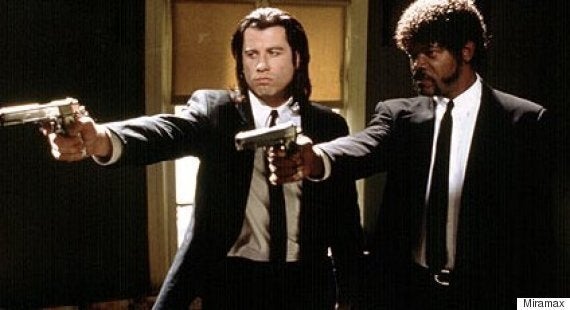 John Travolta and Samuel L Jackson in the Quentin Tarantino classic
10) Who is your favourite band/artist?
I'm learning Spanish. My sister's husband's Mexican so my nieces and nephews speak Spanish. There's a band called Maná who are a Mexican rock band who are pretty good. A bit like Aerosmith in Spanish.
11) What is the best thing about the House of Commons?
There's a sense of history. It's been a hugely important place for a very long time. It's also a phenomenally beautiful building. But I can't help think I don't want it to run my country. There are some thoughtful folk on all sides and I've enjoyed listening to the debates.
12) What is the worst thing about the House of Commons?
The Tories. Is that acceptable?
The voting. Why? In Aberdeen you just press a button and vote. It doesn't take ten minutes. That just needs to stop.
The braying is pretty bizarre. Not being allowed to clap is daft - clapping is a pretty universal sign that something is good in most cultures and settings - but I can live with that. But someone said we are not here to argue about process and procedure, so my advice is just get on with it. Also remember not to say 'hear, hear' at home or you'll look like a bit of a numpty.
13) What is the one thing you would change about UK politics if you could?
The thing politics is suffering most from is disengagement. It would be nice not to have folk fighting over the centre ground, and proper ideas that inspire folk. That's what's happened in Scotland. People are yearning for something different and that goes some way to explaining why Jeremy Corbyn is doing so well. People are tired of the same old people saying the same old things.
The thing I would change is for people to actually answer questions with an answer. Politicians have to be less conscious about what they are saying, but the media has to play a part. That is part of the reason why Nicola Sturgeon is so popular. It shouldn't be refreshing but it is.
14) What one reason would you give someone to visit your constituency?
It's one of the very few urban constituencies you can see dolphins from.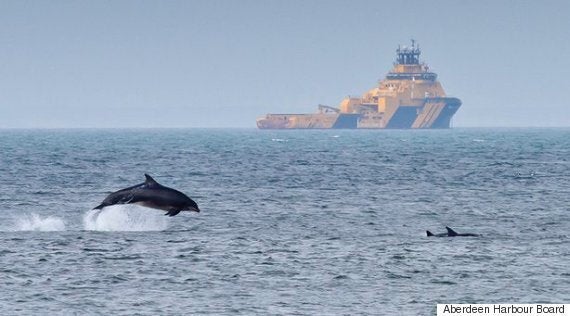 Dolphins off Aberdeen harbour
15) What are the best and worst aspects of your personality?
I'm ridiculously messy and unorganised. Best? These questions are horrific. I'm a good listener, let's go with that.
Popular in the Community