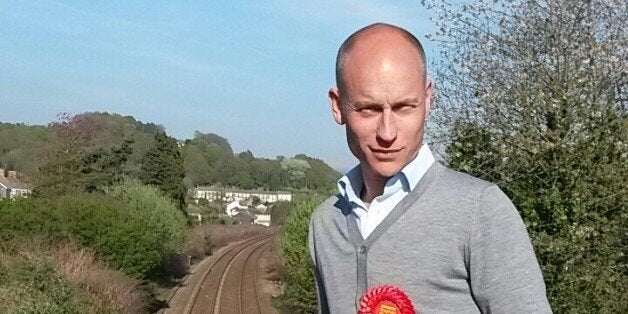 Labour needs to "reclaim ownership" of the Union Jack and own the immigration debate in order to win back Ukip and SNP voters, a leading backbencher is urging.
Stephen Kinnock, elected MP for Aberavon in May, believes dismissing fears over immigration as "racist" or "xenophobic" has allowed other parties to claim British symbols such as the flag as their own.
In his 'A New Nation' pamphlet, the MP praised New Labour's sense of "patriotic endeavour" and claimed nationalist parties the SNP and Ukip were actually anti-patriotism.
His intervention comes as Ukip gathers for its annual conference in Doncaster after making significant inroads into Labour heartlands in May's General Election.
Ukip's Welsh leader dismissed the comments as a "joke".
Mr Kinnock wrote: "The separatism of the SNP and UKIP is not driven by patriotism, or at least not as I recognise and understand that term.
"Their separatism is a narrow form of nationalism, and nationalism is, in fact, the direct antithesis of patriotism. The time has now come for Labour to reclaim ownership of patriotism.
"The Union Jack, the Welsh Dragon, the Cross of St George, and the Scottish Saltire belong to the British people, but for too long the Labour Party has allowed others to claim these potent symbols of what it means to be British as their own."
In the past five years, Ukip evolved from a party characterised by former Tory supporters attracted by right-wing eurosceptism to picking up large numbers of votes in traditional Labour strongholds.
Despite returning just MP seat in the General Election – Douglas Carswell in Clacton – the party achieved the third highest share of the vote, with 12.7 per cent of ballots cast backing Ukip.
It came second in 120 constituencies across the UK, with ten of the top 20 runner-up spots in Labour areas.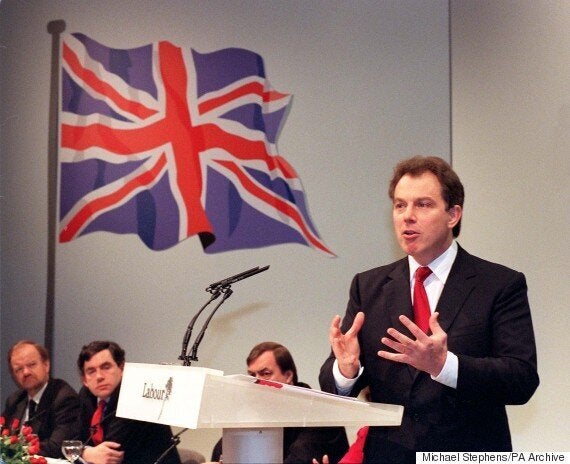 Tony Blair aligned New Labour with the Union Flag in the 1990s
In a speech in east London he said: "In general, we avoid talking about culture and identity and instead talk about an instrumentalised economics.
"Our failure has allowed Ukip to speak for those who feel dispossessed and left behind."
He added: "They value home, family and their country. They feel their cultural identity is under threat. They want a sense of belonging and national renewal.
"Tradition, rules and social order are important to them. Labour no longer represents their lives."
Reflecting on the rise of New Labour in the 1990s, Mr Kinnock claimed the "sense of patriotic endeavour was real and widespread" but the party had since lost that drive.
He claimed in order to win the immigration argument the party should "stop talking about the economic benefits that immigration undoubtedly brings, because nobody is listening."
Mr Kinnock added: "We cannot and must not simply dismiss this as xenophobic, or even as racist. The fact is that people's unease about levels of immigration is sincere."
He went on: "We need to be more confident about the huge contribution immigration has made and can make to our country, because this is a fight for the type of country we want.
"We have never really defined ourselves as a nation of immigrants and yet rare is the family that has not been touched by immigration."
Ukip's Nathan Gill, MEP for Wales, was scathing in his response to Mr Kinnock's pamphlet.
He said: "Stephen Kinnock's attempt to wrap himself in any manner of flags just doesn't wash. As they peel off in his own personal dance of the veils he will be left with one flag, and one flag only. The golden stars of the European Union.
"For a man whose experience of life has been of London, Brussels, Geneva and Copenhagen to lecture others about his deep rooted patriotism is a joke. This from a man who no doubt needs Google Maps to find his own constituency."
He added: "He and Labour are slowly woken up to the fact that they no longer represent millions of decent hard working men and women of this country.
"They are slowly realising that tearing down our borders, diminishing our armed forces, demeaning our history and culture is the niche interest of a pitiable minority.
"The only thing that keeps him, and people like him snuggled up on the warm green benches is inertia, and next year, he and his Welsh colleagues will learn just how out of touch he is, as Cardiff Bay begins to turn purple."