NEW YORK -- The pope called for a "courageous and responsible effort" to combat the man-made "environmental challenge" during a speech to a joint meeting of Congress on Thursday. Addressing the divisive issue, Francis referred to the Earth as part of the "common good" and demanded the "right use of natural resources."
"We need a conversation which includes everyone, since the environmental challenge we are undergoing, and its human roots, concern and affect us all," he said. Members of Congress reacted along partisan lines, with the Democrats giving Francis and standing ovation, while many Republican sat in silence.
Within the 30-minute address, the Argentine also called for the global abolition of the death penalty, a direct attack on the US justice system that has one of the highest rates for execution in the world. Some Republicans in the chamber met this with similar indifference, yet greeted his call for an end to abortion with rapturous enthusiasm.
Citing the Golden Rule, Francis addressed the equally partisan issues of refugees and immigration, exposing the hypocrisy of anti-immigrant rhetoric prevalent across some of the current presidential campaigns by noting that most Americans are from immigrant stock.
"Our world is facing a refugee crisis of a magnitude not seen since the Second World War," he said. "This presents us with great challenges and many hard decisions. We must not be taken aback by their numbers, but rather view them as persons, seeing their faces and listening to their stories, trying to respond as best we can to their situation. To respond in a way which is always humane, just and fraternal."
On the abolition of the death penalty, he said: "I am convinced that this way is the best, since every life is sacred, every human person is endowed with an inalienable dignity, and society can only benefit from the rehabilitation of those convicted of crimes."
Speaking to the broadcaster, the business tycoon said he was "not a believer in climate change," adding that the extreme shifts scientists attribute to man-made climate change are nothing more than "weather." He said: "It's called weather changes and you have storm and you have rain and you have beautiful days," adding that clean energy policies would "imperil jobs."
"I am convinced that we can make a difference and I have no doubt that the United States -- and this Congress -- have an important role to play," he added. "Now is the time for courageous actions and strategies, aimed at implementing a culture of care and an integrated approach to combating poverty, restoring dignity to the excluded, and at the same time protecting nature."
There are 76.7 million Catholics in the United States, while 31 percent of the members of Congress follow the Roman faith, including Speaker John Boehner who cried throughout the papal visit. Francis arrived in Washington on Wednesday, and is scheduled to travel to New York and Philadelphia as part of his historic five-day trip.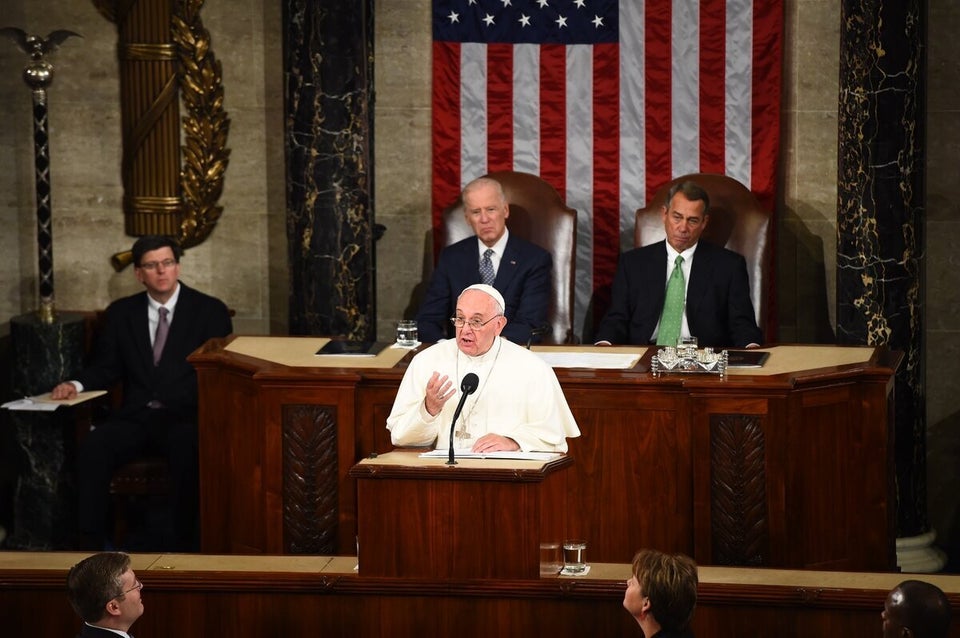 Pope Francis Addresses Congress