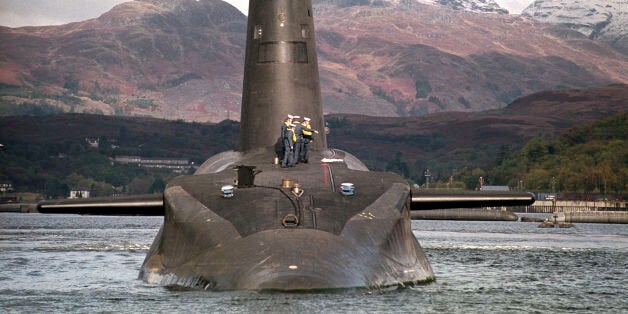 Just 22% of Labour supporters, and only 18% of all voters, back Jeremy Corbyn's position on scrapping the Trident nuclear weapons system, polling for The Huffington Post UK carried out by Survation has revealed.
But it also found he was no less trusted with his finger over the nuclear button than would-be Labour and Conservative leaders.
And against speculation of a Labour leadership coup, the survey reveals David Miliband would be the clear favourite to replace Corbyn among both the public and Labour voters.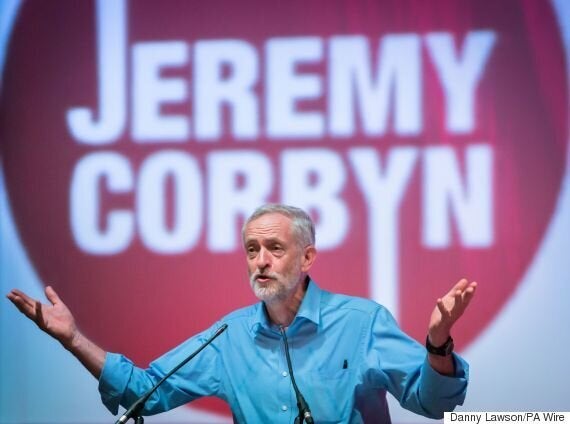 Jeremy Corbyn argues a secure world is "not created by an arms race"
Whether the party should return to supporting the abandonment of nuclear weapons, which was party policy until the 1980s, will be debated at conference on Monday for the first time in more than a decade and is likely to underline a huge divide over the issue.
The Islington North MP reckons the £100 billion saved could be re-directed to reverse austerity, but other senior Labour figures argue abandoning the weapons system is not wise in an unstable world. Mr Corbyn said this week conference would determine party policy.
Voters also appear to disagree with the Labour leader's position on letting the Ukraine join NATO, with support outweighing opposition.
The poll further reveals only Mr Corbyn's position on welfare would make those surveyed more likely to vote Labour.
Meanwhile, Mr Corbyn's "softly spoken manner" trumps his beard and bicycles when asked to name his best characteristic. Survation surveyed 1,008 people online between September 21 and 22.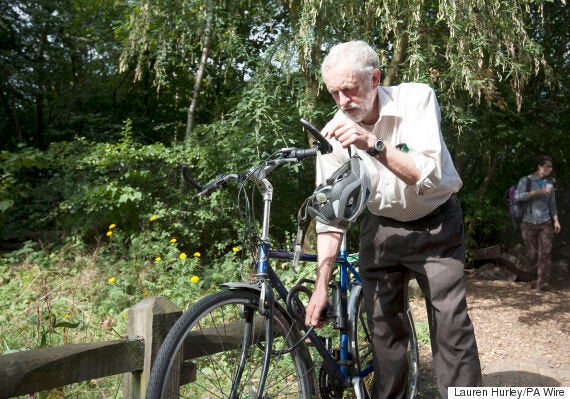 The key findings of the HuffPost/Survation poll are:
FUTURE LABOUR LEADERS: David Miliband was backed by 18% of those polled, Andy Burnham 12%, Yvette Cooper 8%, Chuka Umunna 5%, Diane Abbot 3%, Dan Jarvis 2%, John McDonnell 2%, Lisa Nandy 1% and Keir Starmer 1%.
TRIDENT: 29% of all those polled agreed that Trident should be reformed to make it cheaper, 26% that it should be renewed in full, and 18% that it should be scrapped. 27% did not know.
Of Labour supporters, 31% agreed with a cheaper version, 23% backed full renewal, and 22% that it should be scrapped. 24% did not know.
JEREMY CORBYN: 26% of all those polled agreed he is a "breath of fresh air for British politics", 24% that he is a "danger to the UK's national security", 23% that he has "clear views but I don't agree with him", and 8% he is "stubborn".
UKRAINE: 34% agreed Ukraine should be allowed to join NATO, and 21% not. 45% did not know.
'FINGER ON THE BUTTON': Of all surveyed on who they would prefer to have their 'finger on the nuclear button', Jeremy Corbyn polled 14%, Boris Johnson 14%, George Osborne 13%, David Miliband 10%, Theresa May 9%, and Andy Burnham 5%. 36% did not know.
POLICIES: 28% of all surveyed said his stance on welfare meant they were more likely to vote Labour, against 23% who thought it less likely they would vote for him. 50% said it makes no difference to their vote.
On immigration, defence, Europe and the economy, the percentage of people less likely to vote Corbyn as a result of his stance outweighed those who said they were more likely.
CORBYN'S BEST CHARACTERISTIC: 35% liked his softly spoken manner, 10% his beard, 7% his two bicycles, 5% his tweedy jacket and just 2% his white vests. 41% did not know.