Coleen Nolan has laughed off Jesy Nelson's claims that she walks around naked in front of her.
MORE 'LOOSE WOMEN':
The Little Mix singer said during a recent interview that her mother-in-law to be regularly parades around in the buff at home.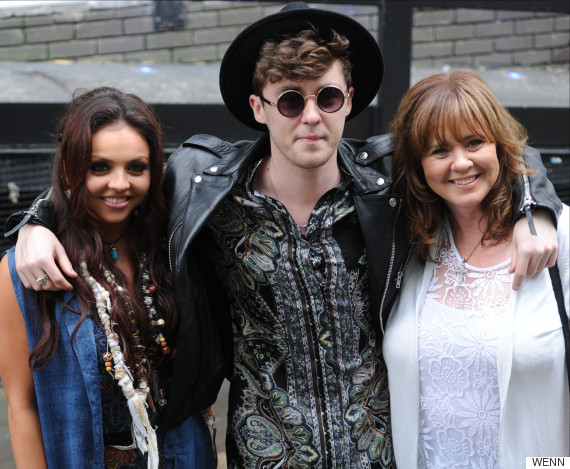 Jesy Nelson, Jake Roche and Coleen Nolan
However, speaking about her comments on Monday's (28 September) edition of 'Loose Women', the Nolan Sisters singer pointed the finger at her son Jake Roche, who is engaged to Jesy.
"I won't walk round the bedroom in the buff and certainly not in front of my son's fiancée," she insisted.
"Jake will occasionally walk around in the buff because that's the way Jake is."
She then apologised to viewers, adding: "It was a very embarrassing story and I'm sorry if it put anyone off their lunch."
Rixton singer Jake recently popped the question to Jesy following a year-long romance.
He proposed on stage at the Manchester Arena during an Ed Sheeran gig, much to the delight of his girlfriend.
Speaking about it at the time, Coleen said: "I'm emotionally drained. It was just fabulous. Jesy had no idea that it was going to be happening.
"It was a big radio festival... and they were on stage during the soundcheck and then Ed Sheeran just appeared from nowhere.
"He came up especially for Jake, he came all the way from Suffolk in the morning, just to come and sing their favourite song… He came out singing 'Tenerife Sea' and Jesy turned round at one point and said, 'Ah that's my favourite song' and then Jake came on behind him and got down on one knee and proposed. It was fabulous."
She added: "We had to hide behind the curtains until Jake came out, so she didn't spot any of us. So as Jake came out, we all came out at the side of the stage and one of the security guards tried to throw me out!"
LIKE US ON FACEBOOK | FOLLOW US ON TWITTER