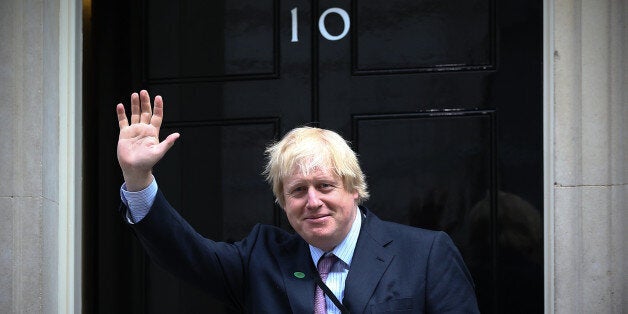 Boris Johnson's hopes of becoming the next Prime Minister have received a huge boost with a new poll showing he's the favourite of both Tory voters and the public at large.
The Huffington Post UK/Survation survey puts the Mayor of London on 25%, ten points ahead of his nearest challenger, George Osborne, when voters are asked who should succeed David Cameron as Conservative leader.
Crucially, Mr Johnson is backed by 30% of Tory supporters, with the Chancellor on just 25%. Home Secretary Theresa May trails both men, with support from 16% of Conservatives.
Boris is ahead across all social groups, but among the key skilled manual workers needed to win a general election in marginal seats, he does best of all, attracting 33% to Mr Osborne's 9%.
That key finding is sure to be seized on by his allies as proof that he's the Conservative who has the most broad based appeal to help the Tories stay in power.
And even Boris's past does not deter the voters, with 50% of those polled saying that his 'colourful private life' does not make him unsuitable to become Prime Minister, compared to 33% who said it did.
Having twice won the Mayoralty in London, seen as a 'Labour city' by some, Boris is also seen as the candidate who could attract not just Labour voters unhappy with Jeremy Corbyn, but also UKIP and Green voters.
The HuffPost UK poll comes on the same day as another IpsosMORI poll also found Mr Johnson ahead of his arch rival for the Tory leadership by 27% to 15%.
The Prime Minister has announced he won't fight the 2020 general election and is expected to step down at least a year beforehand to allow his successor to bed in.
Tory MPs and party members will have to decide on their next leader and many will be torn between the Mayor's popular appeal and the Chancellor's successful stewardship of the economy and party election campaign skills.
This year's Tory party conference will see both the Chancellor and the Mayor put centre stage, as they both have key speaking slots.
Survation found that Mr Johnson and Mr Osborne were by far the most popular choices to replace the Prime Minister.
When asked who they would most prefer to replace Mr Cameron, just 11% favoured Mrs May, 3% Michael Gove and Business Secretary Sajid Javid, 2% Philip Hammond and Jeremy Hunt.
Education Secretary Nicky Morgan, who has revealed that she may run for leader when Mr Cameron quits, polls just 2% of the public, although her profile is nowhere near as high as that of her Cabinet colleagues.
The HuffPostUK poll also found Mr Johnson way ahead of Mr Osborne among UKIP voters, polling 38% to his rival's 16%. Boris is also ahead in all regions of the UK, including the North, although his lead is narrower by 19% to 15%.
Asked if Boris becoming Tory leader would make them more or less likely to vote Conservative, 20% said it would make them more likely, and 25% less likely. Some 56% said it would make no difference.
Related