Two women have died after drowning at a holiday resort off the Costa Brava.
The Press Association reported that one of the women is believed to have gone to the rescue of her friend, who had gone for a late-night swim, when both were swept away.
Their bodies were found by a rescue helicopter two miles (3km) from the popular resort of Lloret de Mar after they were reported missing at 4.15am on Thursday, according to Spanish search and rescue service Salvamento Maritimo.
The service said that the bodies of the women, believed to be aged 33 and 36, were found shortly after noon local time and had been taken to the neighbouring town of Blanes, 40 miles (64km) north of Barcelona.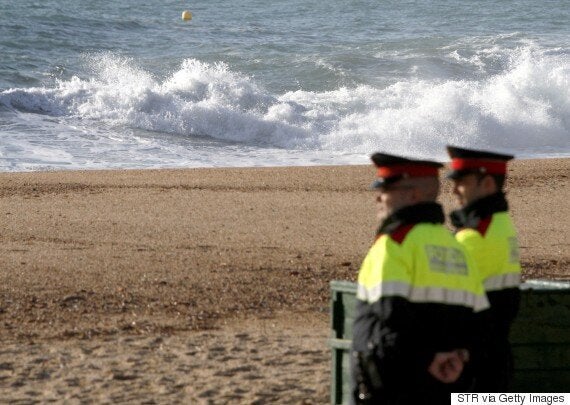 Two police officers stand near the spot the women were found
A spokesman for the town hall in Lloret de Mar told Spanish website The Local that a group of five women had been warned not to go into the sea by a security guard at a beach bar, but two went in anyway.
Ana Riera told The Local: "It seems one of the original swimmers was able to get to shore but the other was struggling so a friend went to her rescue and they both got swept out to sea."
A Foreign Office spokesman said: "We can confirm the death of two British nationals who had been reported missing in Lloret de Mar on October 1.
"We are providing support to the families and those who were travelling with the individuals at this difficult time."
Before the women were found, the search and rescue team warned that weather conditions were very bad.
Popular in the Community