Britain's youngest terrorist has been given a life sentence after he became "so radicalised" that he orchestrated a "chilling" Anzac Day attack thousands of miles away in Australia.
The 15-year-old boy, who cannot be named for legal reasons, assumed the role of "organiser and adviser" to an alleged Australian jihadist in an Islamic State plot to behead officers at an Anzac Day parade in Melbourne, held on 25 April.
The then 14-year-old boy exchanged more than 3,000 encrypted messages with 18-year-old Sevdet Besim after he became radicalised by online ISIS propaganda.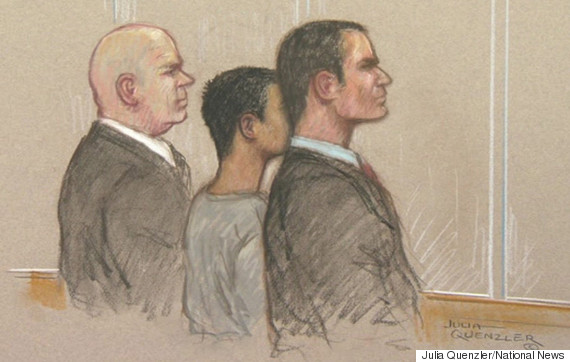 Artist's court sketch
The teenager, from Blackburn, Lancashire, was given a life sentence at Manchester Crown Court and told he would serve at least five years.
The court heard that the "major terrorist plot in its late stages" was thwarted when authorities in Britain and Australia arrested Besim a week before the annual war remembrance event. He had a knife in his possession.  
Mr Justice Saunders said the defendant's life term meant he would not be released until he is considered not to be dangerous, the Press Association reports.
He said: "Thanks to the intervention of the police in this country and in Australia, that attack and the deaths which were intended to follow never happened.
"Had the authorities not intervened, (the defendant) would have continued to play his part hoping and intending that the outcome would be the deaths of a number of people.
SEE ALSO:
"In March 2015 he would have been pleased if that had happened. He would have welcomed the notoriety that he would have achieved."
He continued: "The revelation in this case that someone of only 14 could have become so radicalised that he was prepared to carry out this role intending and wishing that people should die is chilling."
At an earlier hearing, it was revealed that among the thousands of messages the teenager sent to Besim, one said:"I suggest you break into someone's house and get your first taste of beheading."
In July, the British teenager pleaded guilty to inciting terrorism.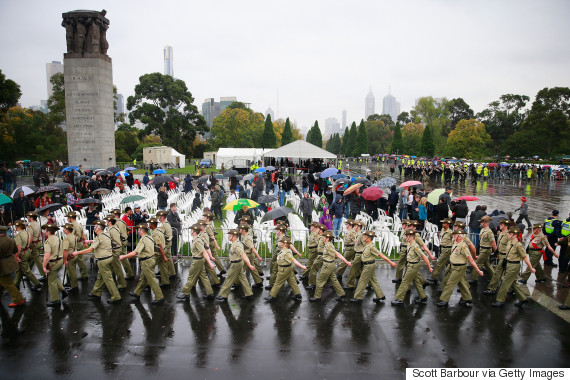 The teenager was plotting an attack at Australia's Anzac Day parade in Melbourne
Anzac Day is an annual commemoration honouring the Australian and New Zealand Army Corps' First World War battle in Gallipoli.
The teenager's family said in a statement that they were unaware of his activities, adding that they were relieved no one was injured.
ITV reports: "The family were shocked and devastated when he was arrested, as until that point they were completely unaware of his activities. They are, of course, relieved that no one was injured as a consequence of his behaviour.
"The case has had a painful effect on the family, although they have completely cooperated with the police, both during the course of the investigation, and also the court proceedings."
The British authorities have been aware of the boy since he was 13 after his teachers raised concerns about comments he made at school about Osama bin Laden and his desire to be a martyr, the Guardian reports.
In 2013, he was in contact with workers from the government's counter-extremism programme Channel, which aims to prevent young people being drawn into violent extremism.
However, the relationship reportedly broke down following objections by a family member.
He was arrested in March this year - the same month he was communicating with Besim - after making threats to kill at school.
Also on the Huffington Post UK: