Jeremy Corbyn appears to have given a rousing speech - to a hen party travelling on the West Coast mainline.
And it's emerged the Labour Party leader may have been pictured holding an inflatable penis with the group - after seeking assurances the photographs wouldn't be published online.
Corbyn was travelling back from Scotland where he made a visit yesterday, following a hectic five days at the party's Brighton conference.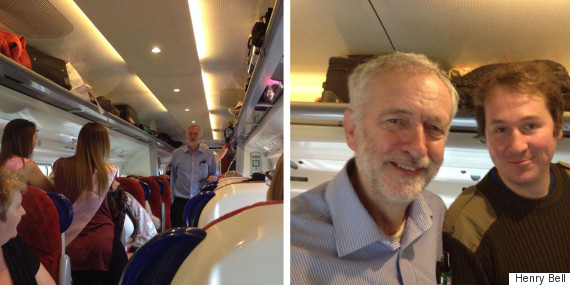 Corbyn pictured on the Virgin Train West Coast mainline
Writer Henry Bell met Corbyn and posed with him for a selfie, before capturing the moment the Islington North MP congratulated the bride-to-be.
He is pictured standing in the aisle of a carriage addressing a small crowd, several of whom are wearing hen party sashes.
Me and Jezza plus one of comrade Corbyn addressing the hen do. He was a big hit. pic.twitter.com/Cf0aAFTTYk

— Henry Bell (@Henbell) October 2, 2015
But it appears the other images may be somewhat more embarrassing.
@parcelorogues he politely asked that we not share photos of him with the big inflatable cock. Actually.

— Henry Bell (@Henbell) October 2, 2015
It wasn't long before Fleet Street began pestering for the snaps.
@Henbell@georgebowden show us the cock pics!

— Harry Cole (@MrHarryCole) October 2, 2015
But it remains to be seen whether these pictures exist and if they'll ever see the light of day...
The hen party was traveling from Glasgow to Blackpool, but it's thought Corbyn continued his journey when the group left the train at Preston.
During this year's general election campaign former Labour leader Ed Miliband was mobbed by a hen party whilst traveling through Knutsford, Cheshire.
SEE ALSO:

7 Photos Of MPs In The Vicinity Of Pigs

Ed Miliband In Hilariously Awkward Photographs