A boy who has difficulty walking is regularly carried 100 yards into school by his father, because a local resident insists on using the disabled parking bay outside.
When Keir's parents drive him to primary school, they are often unable to stop in the disabled parking space outside the gates, because it is being used by a resident without a disability.
Geoff Pearson, who is the chair of homelessness charity Streetwork, claims he has a right to park in the disabled bay because a technicality means it is "only advisory and so not enforceable".
Keir's father, John Wallace, 60, a mature law student from Portobello, Edinburgh, said: "My son is one of two people in the UK with the disease - the other is his mum.
"His legs are so painful, even when you put a sheet on top of his legs, it causes him pain." Pearson claims the council used the wrong traffic regulation order (TRO), when painting the disabled bay outside St John's Primary in Portobello, Edinburgh and cannot fine anyone for parking there because it is "only advisory and so not enforceable".
Residential disabled bays can be applied for by individuals for outside their homes, but they are not enforceable by fines.
Public disabled bays, which can be enforced, are subject to a TRO, which should be passed and publicised before the bay is painted.
According to a council source, the bay was repainted before the TRO process was complete.
As a result, Wallace carries Keir 100 yards between his car and the school when his son's condition worsens and the space is blocked. The journey Wallace walks carrying his son Mr Wallace said: "The disease causes [Keir's] auto-immune system to switch on irregularly and his body attacks itself. This leaves him in severe to excruciating pain during outbreaks.
"He misses about 50% of school. However, we do everything we can to get him there.
"[The parking space] is regularly used by Mr Pearson, who is not disabled, if he can't park at the front of his house in the same street.
"This has happened so often that when I'm called to the school because of my son's pain, most of the time I cannot park close by.
"I have to carry him across a main road. It's disgraceful that a space for disabled drivers is being blocked by just one person who is in a position to help the community."
He said: "I am feeling extremely angry that he is defending his decision.
"I went to the Community Council meeting to ask for their support. I'd figured out that it was him that was doing it. He admitted it was him that did it at the meeting."
Council officials have told the Wallace family that an official objection lodged by against the bay means it will now be January before the issue is even discussed.
Wallace said: "There's no way disabled people should be made to wait another three months before something is done. This whole delay is down to this single objection."
Wallace has won the support of the local community council and they have written to the city council calling for the bay to become enforceable.
He is also being supported at the Scottish Parliament by the cross-party group for children and young people.
Pearson has defended his decision to park in the bay and to challenge the council's traffic order.
He said: "The council is using the wrong traffic regulation order to paint this bay - and I am making that point.
"Apparently around 20 years ago there were two disabled bays there but the markings faded over time and so they were just used by anyone.
"Then, without any warning, one disabled bay was repainted. I have asked the council who painted it and why and no one seems to know.
"My objection to it is solely based on the fact that the council is using the wrong traffic order - it is making it a 'residential' bay, in the same way a disabled person can apply for one outside their own home. That is not a bay where fines can be handed out."
He added: "Yes, I do park in it, but only for short periods of time when I can't get closer to my house as the street is generally full of teachers' cars."
Mr Pearson's objection now means that a report must be prepared for the transport and environment committee, delaying the enforcement measures.
Mr Pearson added: "I will withdraw my objection if the council uses the correct traffic order. Anyone could get some white paint and mark a disabled space on the road."
A spokeswoman for Edinburgh City Council added: "The council is currently going through the process of making the disabled parking bay enforceable.
"We hope that in the meantime people would respect any disabled drivers who need to use the space, especially at school drop-off and pick-up times."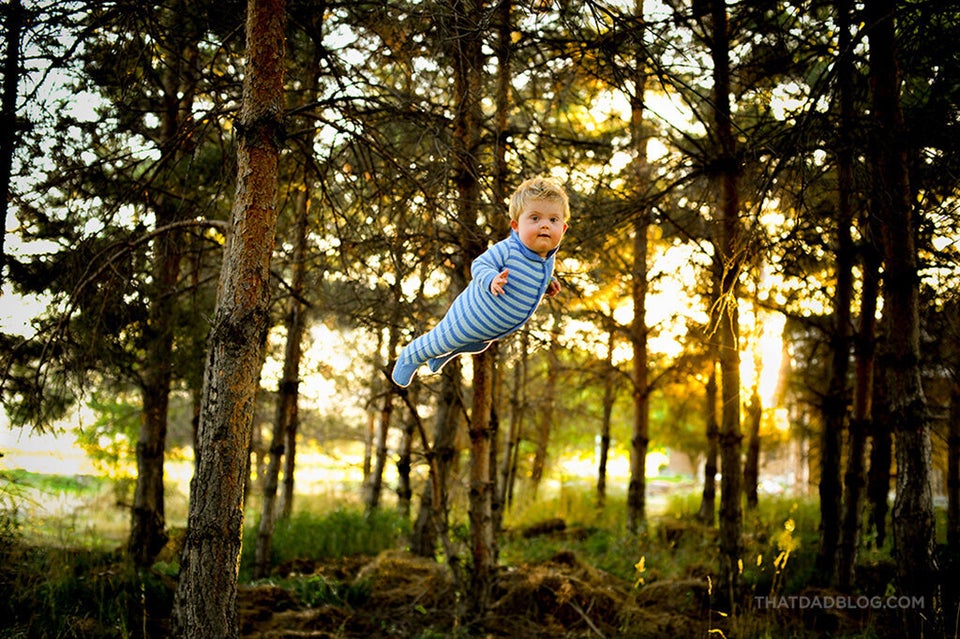 Dad's Photos Of Son Flying Hope To Raise Awareness For Down's Syndrome
Related