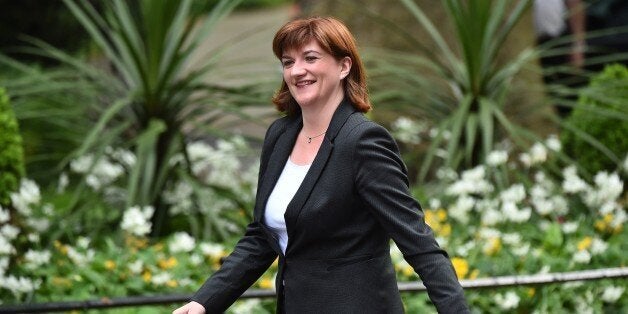 Education Secretary Nicky Morgan has confirmed her ambition to be Prime Minister, telling The Huffington Post UK she is "remarkably normal" and has already shown "leadership" in winning her marginal seat.
Speaking at a HuffPost UK event at the Conservative Party conference in Manchester, the Loughborough MP made no attempt to distance herself from comments that she wanted to be Tory leader.
"I was asked a question and I gave a straight answer," the Conservative minister said. "If that's news, so be it."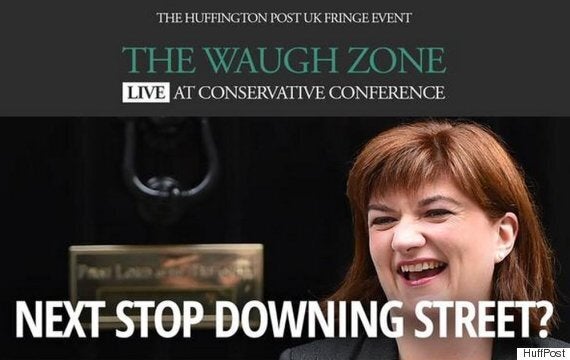 In the wide-ranging interview with HuffPost UK's Executive Editor for Politics, Paul Waugh, she also warned she will be no "pushover" in the Chancellor's spending review.
Ms Morgan made a pitch to Conservative supporters and voters as an alternative to Boris Johnson and George Osborne, the frontrunners to take over from David Cameron when he stands down before the next general election.
The 43-year-old said her focus was on her "three jobs" as Education Secretary, minister for equalities and MP, adding: "I was asked a question and I gave a straight answer. If that's news, so be it. I said what I thought and I'm doing the day job."
But she said "good leaders are nurtured", and she wants schools to "spot good talent and to not leave it to chance". "Whether that's the same with the Conservative Party that's for other people to decide," she said.
She went on to burnish her credentials by saying her campaign in the marginal Leicestershire constituency involved "leading a campaign team, and you are having to provide leadership".
Ms Morgan dodged the comparison to Margaret Thatcher, who was Education Secretary before going on to lead the Tory party, but explained on leading: "It's that ability for people to follow you – whether you are a school leader, a chairman of governors or leader of a party, it's that ability to say to people we've had a discussion and people will now follow."
She was pressed on a headline in a national newspaper suggesting she was "too normal" to be leader.
Ms Morgan said: "It's for other people to judge. People have a view of what politicians are like. I quite like confounding that. (People say) 'You are', hopefully, 'remarkably normal and rounded'."
And she joked: "But joining the party at 16 and being a woman in politics doesn't make me entirely normal."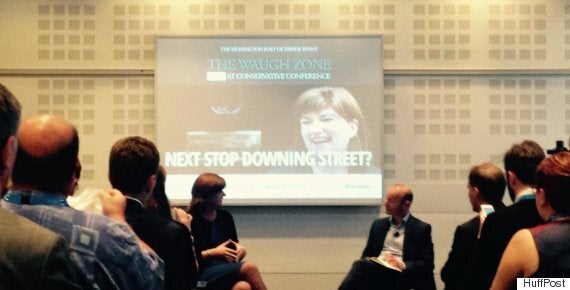 Nicky Morgan speaks to Paul Waugh in Manchester
She also spoke of how she re-connected with her faith when she stood as a prospective MP in 2005. "Loughborough is an amazing place. We have lots of different churches. Going to those churches reminded me about what it was I found comforting about going to church. I found a great church. I help out at Sunday school. I'm as good at getting covered in glue and glitter and paint as the next Sunday school helper."
And she spoke of how religion plays a different role in British politics compared to the US. "People completely get the wrong end of the stick and call me 'evangelical', when I can tell you my church is extremely – I'm not quite sure what the word is – but very normal and Anglican."
Asked about her overtures to the Treasury over the next round of spending cuts, she said made clear she was standing her ground. "I'm not going to details, tactics. The reason I love my job is it's about investing in the future. I'm definitely making the point to the Treasury. "
Asked whether as a former Treasury minister, she would not be a pushover: "I don't think any of us are pushovers. To be a minister you can't be."
On a series of tricky education issues, she said "tentative steps" were being made towards performance-related pay for teachers but that "we'll go further". She also urged Conservative-minded teachers to "speak up and be proud" of reforms in a profession seen as being dominated by the left.
And in a message to Tory supporters on her comments about the party needing to "hate" less, she said: "If you're always known for what you're not, people don't know what you are about or for. If we are defined by what we are not for, we are not setting out a positive message."