One year ago, Kineta Kelsall made the brave decision to stay awake during brain surgery. Now she's revealed why she chose to undergo the gruelling six-hour craniotomy awake.
The 26-year-old is one of just 50 people in the UK to undergo the surgery.
She says staying awake during the operation at Salford Hospital was far "safer" than if she'd been anaesthetised.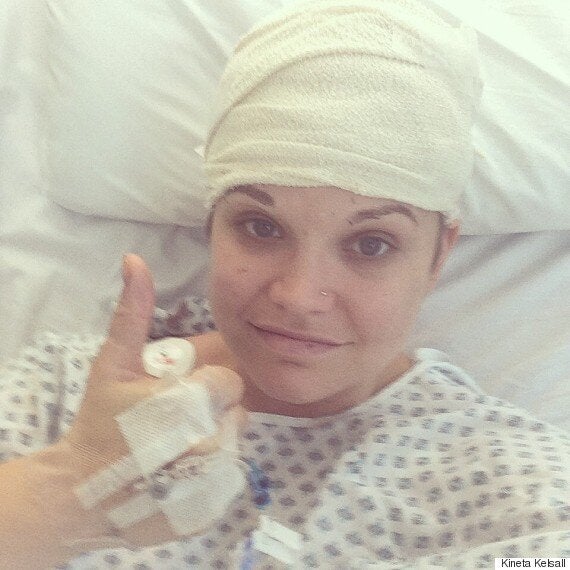 Kineta Kelsall after surgery
According to the University Hospital Southampton (UHS), an awake craniotomy is a "preferred technique" for operations which need to remove lesions that are situated near to functioning regions of the brain.
This is because it allows surgeons to test areas of the brain before they are cut or removed, allowing them to test a patient's function continuously throughout the operation.
The idea is to minimise the risk of brain damage.
Kelsall first knew something was wrong when she kept dropping things.
At first, doctors believed she might have strained herself at the gym, but she soon found she had no feeling in the left side of her body, her speech was slurred and her lip was droopy.
On 30 March 2014, doctors told her they'd found a benign tumour on her brain and that she'd have to have surgery to remove it.
Kelsall was given the option to have the surgery awake or asleep.
"Only some hospitals in the UK do the awake surgery," she tells HuffPost UK Lifestyle. "There's a 1% chance of things going wrong if you're awake, but there's a 20% chance if you're asleep."
Understandably she chose to undergo the awake craniotomy, which went ahead in July 2014.
"A lot of people don't opt for it because they're scared, but for me it's about being in control," she says.
While remaining awake during surgery is a scary prospect, it does have its benefits.
"Post-operative recovery is generally much quicker as you will not have had a general anaesthetic," reads the UHS site.
"You will likely only have a single drip and will not have any other lines or a catheter. You can eat, drink and move as soon as you feel able to and will be able to be discharged on the same day as your operation or the following day if you are able."
Kelsall says the most painful part of the surgery was having injections in her face.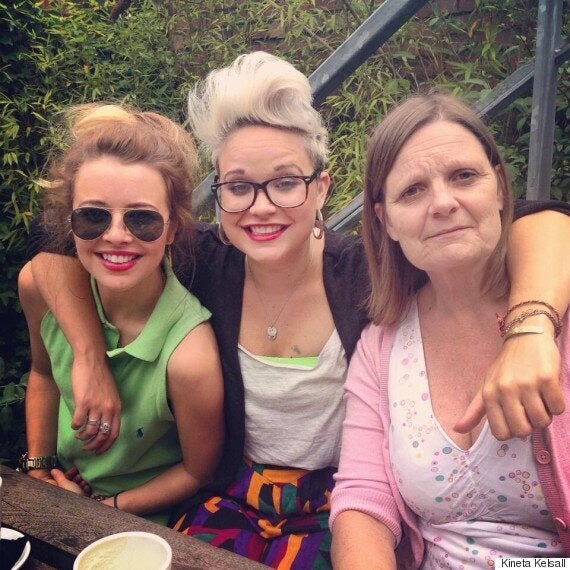 "The drilling was loud and made me feel anxious - it sounded like an aeroplane, it was that piercing," she says. "And the cutting sounded like they were chopping through juicy steak."
She says the recovery time was also fairly short, despite the fact she had a seizure at the end of the operation - which surgeons put down to an adrenalin rush.
"I was more mentally affected by that," she says. "It's probably been the last three to four months where I've felt awesome. Before that I'd been really tired all the time."
One year after her life-saving surgery, Kelsall is organising a charity event with her friend Jack, who was diagnosed with testicular cancer earlier this year but has since been given the all-clear. It's hoped that the bash, called 'Brains and Balls', will help raise awareness of the procedure.
"We wanted to raise money and awareness but also have an excuse to celebrate our health and coming through something some difficult times," she says.
For those considering awake surgery, Kelsall advises to "100% go for it".
"Yes it's a scary prospect, but you can tell doctors how you're feeling and you know you're not dying," she adds. "It's exciting, in a weird way."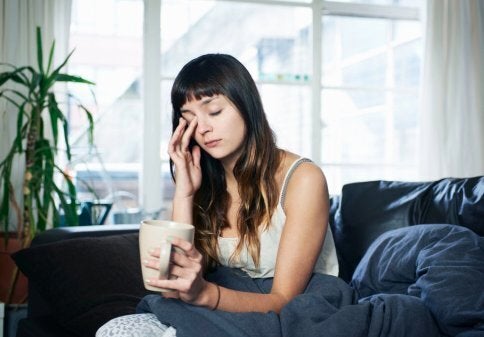 Symptoms Of Brain Tumours
Related