A Tory MP has launched an extraordinary attack on three of her colleagues who could replace David Cameron as Conservative Party leader.
Heidi Allen claimed that George Osborne was "too smooth" to do the job, while Theresa May looked like Edna Mills, a character in animated Disney movie The Incredibles.
She also dismissed Mayor of London and newly elected MP Boris Johnson, ranting about him "wrestling fish" while naked from the waist up with Russian President Vladimir Putin.
Allen, who herself joined Parliament in May, made the astonishing comments during an interview with LBC on Monday.
Asked by presenter Iain Dale to give her thoughts on whether Osborne should be leader, she said: "I have to be honest - for me I have never really… I couldn't picture him as a future leader.
"Am I allowed to say it? How many people are listening? Is it just between us? … Too smooth."
On the Home Secretary, Allen said: "Maybe, she's a bit Edna Mills for me… The Incredibles."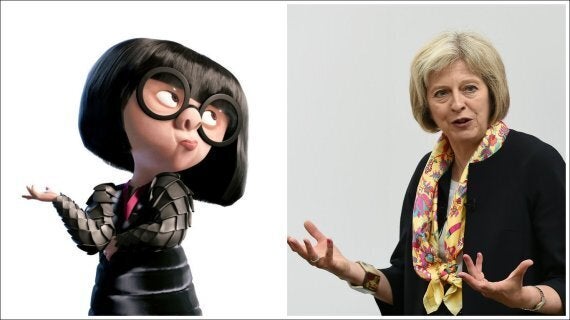 Mills, left, and May, right
And asked to give her assessment of Johnson, she mused: "I just see him in a room with Putin, naked from the waist upwards, together, wrestling fish and it's just not a good image for me."
Allen said she would rather see someone "with a bit of fire in their belly" claim the top job and touted Scottish Tory leader Ruth Davidson as a potential contender - despite the fact she is not even an MP.
She added: "I think whether you're a fan of Jeremy Corbyn or Nigel Farage or those sorts of characters, it's clear people are looking for somebody with a bit of oomph, and a bit of oomph and a different way of talking.
"I want to see somebody new because I want a different kind of politics."
Listen to the full interview below
Related