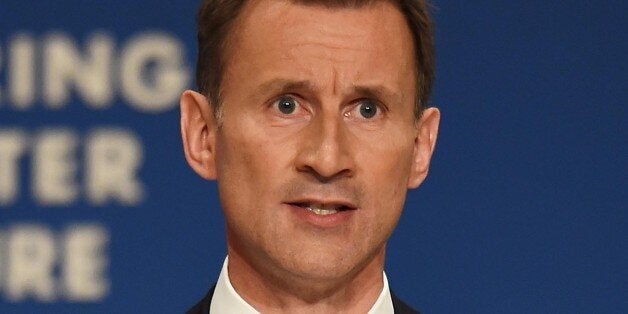 Jeremy Hunt has staunchly defended his proposed changes to junior doctors' contracts and accused critics of spreading "irresponsible" scare stories.
The health secretary told the Conservative Party conference on Tuesday the government's plan for a seven-day-a-week NHS was needed to prevent thousands of unnecessary deaths happening at the weekends.
"We are not asking junior doctors to work longer hours that wouldn't be safe. And nor are we seeking to cut their pay," he said. "It's utterly irresponsible for some people to try and scare people into believing that we are."
Junior doctors argue the imposition of a new contract amounts to a pay cut of up to 30% as it reduces overtime pay. The changes have led to calls for strikes.
Thousands of people are planning to march on parliament in protest against the changes on October 17. GPs and junior doctors also joined the 60,000 strong demonstration in Manchester against the Conservative Party conference.
Labour's new shadow health secretary Heidi Alexander has said Hunt's plan "makes a mockery of the Conservative's somewhat Orwellian claim to be the party of workers".
But Hunt told the Tory conference: "When we said we were committed to seven-day services in the NHS in our manifesto, it wasn't just about the convenience of getting to see a GP at the weekend. It was to end the scandal of eleven thousand excess deaths every year because of what's known as the weekend effect in hospitals."
He added: "I say to those people working very hard right now at the front line, stand beside us as we address this, what is good for patients is good for doctors."
Related