A police officer mown down as he tried to stop a speeding stolen pick-up truck died from internal injuries, a post-mortem examination has found.
Pc David Phillips, 34, was hit by the Mitsubishi Challenger L200 vehicle which was being pursued by police and had mounted a central reservation. It came directly at him and a colleague as they tried to stop it with a "stinger" device to puncture its wheels.
The Press Association reported that Sir Jon Murphy, chief constable of Merseyside Police, said the father of two "did not stand a chance" as he was hit by the truck, stolen in a burglary and later found abandoned after the incident in Wallasey, Merseyside.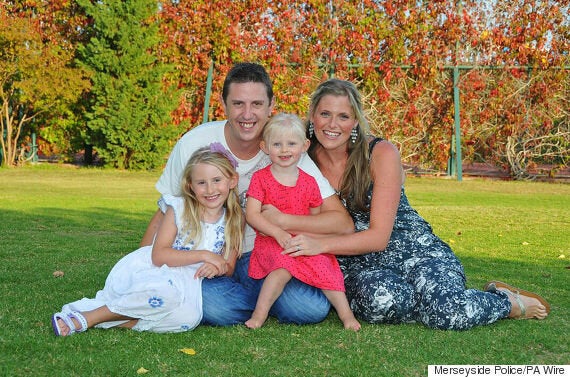 PC Phillips with his wife Jen and daughter Abigail, seven, and Sophie, three
Colleagues of the officer tried to save his life before he was rushed to hospital, but he died shortly after arrival.
The officer, who joined the force in 2006, was married to his wife Jen and was father to daughters Abigail, seven, and Sophie, three.
A Home Office post-mortem examination said the officer died from internal injuries suffered in the impact with the vehicle.
Pc Phillips' death is being treated as murder and an investigation is being led by the officer's own colleagues by detectives from Merseyside force's Matrix Serious Organised Crime (MSOC) unit.
It released a photograph of the red Mitsubishi pick-up truck, stolen during a burglary in Woodchurch Road, Birkenhead, at around 1am on Monday and, following the collision with Pc Phillips, found abandoned in Corbyn Street, Wallasey at 2.55am.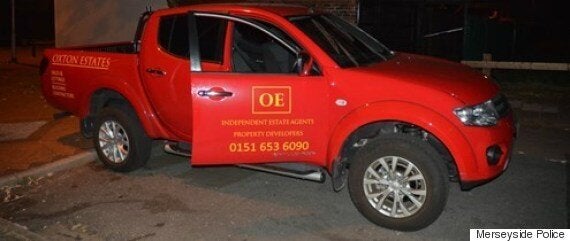 Police have released this image of the stolen vehicle
Prime Minister David Cameron, speaking to ITV news said his thoughts were with the officer's family and friends.
He said: "It is a reminder that every day, people in our police force they get up, they put on their uniform and they take extraordinary risks on our behalf.
"There's no such thing as a safe day if you are a police officer. We must get to the bottom of how this happened and get the perpetrator and ensure justice is done."
Sir Jon said police had "no idea" who was responsible and all the evidence they have currently is the abandoned car and "nothing else". But he warned his detectives were on the case and added: "We will find you."
He said Pc Phillips was a popular officer, held in high regard by his colleagues.
He added: "David's death serves as a reminder of the risks that the men and women of this force and the other forces in the UK face, in serving the public.
"They come to work, day in day out, knowing the risks they all face.
"But their wives, their husbands, their loved ones and their families expect them to come home at the end of their watch.
"Sadly, David did not and his daughters will have to grow up without their father."
Peter Singleton, chairman of Merseyside Police Federation, said described PC Phillips as "one of the best".
According to the BBC, he added: "There is a steely determination to get on with the job, not only to bring the perpetrators of this terrible crime to justice but also to carry on serving the people of Merseyside to make sure there's no break in the kind of police service that they deserve and expect."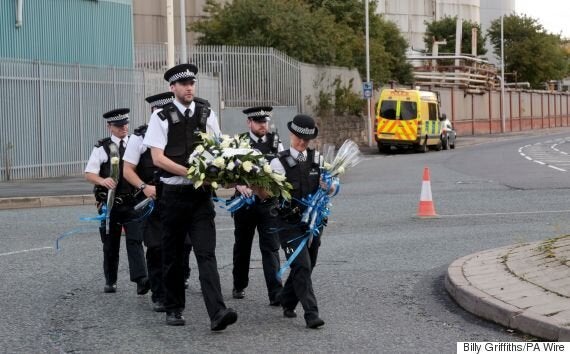 Police officers pay tribute to their fallen colleague
A police presence remained outside Oxton Estates in Woodhouse Road, where the Mitsubishi was stolen.
Residents said the car was usually parked outside the sales and letting shop and had stickers advertising the business.
Pc Phillips is the first Merseyside Police officer to be killed on duty as a result of a criminal act since 1981.
The force has thanked the messages of support and condolences it has received from across the country.
Anyone with information is asked to call Matrix serious organised crime unit on 0800 230 0600 or Crimestoppers on 0800 555 111.
Related