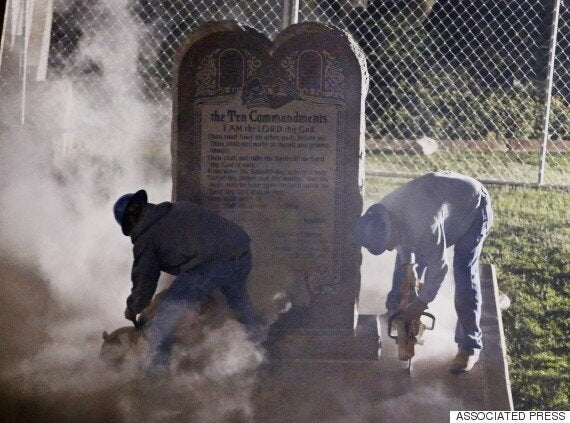 Workers remove the Ten Commandments monument from its base on the grounds of the state Capitol in Oklahoma City, Monday, Oct. 5, 2015
Work to remove the monument started under cover of darkness, a move John Estus, a spokesman for the Office of Management and Enterprise Services, said was to deter protesters while heavy equipment was used to dig up the shrine. "We wanted it to be done as quickly and efficiently as possible, and doing it at night gave us the best opportunity to do that," he said.
The monument, put in place by the Republican-led Legislature in 2009, had been a lightning rod for controversy, with defenders of the constitution complaining it violated state law.
Republican Mike Reynolds, a former state Representative who voted in favour of the slab, watched as it was trawled off into the night. "This is a historical event," he said. "Now we know we have to change the Constitution. It would be good to get rid of some of the Supreme Court justices, too."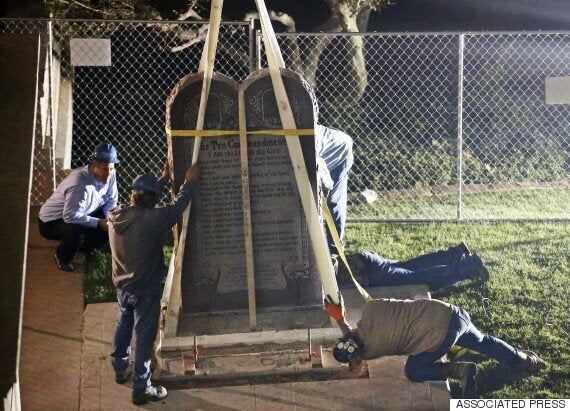 The Ten Commandments monument is to be housed at the headquarters of a nearby conservative think-tank
The current legislature has threatened to introduce a resolution to the state's constitution that would remove the article of that prevents public money or property being used for religious iconography. The monument will be housed at the headquarters of a nearby conservative think-tank for safekeeping. At the time of publication, no official comment had been received from the Heavens on the slab's removal.
Popular in the Community