Joey Essex has appealed to his Twitter followers for advice after having difficulty interpreting a road sign.
The sign states: "Mon - Sat 9.30am - 6.30pm 1 Hour, No Return Within One Hour".
But the wording appears to have caused confusion for Joey.
Luckily, the public were on hand to help...
Some people couldn't help ribbing the star for his lack of parking knowledge...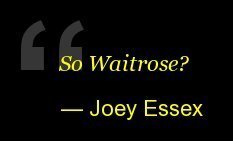 11 'Reem' Quotes From 'Educating Joey Essex'
Popular in the Community