FIFA's ethics committee has reportedly suspended president Sepp Blatter for 90 days along with UEFA President Michael Platini and Fifa Secretary General Jerome Valcke, who are all suspected of corruption.
The punishments, the maximum the committee of football's world governing body could hand out, were confirmed on Thursday after meetings in Zurich yesterday.
Former Fifa vice-president Chung Mong-joon has been banned for six years and fined £67,000.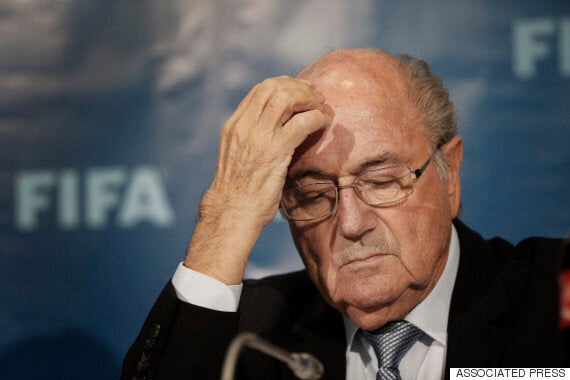 Fifa's ethics committee has banned Sepp Blatter for 90 days along with UEFA President Michael Platini
Blatter, Valcke and Platini are being investigated by the committee over corruption allegations.
The BBC quotes the committee as saying: "The grounds for these decisions are the investigations that are being carried out by the investigatory chamber of the ethics committee."
The trio, who all deny any wrongdoing, are banned from any football activity in the interim.
Platini, who is considered one of the top candidates to replace Blatter as FIFA president when the organisation holds an election in February, is reported as saying he will fight the ban: "This insidious leak is unacceptable and is essentially an attempt to damage my reputation".
Blatter's lawyer, Richard Cullen, released a statement on Wednesday denying that his client had received a suspension. He said that he hoped Blatter would have the "opportunity to be heard before any decision" is made.
Swiss authorities announced late last month that they were opening an investigation into Blatter, 79, for criminal mismanagement and misappropriation of FIFA money.
Blatter is accused of intentionally mismanaging FIFA funds in order to make bribery payments, including a "disloyal payment" made to Platini in 2011 for work done between 1999 and 2002 that was disadvantageous to FIFA as a whole.
The ethics committee opened an inquiry into Platini over the £1.35m payment - which was made nine years after the 60-year-old carried out consultation work for Blatter.
Valcke was already on gardening leave from his Fifa post following newspaper allegations last month which implicated the 54-year-old in a scheme to profit from the sale of World Cup tickets.
Related