Mums are worried about the safety of their children's Halloween costumes and are unaware about the safety precautions that have been put in place by some retailers, according to a new survey.
The fear comes after Claudia Winkleman's daughter's costume was set alight in 2014. It was later confirmed fancy dress costumes are considered "toys" rather than "clothes" when it comes to fire safety and so are not always subject to such stringent safety checks.
In a survey of 2,000 mums, three quarters said they wanted stringent laws ensuring all children's dressing-up costumes are flame retardant to be introduced.
Only 14% of mums thought shop-bought costumes were safe and 55% were unsure if any rules had changed in terms of the safety of costumes.
The survey was completed by online video network, Channel Mum.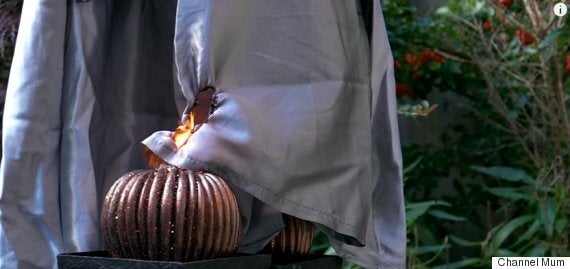 In response to the results, Channel Mum produced a video (above), in which two vloggers conduct a non-scientific test at home, using candles and costumes from popular high street stores.
They found that when the costumes were held above flames, they caught alight - showing the importance of considering fire safety when it come's to having children's costumes and toys around open flames.
The Government ordered Trading Standards to carry out spot checks on costumes to see if they meet safety standards and while it's not a legal requirement, many of the shops have gone through with it.
Sainsbury's have promised their children's dress up range will meet the same strict fire safety standards that apply to nightwear.
Tesco and Asda will be applying more rigorous testing, and Marks & Spencer will also do so on future lines.
James Brown, director of non-food at Sainbury's said: "We have looked at every detail of our children's dress-up range in creating our new standard and believe that it will be industry-leading.
"This has not been a simple task, but the safety of children is our number one priority and introducing more rigorous safety standards for our children's dress-up is the right thing to do.
"All clothing carries some fire risk, but we hope that introducing our own rigorous testing standards that test clothes as clothes rather than as toys will be the first step towards safer testing across the industry."
As well as the major supermarkets, other online retailers selling Halloween costumes have also made their heightened safety testing clear on their website.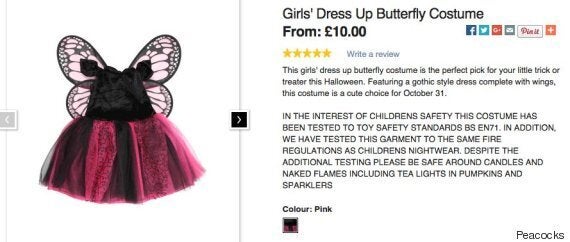 On Peacocks.co.uk, a children's Halloween butterfly costume available from ages one upwards states: "In the interest of children's safety, this costume has been tested to toy safety standards BS EN71.
"In addition, we have tested this garment to the same fire regulations as children's nightwear. Despite additional testing, please be safe around candles and naked flames including tea lights in pumpkins and sparklers."
If purchasing costumes online, it is worth checking all product descriptions under "care and information" to see whether the retailer has relayed this information on fire safety.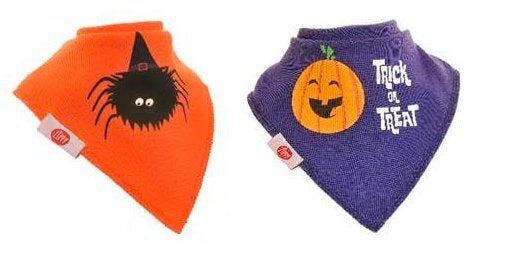 Halloween Costumes For Babies: Best Fancy Dress Ideas
Related