NEW YORK -- Spencer Stone, the US airman who tackled a gunman to stop a terror attack on a French train in August, was repeatedly stabbed in the chest outside a bar in California on Wednesday. An Air Force spokesman said Stone was in a stable condition.
Local law enforcement officials were handling the stabbing, the spokesman added.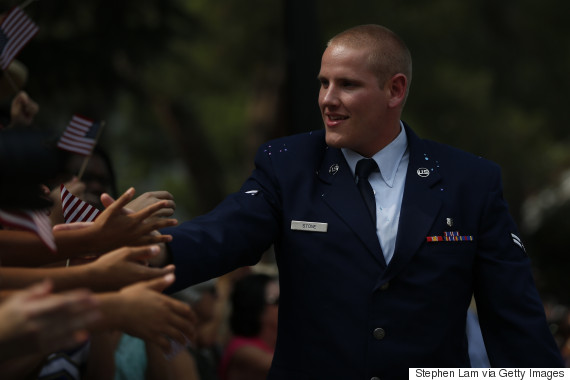 Spencer Stone shakes hands with the crowd during a parade honouring his August 21 actions in overpowering a gunman on a Paris-bound train
Twenty-three-year-old Stone, who is being treated in a hospital in Sacramento, received international praise after he helped disarm a gunman on a Paris-bound passenger train, aided by childhood friends Alek Skarlatos and Anthony Sadler. The trio were holidaying in Europe when they thwarted the attack.
The gunman was identified as radical Islamist Ayoub El-Khazzani, who was armed with a Kalashnikov rifle, a pistol and a box cutter.
The three Americans were awarded France's highest honour by President Francois Hollande, and were given a parade of honour in their hometown. They were also granted an audience with President Barack Obama following their heroics.