A Sun columnist has come under intense criticism for claiming 'Great British Bake Off' winner Nadiya only claimed the top spot because of "political correctness" and bemoaned the "ideological warfare" her success posed to Britain.
Nadiya Hussain, a Muslim mother of Bangladeshi heritage, was slammed by journalist Ally Ross for the paper in an article published on Thursday.
Ross said BBC executives "no doubt did a multi-cultural jig of politically-correct joy" when judges Paul Hollywood and Mary Berry crowned her the cookery queen in a heated final aired last night.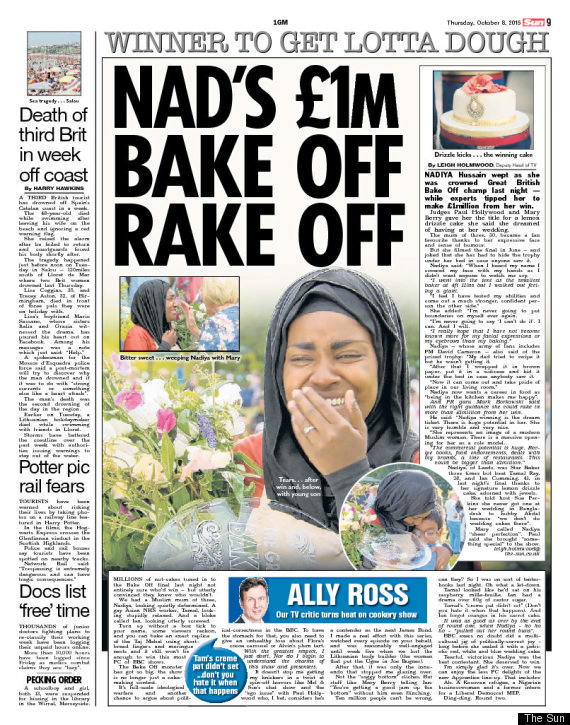 Despite admitting the 30-year-old mother of three "deserved to win", Ross came under fire from social media users for his remarks.
Sun say "ideological warfare" for Muslim woman to win GBBO. Translation: only white people should be allowed on TV

October 8, 2015
A Muslim woman of colour won #bakeoff cue The Sun putting it down to an 'ideological warfare'.

— Lola okolosie (@LolaOkolosie) October 8, 2015
Sun Newapaper (?) doesn't know how to cope with a Muslim woman winning the Great British Bake Off - calls it "Politically Correct"

— Martin John Arber (@mjarber) October 8, 2015
Always remember there are some in Britain for whom full participation by non-white people in our national life is "ideological warfare".

— Laurence Dodds (@LFDodds) October 8, 2015
Perhaps GBBO (which I've never watched) is ideological warfare. In which case, hurrah! Nothing wrong with the right kind of ideology.

— Rebekah Higgitt (@beckyfh) October 8, 2015
I want to make 'ideological warfare bake off cake" that means a trip to wapping to get the mean spirited bile, it wont be available locally,

— Iain (@Iain_33) October 8, 2015
"Ideological warfare"

How @TheSun describes #GBBOFinal win

A bloody lemon drizzle cake baked by a woman in a hijab

— Sophia Cannon (@UndercoverMutha) October 8, 2015
God help @TheSun, their mind so haunted they think a Muslim woman winning a baking comp is "ideological warfare". https://t.co/ohVEz6ECRC

— Jen Lea (@j3nl3a) October 8, 2015
If you think Nadiya won #GBBO due to 'political correctness', I pity you as a human being. cf: all previous winners: pic.twitter.com/LldKXPsgq2

— Kaya Burgess (@kayaburgess) October 8, 2015
A Sun spokesperson told The Huffington Post UK: "Ally Ross is The Sun's TV columnist and his job is to express opinions on TV programmes that some will agree with and others will not.
"As David Cameron said yesterday: 'Britain and Twitter are not the same thing', which people would do well to remember."
READ MORE: