A cameraman has captured the awe-inspiring scenes of the Northern Lights, twinned with a group of ocean giants swimming beneath.
Feeding humpback whales can be seen breaking the surface of the water along Norway's coast, while the colours of the Aurora Borelis illuminate the skies.
The paired combine to make for an incredible view.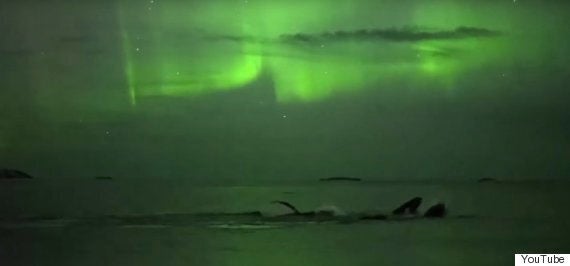 Humpback whales break the surface of water as the Northern Lights shine above
According to EarthTouch News Network, the beautiful scenes were filmed by Norwegian cameraman Harald Albrigtsen, who works for the Norwegian media company NRK.
Albrigtsen was testing out a new low-light conditions camera when he spotted the combination.
"But then they turned up again. I did not even know if everything was in focus ... It was like a dream."
Parts of Wales and Northern England were treated to the spectacular sight of the Northern Lights this week.
Popular in the Community