When a friend or family member confides in you and tells you they have depression, it can be hard to know how to react.
On one hand, you want to keep letting them know you're there for them, but on the other you want to respect that they may not want to talk about it too much.
One organisation hoping to help people create that balance is Blurt Foundation, a network dedicated to supporting those who are affected by and struggling with depression.
They have recently introduced BuddyBox - a thoughtful gift box to let someone know you're there for them.
That's not to say a gift box is going to fix everyone's problems, but CEO and founder Jayne Hardy, 34, said it "encourages time out for self-care" - something a lot of people affected by depression struggle with.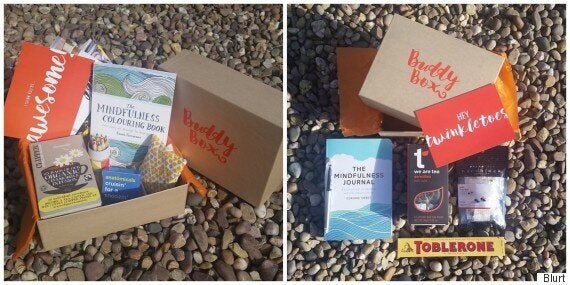 Hardy knows what she's talking about, as she was diagnosed with depression when she was 22.
"Back then, I didn't have an understanding of depression or what it was or how debilitating it could be," she explained.
"It was never discussed among my friends and family, so when I was diagnosed it was quite a relief.
"I had been struggling for so long and isolating myself, so it was good in one way to know there was a reason for that.
"We know problems can't be treated with 'things', but the care packages will let a loved one know you're thinking about them."
Hardy founded Blurt in 2011 as a website and peer support network for people affected by depression. In 2014, the organisation was awarded a grant from UnLtd.
Hardy explained: "Our grant manager, Julie, said that she wished there was some sort of care package available that she could send to someone she knew was struggling at that time.
"We formed a focus group, discussed the idea and fell in love with it. We promptly started work on BuddyBox."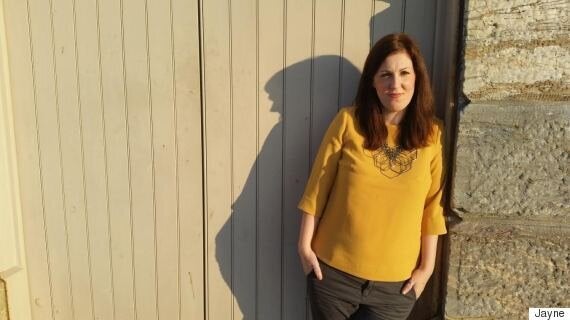 Hardy said founding Blurt and bringing to light new resources to help others has been an incredible journey for her.
Her struggle with depression began 12 years ago and while her diagnosis gave her some relief, she found the medication she was prescribed didn't work for her.
After one month, she said she felt a lot worse.
She explained: "I didn't have a reason to get out of bed or have a routine. It had a devastating effect on me.
"I lost interest in myself and everything. I lost a lot of friends, I was really ashamed.
"I lost the job I was signed off from which lead to financial struggles. I felt like I didn't matter, there was no help available for me and I felt hopeless."
After encouragement from her mum, Hardy decided to start a blog and after writing a post about her depression she received hundreds of emails from people who felt the same.
"It helped cement the idea of Blurt," she said. "I couldn't find any help online. Blurt has been my therapy over the years."
The BuddyBoxes are filled with things that the team hope will help, inspire and comfort those who could do with a boost.
The contents differ every month and can be personalised with a special note for the receiver. You can purchase a one-off box, a monthly subscription, quarterly subscription, six-monthly subscription or an annual subscription and choose from different sizes.
One user uploaded a photo of her box, writing: "Was totally not expecting to receive this today. Never heard of Blurt before but it's such a brilliant idea. I feel so lucky to have such amazing friends. #thismademecry #kindalostforwords."
Beyond the subscription boxes, Blurt offers a space for people to support one another and learn more about how they can get help.
The team also have their own Soundcloud channel, where they record podcasts with doctors who offer advice.
"We want to support people, listen to them and introduce them to people who've been where they are," Hardy added.
"We help people break down barriers and broach the subject with those closest to them. We help people help themselves, with a little knowing nod.
"Nobody should ever have to struggle alone."
Jayne Hardy's advice for people affected by depression.

In the first instance, I'd recommend going to see your doctor. Talking about the symptoms you're experiencing can be overwhelming and so it might help to write them down before you go. That way, if you're struggling to find the words when you're there, you can give the doctor the list and they can read that. Your doctor will be able to diagnose you and also talk through your options which might include medication, therapy and lifestyle choices.

Understanding that depression is an illness is also really important. Being unwell, it's natural that your capabilities are affected. Those who have never experienced depression can underestimate just how debilitating it is. Allow yourself lots of time to recoup, rest and relax. Self-care is key too. Be as kind and patient with yourself as you would be to a friend.

Learn about the illness so that you know what you're dealing with. Lots of us have been exposed to sensationalist headlines and so a diagnosis of "depression" can be frightening and a source of shame. Reading about other people's experiences and some of the lesser known symptoms, such as a sensitivity to noise or anxiety over answering the telephone, can help you feel less alone too.

Find other people to confide in. There are lots of great places online where you can chat to your peers – our closed Facebook group, Elefriends and Friends in Need, for example.

Nine Accurate Comics That Explain What Depression Is Like
Related