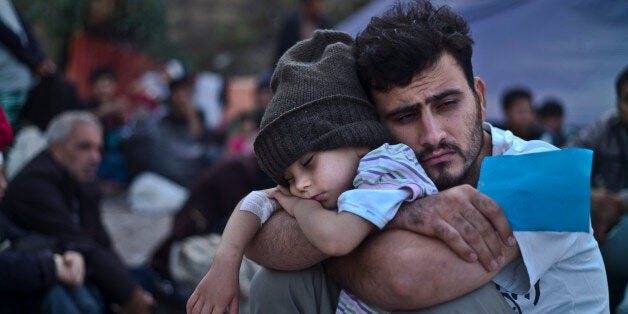 Hundreds of councils, universities and private landlords are willing to offer thousands of beds to Syrian refugees against fears children will freeze to death while seeking sanctuary in Europe.
The show of support, revealed by the Citizens UK charity, comes as Labour's Yvette Cooper condemns the Government's response to the biggest refugee crisis since the Second World War as "far too weak" amid a lack of clarity over how many refugees have actually arrived in the UK.
David Cameron has pledged to take in 20,000 Syrians over five years - or 4,000 a year - but only from refugee camps on the war-torn country's borders. Families have arrived in the UK but the Home Office has refused to say how many.
Labour's refugee spokeswoman Ms Cooper, today launching a Crisis Action Plan, has renewed her call for the UK to take some of the hundreds of thousands scattered across Europe already, but says the issue is now more acute since "winter is looming".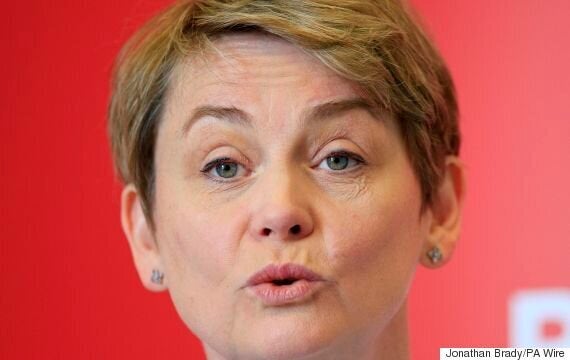 Yvette Cooper: "We cannot stand on the sidelines while children freeze to death on our doorstep."
She will say today: "As governments across Europe struggle to cope and the weather gets colder, it is no longer an option for the Prime Minister to turn his back and pretend this isn't our problem. We have to act.
"We cannot stand on the sidelines while children freeze to death on our doorstep. This is now the biggest humanitarian crisis to reach Europe since the Second World War, and every European nation needs to do its bit to help."
Citizens UK, a coalition of churches, schools, synagogues, trades unions, mosques, universities and community groups, will today call for the Government to end the deadlock with local authorities to enable Syrian refugees to be brought to the UK.
It says 37 councils have promised to resettle at least 50 refugees despite the dispute over who will pick up the cost. The total pledged is 3,047 places.
Meanwhile, universities including LSE, Sussex, Warwick, York, SOAS University of London and Edinburgh have committed £3.5 million worth of scholarships to fund 147 places for Syrians, and 727 private landlords have registered their properties to be used by Syrian refugees.
Pointing out six children died due to freezing temperatures last year, the charity is asking for at least 1,000 of the most vulnerable refugees to be brought to the UK before Christmas.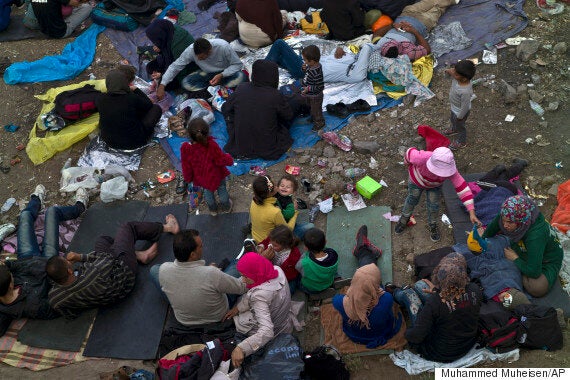 Refugees at a resting point wait to board a bus, after arriving on a dinghy from the Turkish coast
Zrinka Bralo, Citizens UK leader, said: "The crisis is happening now, so we need significant action in 2015, not in two, three or five years' time. That's simply too late for the children who having nothing but a sheet separating them from freezing temperatures."
"Last year six children died needlessly, thousands more suffered respiratory illnesses. We cannot remain silent and allow more innocent children to suffer."
The Government's Vulnerable Persons Relocation Scheme, set up specifically to help resettle Syrian refugees, has provided sanctuary to just 217 people, though the broader total including other programmes pushes the total beyond 5,000.
Over four million Syrians have been forced to flee their war-torn country since a brutal conflict broke out in 2011, with millions more internally displaced.
The UK has opted out of an EU quota scheme to relocate 120,000 refugees from Italy, Greece and Hungary.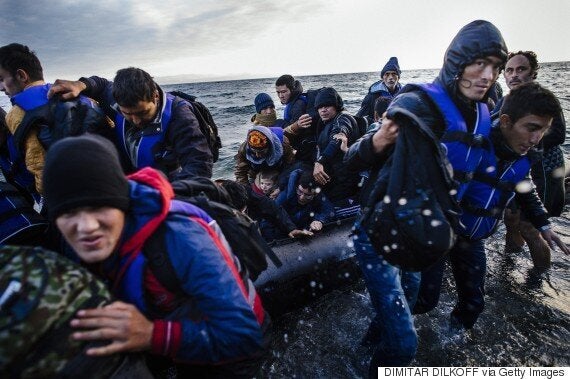 Refugees and migrants arrive by boat on the Greek island of Lesbos after crossing the Aegean sea from Turkey
Ms Cooper will urge the Prime Minister to end opposition to helping refugees already in Europe, immediately publish details of how many refugees have come to Britain and remove refugees from his net migration target.
And she will say the Government should work with local authorities to take in more refugees.
She will say: "The refugee crisis is getting worse not better, but the British Government's response is still far too weak. Winter is looming and far more needs to be done to help thousands of vulnerable families who have no home to go to and who fall prey to smuggling gangs.
"Across the country people are joining the call for Britain to do more. Faith groups, community organisations, charities, councils, landlords, lawyers, businesses, universities are all calling for more action. Citizens UK and other organisations have shown the powerful demand for action from people in every corner of our country.
"Yet so far the British Government has taken very few Syrian refugees and won't tell us how many have arrived. They need to tell us immediately how many have come, and how many are due each month. Currently the Government is way off track to meet the Prime Minister's pledge of helping 4,000 a year, and is still doing far less than other European countries to help.
"And we need immediate action to help not just those in the Syrian camps, but some of those who have made it to Europe too. If every county and city took ten families we could help 10,000 people over the next year alone."