Dennis Skinner, the veteran Labour MP, has been accused of directing sexist remarks at a Conservative minister the House of Commons.
Business minister Anna Soubry reacted with anger after being heckled as she answered questions from MPs on Tuesday afternoon.
"You know what, that is so out of order. Can I just say to the honourable gentleman, I find it offensive because it's sexist and he should know better," she said.
Mr Skinner had shouted "you even look like Thatcher" at the Conservative minister while she was answering a point he had made about the closure of SSI Redcar steelworks.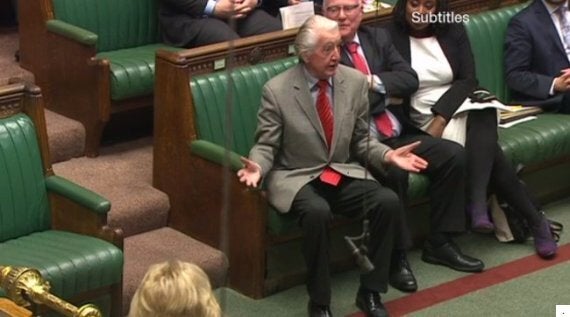 In the Commons, Ms Soubry added: "And I'll just stay something. I know he has a bigger majority than me, but in Broxtowe more people voted for me than voted for him in Bolsover.
"There is an overconsumption of steel in the world. The price of steel has almost halved. Fine words are not enough. Realism and action is what is required. Living in the real world not living in the fantasy world of the 60s."
Mr Skinner had stood to accuse the government of abandoning the steelworks. "We are now beginning to witness the true face of Toryism in practise," he said.
"It's only taken them three months to appear as they really are and this is the day when the Northern Powerhouse of Osborne and his strategy died its death."
Mr Skinner told The Huffington Post Ms Soubry had reacted angrily in order to divert attention away from the government's failure to save the Redcar plant. "This is the day we saw the true face of the Tory party," he said.
He added: "The moment they have to do something as opposed to say something, namely save the Redcar plant, they cave in."
John Bercow, the Speaker, intervened to note Ms Soubry had accused Mr Skinner of sexism but had not heard anything. "I can respond only to what I hear, and I didn't hear anything," he told MPs.
It is not the first time Soubry has been caught up in a sexism row in the Commons. Earlier this year, the small business minister, said SNP MP Alex Salmond had "19th century" attitude after he told her to "behave yourself, woman".
Popular in the Community