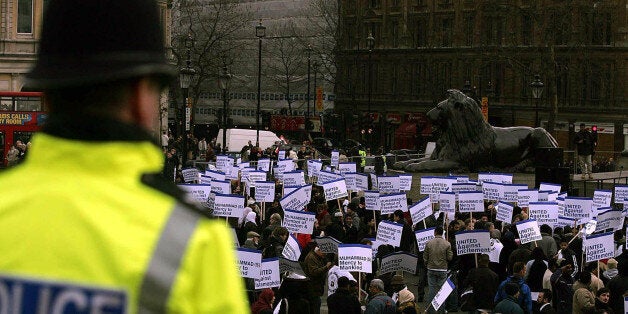 Hate crime rates have risen dramatically, jumping by nearly 20% in the past year, new figures reveal.
A spike in offences motivated by race and religious hatred has today led to anti-Muslim attacks being recorded as a separate category for the first time.
Police in England and Wales discovered 52,528 instances of hate crime - which also include assault on the grounds of disability, sexual orientation and transgender - in 2014/15.
That figure was up by 18% year-on-year, Government data showed, a trend that emerged in the aftermath of Fusilier Lee Rigby's death.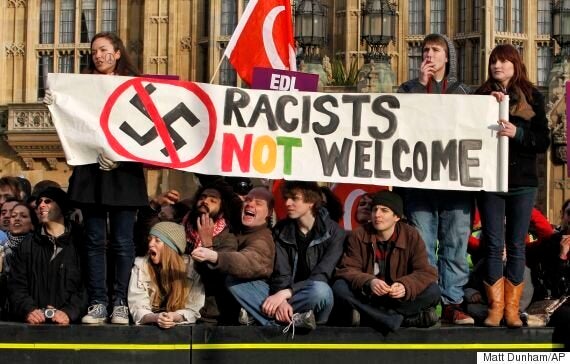 An increase in hate crimes has sparked new anti-racism campaigns
Responding, Home Secretary Theresa May said: "Hate crime has no place in Britain and I am determined to make further progress to ensure we can eradicate this deplorable act.
"Working with police to provide a breakdown in religious-based hate crime data will help forces to build community trust, target their resources and enable the public to hold them to account.
But Prime Minister David Cameron used the crime stats announcement to wage war on Islamophobia, promising to bring the recording process for religious hate crimes against Muslims in line with those against Jews, which have been recorded separately for some time.
The Conservative leader claimed he would provide new funding to boost security at religious buildings, speaking as he hosted the first meeting of a new Community Engagement Forum at Downing Street.
The Forum brings together representatives of faiths including Islam from around the country, and is intended to provide the PM with an opportunity to hear directly from those challenging extremism in the community.
Speaking ahead of the meeting, Cameron said: "We all have a role to play in confronting extremism. That's why I have invited important Muslim and non-Muslim figures to join the new Community Engagement Forum, so I can hear directly about their work in our communities, the challenges they face and so that they can be part of our One Nation strategy to defeat it.
"I want to build a national coalition to challenge and speak out against extremists and the poison they peddle. I want British Muslims to know we will back them to stand against those who spread hate and to counter the narrative which says Muslims do not feel British.
"And I want police to take more action against those who persecute others simply because of their religion."
Labour's London Assembly Policing Spokesperson, Joanne McCartney AM, praised the Prime Minister for his move to monitor hate crimes against Muslims separately, saying: "Recording anti-Muslim hate crime separately will allow us to properly understand the scale of crimes directed at different groups.
"In London we've seen some hate crimes, including those driven by racist and religious hatred, soar by 30% in the last year alone.
"Whilst part of the rise in recorded hate crime could be down to increased confidence to report we cannot be complacent. This rising trend cannot be allowed to continue.
Related