A quadriplegic man has finally shared his first dance with his wife, two years after their wedding day.
Joel and Lauren Jackson shared the beautiful moment in hospital, gazing into each other's eyes while dancing to 'I'll be' by Edwin McCain.
Six years ago Joel was involved in a car accident that paralysed him from the neck down.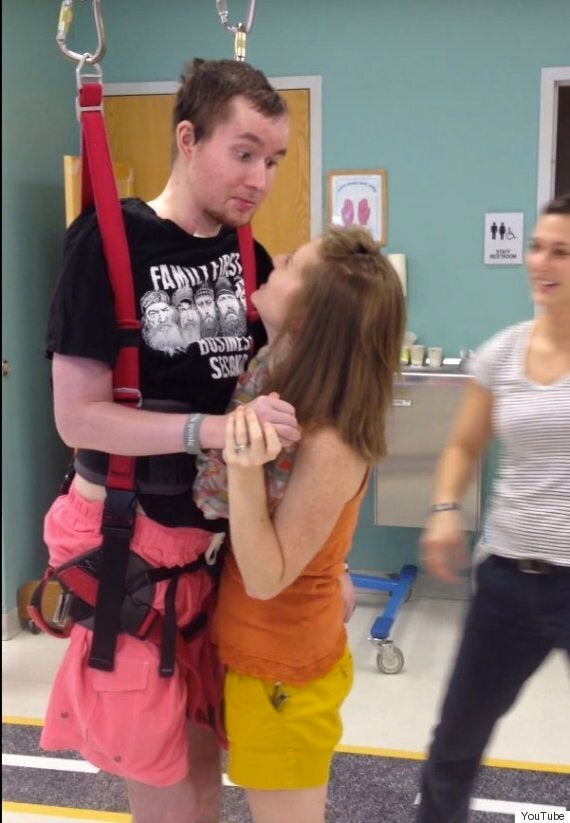 Joel and Lauren Jackson finally shared their first dance together
In December 2009, Joel and some friends got into a car with a drunk driver.
The car collided with a telephone pole and a 20-year-old woman was killed, while Joel was thrown from the car.
The impact of the land shattered Joel's spine, where it meets the skull and it was believed he would never walk again.
But on 1 October 2015, with the help of a zero gravity harness, Joel was able to stand in for the first time in six years and dance with his partner.
Describing the emotional moment, Lauren said: "'If I were a crier, this is where I would have been a hot mess.
"I was just in awe. It was one of those moments that took my breath away.
"I couldn't stop saying, 'goodness, you are so tall'. I forgot how tall he was after all these years."
The couple got married in 2013 after meeting as freshmen in high school.
"Our relationship was pure and everything precious. He was my first love."
Although the pair broke-up during high school they remained friends, but after Joel was involved in the car accident everything changed.
"Our second chance at life and love changed in a moment, when the car he was riding in collided with a telephone pole," wrote Lauren.