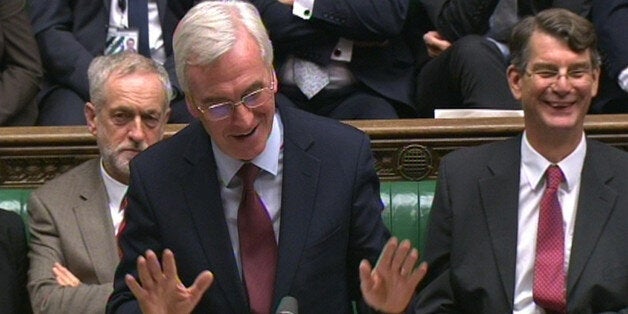 Labour's Shadow Chancellor John McDonnell described his own u-turn on supporting the fiscal charter as "embarrassing" tonight as the measure was passed in the Commons.
In a feisty debate which saw much jeering of Labour from Tory MPs, Mr McDonnell was repeatedly quizzed on why he had made out he opposed the charter, despite backing it two weeks ago.
The Charter for Budget Responsibility will require governments to run a surplus under so-called 'normal' economic conditions, but has been dismissed by opponents as little more than a gimmick.
Tonight, 21 Labour MPs defied party orders to vote against the measure, and instead abstained – a milder form of rebelling.
Among those to abstain included former leadership contender Liz Kendall, former Shadow Education Secretary Tristram Hunt and former Shadow Chancellor Chris Leslie.
Addressing Chancellor George Osborne from the Despatch Box for the first time, Mr McDonnell said: "I suppose I should deal straight-forwardly with the issue of the u-turn.
"Yes two weeks ago I recommended that Labour MPs should vote for the Charter, and today I will be urging them to vote against."
At this point a Tory MP shouted out: "What about tomorrow?" which caused huge laughter on the Government benches.
Trying to be heard above the noise, Mr McDonnell said: "Embarrassing…embarrassing…embarrassing…embarrassing…embarrassing, yes of course it is, but a bit of humility amongst politicians never goes amiss."
Mr McDonnell went on: "It is no wonder [the Charter] has been seen as one of those puerile political traps the Chancellor likes to set.
"Vote against the Charter and you are a deficit denier. Vote for it, and for the next five years he will claim you have signed up to support every one of his cuts in public services and in benefits."
Speaking from the Government front-bench, Mr Osborne tore into Labour over it's u-turn on supporting the Charter, and repeatedly quoted lines from figures such as Jack Straw, Yvette Cooper and former Shadow Chancellor Chris Leslie.
He said: "The complete chaos and confusion and incredibility of Labour's economic policy is more eloquently expressed by Labour members of parliament than by any of my colleagues.
"To call the whole episode a shambles is an understatement, like saying the Charge of the Light Brigade did not achieve all of its objectives.
"The serious point is this; in my experience, shadow chancellors come and go, but what is permanent is the economic approach that the Labour party committing itself to tonight.
"They are becoming the permanent party of fiscal irresponsibility, the party of never-ending borrowing, the party that would run a deficit forever, a Labour party that is a standing threat to the economic security of the working people of this country."
In his response, Mr McDonnell set out his opposition to the Charter, repeating his claim that meeting with families of those who had lost their jobs in Redcar after the steel factory was closed down changed his mind.
When asked how he would reduce the deficit between how much the Government spends and how much income it generates, Mr McDonnell cited clamping down on businesses not paying full tax in the UK and potentially reversing the increase in the inheritance tax threshold.
The most incisive intervention from the Labour benches came from Jonathan Reynolds, who left Tory MP Mike Wood almost speechless when he said: "No Conservative government in history has ever hit the target being presented to Parliament tonight.
"All those historical Conservative governments - none of them have run surpluses according to this fiscal charter.
"Were the Conservative governments of Harold Macmillan, Margaret Thatcher, were they not economically credible?"
Mr Wood replied: "I'll leave that. I'm not sure that even dignifies..." before trailing off.
Full list of Labour Abstentions (who weren't given permission to abstain)
Popular in the Community